It's that time of the year where we look back at the books we loved and enjoyed over the past 12 months. I'm writing my 2021 Reading Recap a little early because I've already reconciled with the fact that I won't be able to do more reading towards the end of the year.
I started the year with the goal to read three books, as I wanted my journey back into the book community to be at my own pace. Despite hitting a reading slump towards the end of 2021, I was able to read a total of 86 books this year! Based on my Goodreads Year in Books, that's 17,740 pages read!
This post contains affiliate links and I may earn a small commission through qualifying purchases.
2021 Reading Recap
I got this Book Blogger Spreadsheet from Kal @ Reader Voracious that includes a Bookish Stats page shown in charts. I love using Kal's template because it's fun seeing the different visual breakdowns of my reading preferences, particularly my read genres. Plus, it makes writing my 2021 Reading Recap easier! I know for a fact that my most read genre for 2021 is Romance, but I was surprised that Graphic Novels took the 2nd spot.
I also read a considerable number of backlist titles! I've been trying to tackle my backlist titles, and I'm glad I was able to do it this year. Most of the backlist titles published before 2018 were comics/graphic novels. I also read a lot of e-books, so I feel like my Kindle Paperwhite was one of my best purchases for this year!
For the next section, I'll be giving a shout-out to all the books I've loved this year! I'll divide them into three categories: Graphic Novels, YA Novels, and Adult Novels.
To All The Graphic Novels I've Loved This Year
Thanks to my impulsive Marvel Unlimited subscription, I read a lot of comics this year! I enjoyed Winter Soldier Second Chances by Kyle Higgins, but my favorite?
It has to be the amazing Hawkeye run by Matt Fraction and David Aja that served as the main source material for the live-action series. I totally fell in love both with the story and art style! Comics-Clint has become one of my favorite characters because of this run, and I also enjoyed his banter with Bucky in Hawkeye and The Winter Soldier by Matthew Rosenberg.
On the other hand, Cheer-Up: Love and Pompoms by Crystal Frasier is a lovely queer YA sports romance that I quickly enjoyed!
Also Read: Unstacked | 5 Graphic Novel Mini-Reviews
So, to all the graphic novels I've loved this year, thank you for bringing a quick escape through your fast-paced plot and great art style.
To All The YA Novels I've Loved This Year
I've become fond of YA Contemporaries once again, but before I delve into those titles, I'd like to highlight the few thriller/mystery and fantasy novels I've loved this year! I'm a big fan of Kara Thomas and Courtney Summers, so That Weekend and The Project were two of my most anticipated titles for this year. I also enjoyed the bone-chilling Ace of Spades.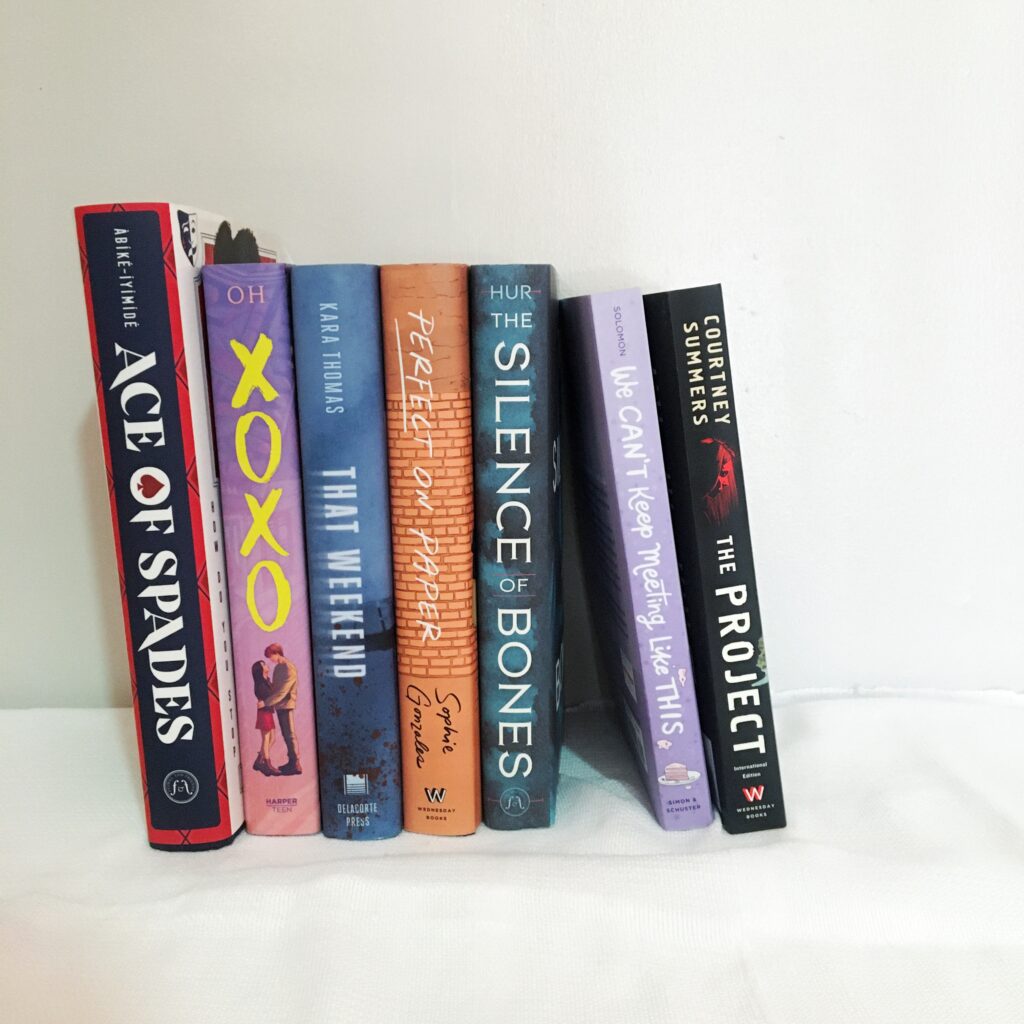 But there's another author that captured my heart, and it's June Hur! Reading The Silence of Bones was such a fantastic experience because of my love for mystery and Korean dramas! I was also finally able to read Dokkaebi: Vicious Spirits by Kat Cho, and this was the only fantasy novel I've read this year.
Speaking of my love for K-dramas, XOXO by Axie Oh is another one that I completely fell in love with! It's adorable, swoon-worthy, and perfect for K-drama fans like me! I've also read and loved a lot of YA novels with bisexual main characters, and I swear it wasn't intentional. These books were Perfect on Paper by Sophie Gonzales, Like A Love Song by Gabriela Martins, and Cool For The Summer by Dahlia Adler. I've also read my first YA book with aro-ace MC, Summer Bird Blue by Akemi Dawn Bowman, which I adored.
To cap off the YA section for my 2021 Reading Recap, I'd like to highlight these two books with an enemies/frenemies-to-lovers vibe that I've come to enjoy! We Can't Keep Meeting Like This by Rachel Lynn Solomon and All Last Summer by Stephanie J. Scott. This year, I've come to realize that I enjoy that trope so much!
To all the YA Novels I've loved this year, thank you for always making me look back at my teenage years. As always, thank you for bringing spine-tingling and heartwarming stories that fuel my imagination.
To All The Adult Novels I've Loved This Year
Berkley Publishing took the throne of my most read publisher this year! Most of them were romances, but there's a couple of cozy mystery/comedy that I truly loved.
Arsenic and Adobo by Mia P. Manansala took me into a gastronomic journey into Filipino Food with a murder mystery on the side. Dial A For Aunties by Jesse Q. Sutanto was a chaotic ride with hilarious Asian Aunties in the middle of an accidental murder case. I really enjoyed these books so much, and I'm glad they both have sequels coming out next year!
Now onto my happy place: romancelandia!
Starting with The Bromance Book Club series by Lyssa Kay Adams, The Bros completely captured my heart as I adored each of their stories! I also loved both The Roommate and The Intimacy Experiment by Rosie Danan. I can't wait to read their upcoming books as I know that I'll enjoy them!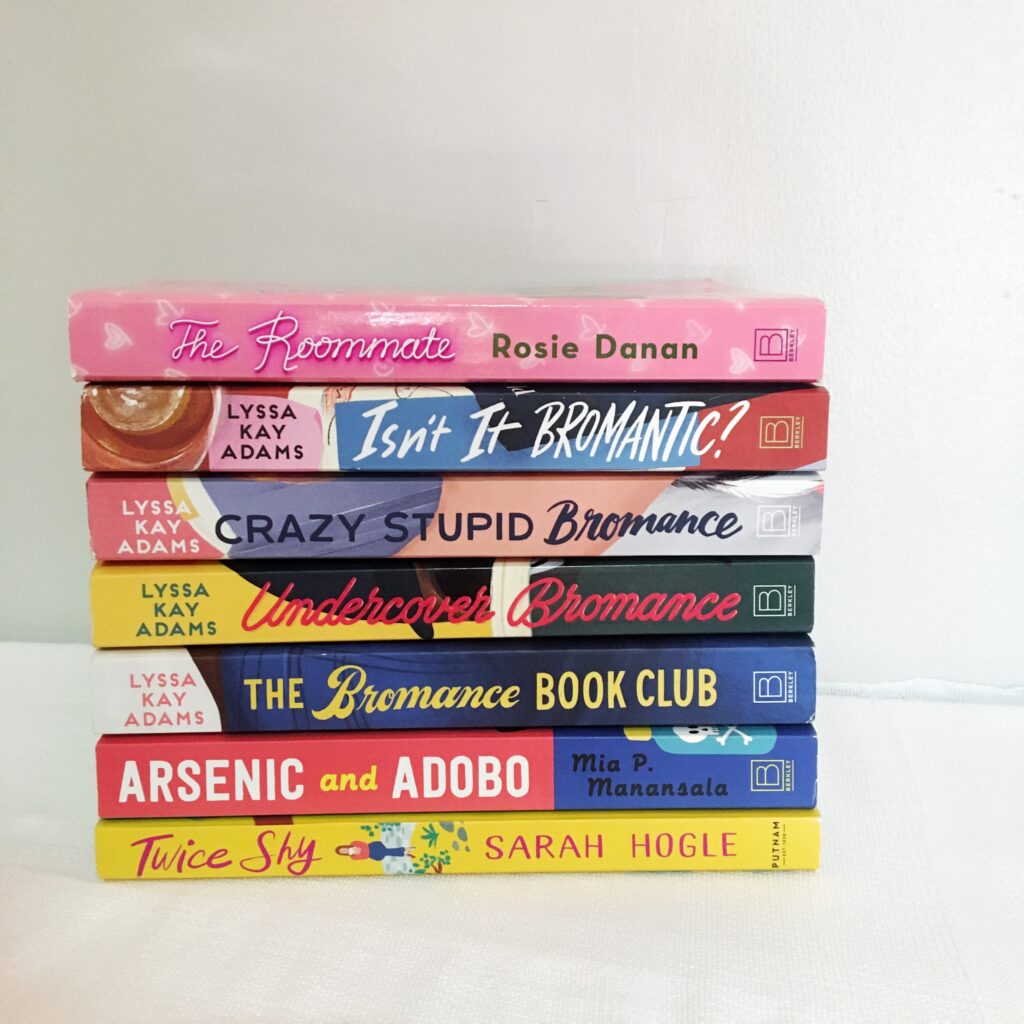 I also read The Love Hypothesis by Ali Hazelwood, a grumpy-sunshine STEM romance that lives up to its hype! Another grumpy-sunshine romance I enjoyed is Twice Shy by Sarah Hogle, which reminded me of how much I love forced proximity and cohabitation!
I also got back to reading Emma Chase novels! I enjoyed her Getting Some series, and I was introduced to her Legal Briefs series, thanks to my trusted friend, Bea! Sustained is probably one of the best romance novels I've read so far, as I was completely engrossed with the story!
So, to all the Adult Novels I've loved this year, thank you for all the amusing antics, kilig-inducing romances, and wonderful character developments that remind me how challenging it is to navigate life as an adult!
---
There goes my 2021 Reading Recap! I had a great time writing this reading recap while looking back at the books I enjoyed this year! I hope your 2021 reading experience has been great and I wish you all the best for your 2022 reading goals!
Let's Chat! 💬
Which books were the highlight of your year? How was your 2021 Reading Recap? Link it down below!