From The Repository is a collection of my old book reviews lifted from my old website. Check out the rest here.
Title: The Bookish Life of Nina Hill by Abbi Waxman
Publication Date: July 09, 2019 by Berkley
Synopsis
The only child of a single mother, Nina has her life just as she wants it: a job in a bookstore, a kick-butt trivia team, a world-class planner and a cat named Phil. If she sometimes suspects there might be more to life than reading, she just shrugs and picks up a new book.
When the father Nina never knew existed suddenly dies, leaving behind innumerable sisters, brothers, nieces, and nephews, Nina is horrified. They all live close by! They're all—or mostly all—excited to meet her! She'll have to Speak. To. Strangers. It's a disaster! And as if that wasn't enough, Tom, her trivia nemesis, has turned out to be cute, funny, and deeply interested in getting to know her. Doesn't he realize what a terrible idea that is?
Nina considers her options.
1. Completely change her name and appearance. (Too drastic, plus she likes her hair.)
2. Flee to a deserted island. (Hard pass, see: coffee).
3. Hide in a corner of her apartment and rock back and forth. (Already doing it.)
It's time for Nina to come out of her comfortable shell, but she isn't convinced real life could ever live up to fiction. It's going to take a brand-new family, a persistent suitor, and the combined effects of ice cream and trivia to make her turn her own fresh page
This post contains affiliate links and I may earn a small commission through qualifying purchases.
My Thoughts
It's a no-brainer for me to be excited about this book since it features an introverted heroine that works in a bookstore and loves to read. Working in a bookstore is like every reader's dream job and our girl Nina Hill is living the dream. 😍
Nina had lived a normal (bookish) life until she found herself smack right in the middle of a big family brought by her unknown father's death. It was quite the ride to see the hilarity that ensued along with it. With a mix of acceptance and indifference, Nina had to navigate her way into her newfound family.
Bookish lives, trivia nights and romance 💘
Besides being a bookworm, another thing that I think made me see myself in Nina was her enthusiasm with trivia night contests. While there are no trivia nights for me to join, I do have this knack of knowing the most trivial and random things.
I found the romance between Nina and Tom cute but I think it needed more fleshing out. Although, overall I did enjoy seeing it unfold and the fact that Tom was literally the cutest fluff is a big bonus. I think that the pacing was a little mixed, some parts were slow while some are paced well. But I can't deny the fact that I was totally drawn into this story.
Overall, this book tackled more about family dynamics and self-discovery rather than having a plot that focuses on romance. If you're into that, you might want to try this then!
Some people take energy; some people give energy . . . Occasionally, you get lucky and find someone whose energy balances your own and brings you into neutral.

The bookish life of nina hill by abbi waxman
---
PIN THIS POST 📌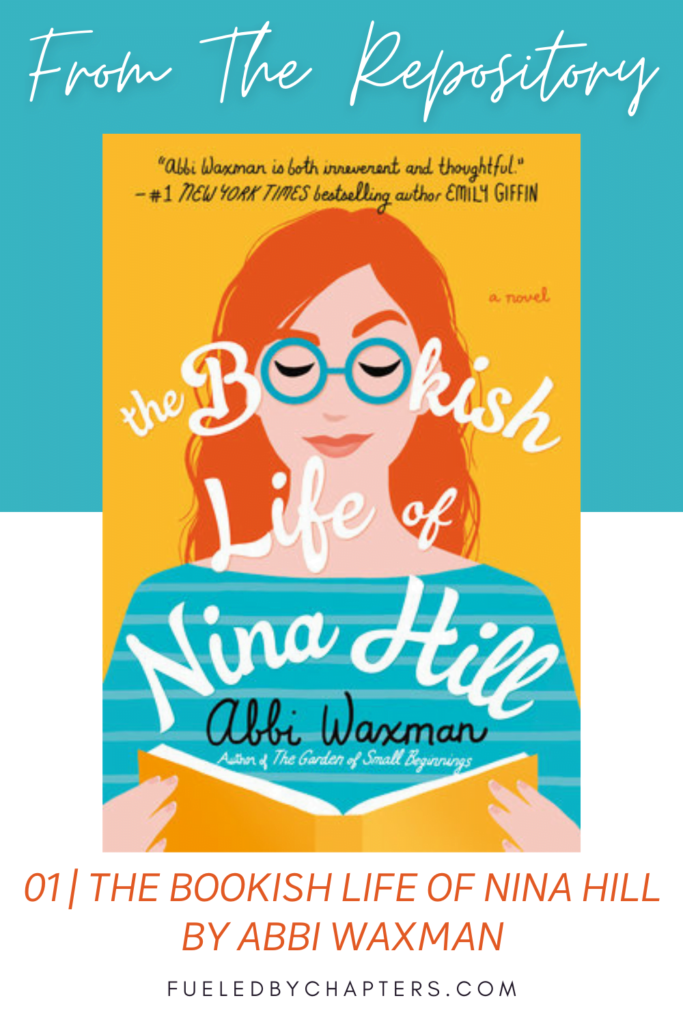 Let's Talk! 💬
💖 Have you read The Bookish Life of Nina Hill? If so, what did you think of it?
💖 Do you know other books that feature introvert heroines like Nina?
📢 I hope to be able to post more old reviews in the Repository so they could be filler posts when I'm out of content. LOL 😁