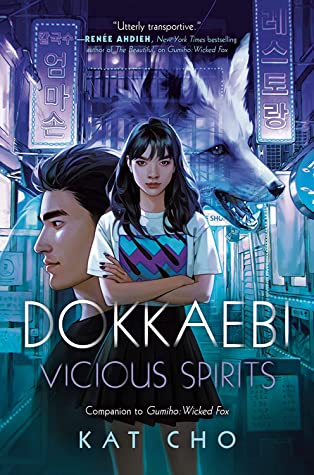 Dokkaebi: Vicious Spirits by Kat Cho
Pub Date: August 18, 2020 by G.P. Putnam's Sons Books for Young Readers
[Amazon | Goodreads | StoryGraph]
Synopsis
As Vicious Spirits begins, Miyoung and Jihoon are picking up the pieces of their broken lives following the deaths of Miyoung's mother, Yena, and Jihoon's grandmother.
With the support of their friend Somin, and their frenemy, Junu, they might just have a shot at normalcy. But Miyoung is getting sicker and sicker by the day and her friends don't know how to save her. With few options remaining, Junu has an idea but it might require the ultimate sacrifice and, let's be honest, Junu isn't known for his "generosity."
Meanwhile, the events at the end of Wicked Fox have upended the forces that govern life and death and there are supernatural entities lurking in the background that will stop at nothing to right their world.
This post contains affiliate links and I may earn a small commission through qualifying purchases.
I can still quite remember how excited I was when I saw a copy of Dokkaebi in the bookstore! Being a big fan of Gumiho, I was super excited to read this so I immediately grabbed the copy once I saw it. This was also one of the books I was really aiming to read this year.
Initial Thoughts
If you know me well, then you probably have an idea of how much I love Korean Dramas! Like the companion novel, Dokkaebi is set in modern-day Seoul, but with supernatural elements brought by the rich Korean Mythology.
Miyoung, a gumiho who lost her fox bead, returns with Jihoon. With them is Somin, who is Jihoon's best friend, and Junu, a dokkaebi (goblin). Changwan is also back!
The story picks up right after the events of the first book so it wasn't all confusing.
I really enjoyed reading this book, as it shows how much Kat Cho's writing style in terms of the narrative and character arcs have developed over the course of two books.
Korean Mythology
The rich world-building is one of the highlights of the book. The author really did a great job in explaining the mythology that surrounds the story, and weave through the morals and values of these stories.
I think one of the commonalities between Asian culture is that most urban legends told by our elders have these "moral of the story" which they highlight every time they tell these stories. I was totally engrossed with the way Cho's narration flows from the present to the past.
The additional supernatural elements like the grim reaper, shamans, and mountain gods were totally enjoyable!
Reading the little glossary at the end was fun, even though I was a little familiar with most of the terms.
Fleshed Out Character Development
Another highlight of the book is the development of each individual character and their relationships with each other. Kat Cho was able to explore these four characters equally, and I know that writing characters with equal adoration is a hard feat!
As for Somin and Junu, UGH I JUST LOVE THEM BOTH!
Lee Somin is a no-nonsense type who's always ready to pick you up from your bullshit, and I love her for it. I also enjoyed how we got to explore more of her friendship with Jihoon and her relationship with her mother.
Jin Junu, on the other hand, really made his way into my heart. He was a bit annoying in Gumiho since he's of no big help. But in this book, we see him grow from a self-absorbed person to someone willing to make big sacrifices.
People don't realize that loneliness isn't just about being alone

DOKKAEBI: VICIOUS SPIRITS BY KAT CHO
The Joys of Love
This book explores love in many ways, and I adored every single one of them.
The biggest might be the family relationships tackled in the book. Most characters dealt with the grief of losing a loved one, and I think that it was handled with utmost importance.
Romance, obviously, was a big one. And as electrifying as it was, especially with Junu and Somin, I don't think it will pass as a fluffy teen rom-com. Like, Korea won't air this as a teen K-drama at all because they were on FIRE! 🔥
Honestly, I enjoyed the contrast between Miyoung and Jihoon, and Somin and Junu. The first two were a little slow-paced with their romance, but Somin and Junu… I mean, WOW! I literally felt the spark between them every time they have a scene together, I'm not even joking! Maybe hate-to-love is the best trope. 😂
Final Words
Dokkaebi was a wild ride! It's fast-paced and a good mix of character and plot development. I had total fun reading this book!
Kat Cho's impressive writing style is something everyone should look out for, as it progressed and improved amazingly over the course of two novels!
I have nothing to say other than read Gumiho, and then read this gem of a book!
ABOUT THE AUTHOR
Kat Cho used to hide books under the bathroom sink and then sneak in there to read after bedtime. Her parents pretended not to know. This helped when she decided to write a dinosaur time-travel novel at the tender age of nine. Sadly, that book was not published. She currently lives and works in NYC and spends her free time trying to figure out what kind of puppy to adopt. Kat is the international bestselling author of Wicked Fox and Vicious Spirits (Putnam/Penguin).
Find her online at: Twitter | Instagram | Youtube | Write or Die Podcast | KatChoWrites.com
Let's Chat! 💖
Have you read Kat Cho's novels?
What are your favorite books that are based on Ancient Mythology?