Admit You Miss Me by Ajme Williams is part of the Irresistible Billionaires series, but can be read as a standalone novel.
About Admit You Miss Me
Admit You Miss Me (Irresistible Billionaires, #1) by Ajme Williams
Publication Date: Oct 10, 2020
SYNOPSIS
Most girls would kill to carry his baby.
Charles Hampton… the billionaire heartthrob that I had to dump seven years ago.
My plan, right before I ran away from him, was pretty simple.
Get over the rich dude and his snooty family that would never accept me.
Care for my mother who was diagnosed with terminal illness.
Forget that anything had changed.

But no, life threw a curveball and the only way around it was to be a surrogate for Charles.
The man that I'd fallen for seven years ago.
The man that I'd tried to forget ever since.
He offered me a million bucks to carry his baby.
The same money that I'd use for my mother's treatment.
I didn't really have much of a choice in the matter.

His only catch?
I'd have to live with him until the baby is born.
My only wish?
We couldn't fall in love again.

But what if we'd never fallen out of love in the first place?
My Review
I don't remember when but I know I got this on Amazon for free. I was just looking for something to pass the time and I went for this short novel. I don't think I've read something that features surrogate pregnancy before, but this book was too intriguing to pass on.
Admit You Miss Me follows Brenna and Charles, who had a history together, reuniting years later and giving their relationship a second chance.
Also Read: The Bromance Book Club by Lyssa Kay Adams
I truly love second-chance romance because of the angst and the characters' maturity, but not as much as I love accidental pregnancy, or in this case, surrogacy. I don't know, I just have a soft spot for fussy and overprotective male leads who'd move heaven and earth just to make their partners comfortable.
I definitely got that with Charles, although sometimes it felt like he was too overbearing, not to mention the power dynamics between them favor Charles, as technically, they're under a contract and he's basically a royalty. What I did like was they really didn't dwell on him being a royal and just focused on the romance between the two.
That being said, I wish there was more room to flesh out both characters, it was a bit fast-paced and I didn't really get to enjoy the tension and push and pull between the two.
Overall, Admit You Miss Me by Ajme Williams was a fun read! I'm interested to try her other books in the future!
Also Read: You Deserve Each Other by Sarah Hogle
---
PIN THIS POST 📌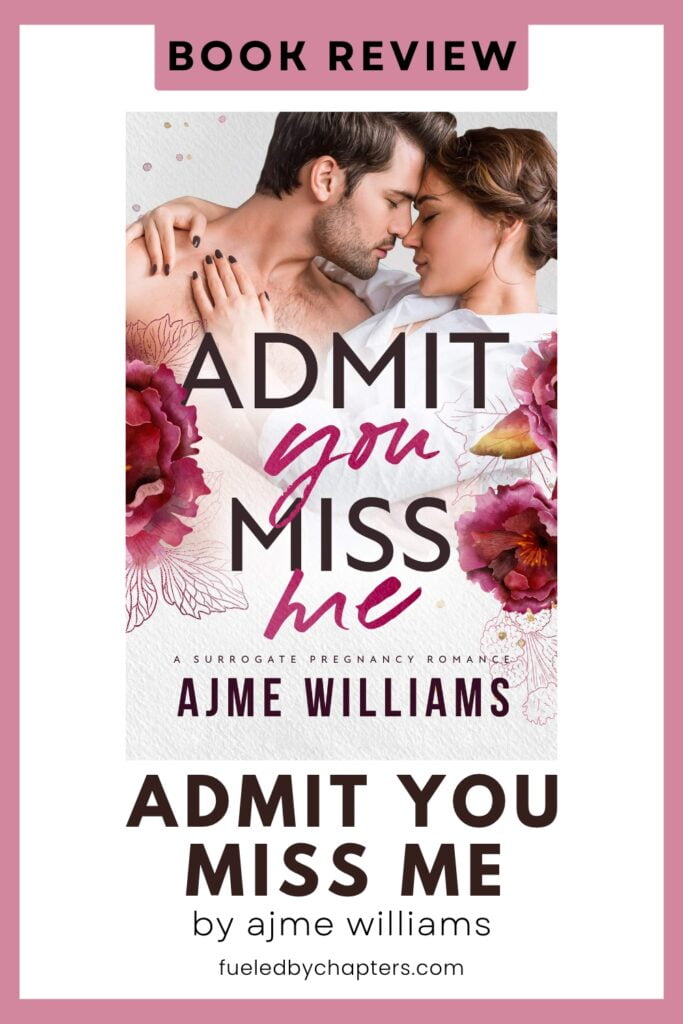 Let's Chat! 💬
What are your favorite romance tropes? Do you like accidental pregnancy or surrogacy in romance?