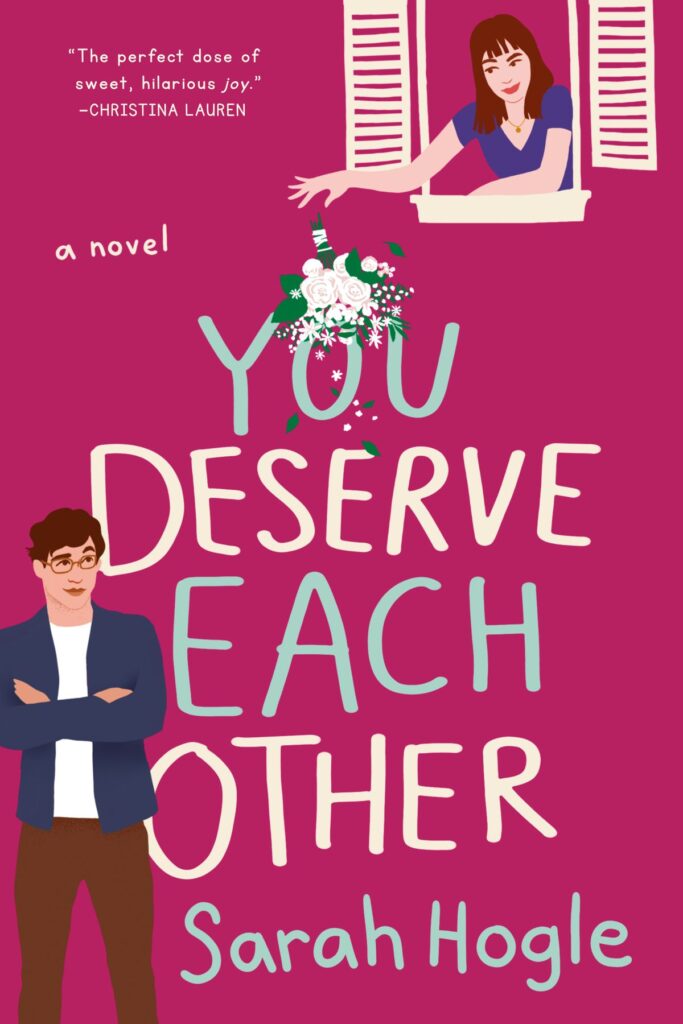 You Deserve Each Other by Sarah Hogle
Publication Date: April 07, 2020 by G.P. Putnam's Sons
Synopsis
When your nemesis also happens to be your fiancé, happily ever after becomes a lot more complicated in this wickedly funny, lovers-to-enemies-to-lovers romantic comedy debut.
Naomi Westfield has the perfect fiancé: Nicholas Rose holds doors open for her, remembers her restaurant orders, and comes from the kind of upstanding society family any bride would love to be a part of. They never fight. They're preparing for their lavish wedding that's three months away. And she is miserably and utterly sick of him.
Naomi wants out, but there's a catch: whoever ends the engagement will have to foot the nonrefundable wedding bill. When Naomi discovers that Nicholas, too, has been feigning contentment, the two of them go head-to-head in a battle of pranks, sabotage, and all-out emotional warfare.
But with the countdown looming to the wedding that may or may not come to pass, Naomi finds her resolve slipping. Because now that they have nothing to lose, they're finally being themselves–and having fun with the last person they expect: each other.
This post contains affiliate links and I may earn a small commission through qualifying purchases.
Wow, it feels so good to write a book review after a really reaaaaally long time! This is the first book review I'm writing since launch and honestly, I'm even smiling as I smash my keyboard 😂.
Initial Thoughts
I started reading You Deserve Each Other on a whim, but I had this on my radar since last year. I really forgot what the synopsis was but I knew that this has a hate-to-love trope. So I got confused when I first started reading because it seemed like the main characters really hated each other and were ready to burn each other into the ground.
There was no sexual tension between them, unlike other hate-to-love stories. And I thought, "Huh? That's new."
After confirming that the main characters were indeed Naomi and Nicholas, I continued to read with an open mind and I'm really glad I did because I enjoyed their story so much!
Petty Little Liars
You Deserve Each Other tells the complicated story of Naomi and Nicholas, who are engaged to be married soon. Instead of the usual pre-wedding jitters, Naomi and Nicholas have bigger problems to face as they start to hate each other to the core.
If this wasn't tagged as a romance novel, I'd pretty much be sold to the idea that they were born to destroy each other. But alas, good things come to those who wait.
Naomi and Nicholas aren't perfect characters. Both characters with riddled with issues that contribute to a chaotic relationship. First, they do petty things to spite each other. And jeez, the number of lies around their relationship. I really thought that their relationship was beyond saving.
Naomi is as cynical as she can be, while Nicholas is a self-entitled mess. I admit that I rolled my eyes several times because of their immature actions which were annoying.
How we met is insignificant in light of how we met again.

sarah hogle, You deserve each other
And that's when it hit me… the level of pettiness and immaturity present in their story was the first step. They started really seeing each other on the same level. As a reader, I was forced to take a step back and look at the bigger picture much like the main characters and that's what I really enjoyed in the story.
Their flaws also make their characters relatable and grounded. Okay so spoiler alert, most of their issues stem from one thing which is miscommunication. And let's be real, it's one of the most common issues in any kind of relationship. This often leads to falling out. I just love how the story tackled this well as they really were on the brink of their relationship.
Stubborn Love
Despite the hatred, I love the way how Naomi and Nicholas found each other again. They were adorably miserable for most of the book. And it was funny to see them slip up because it was obvious that they are still madly in love with each other. Their chaotic dynamics at the start turned into fluff towards the end. It was a treat to see everything unfold 😍.
I also like how the story was paced well. I finished the book in one sitting because it's just so fun! I've never read something so snarky and sarcastic, which was the main selling point for me.
Final Words
While You Deserve Each Other might not be everyone's cup of tea, I believe that reading Naomi and Nicholas' love story is worth a try. It's such a nice journey not only for the characters but also for the readers to see their growth both as individuals and as a couple.
You Deserve Each Other is Sarah Hogle's debut novel, and I'm excited to read more from the author! I definitely recommend this if you are looking for a quick, hilarious, and heartwarming read!
ABOUT THE AUTHOR
Sarah Hogle is a mom of three who enjoys trashy TV and provoking her husband for attention. Her Dream is to live in a falling-apart castle in a forest that is probably cursed. You Deserve Each Other is her debut novel.
Let's Chat!
📕 Have you read You Deserve Each Other? If so, what are your thoughts about the story?
📕 Do you have any hate-to-love book recommendations?