Today, we're chatting with debut author Amy Lea, who wrote the fun, steamy, body-positive rom-com novel, Set on You!
In case you didn't know, Set on You by Amy Lea is one of my most anticipated reads, and it's one I certainly enjoyed reading! I was lucky to have the chance to read Set on You early, as well as feature Amy for a quick author chat!
Before we go into the interview, allow me to introduce you to her book first!
About the Book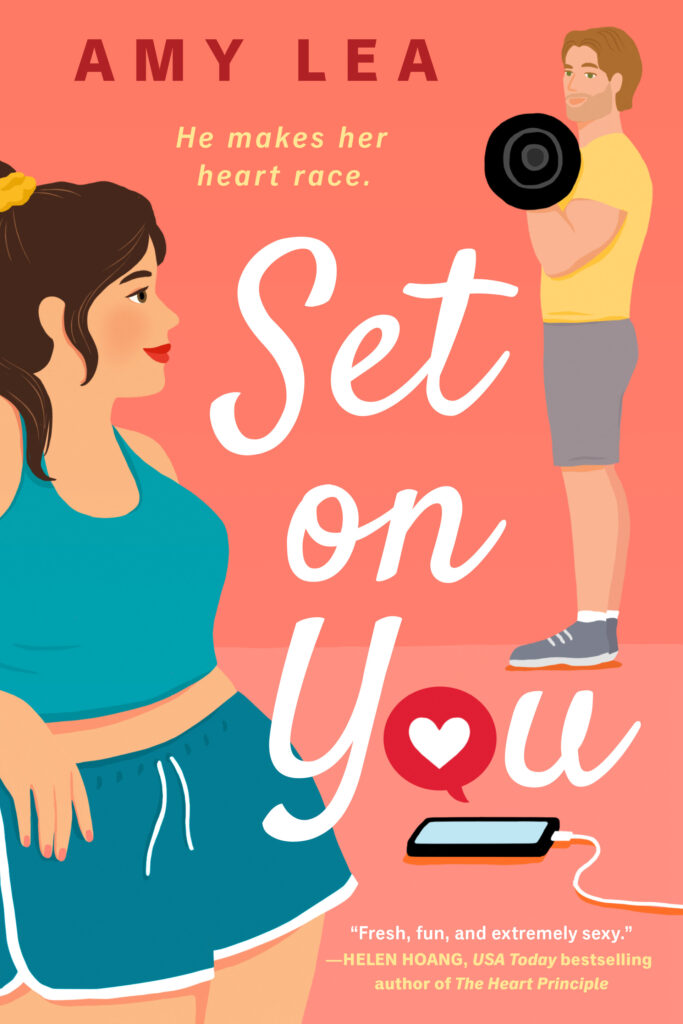 Set on You by Amy Lea
Pub Date: May 10, 2022 by Berkley
Amazon | Goodreads | StoryGraph | Bookshop
SYNOPSIS
A gym nemesis pushes a fitness influencer to the max in Amy Lea's steamy debut romantic comedy.

Curvy fitness influencer Crystal Chen built her career shattering gym stereotypes and mostly ignoring the trolls. After her recent breakup, she has little stamina left for men, instead finding solace in the gym – her place of power and positivity.
Enter firefighter Scott Ritchie, the smug new gym patron who routinely steals her favorite squat rack. Sparks fly as these ultra-competitive foes battle for gym domination. But after a series of escalating jabs, the last thing they expect is to run into each other at their grandparents' engagement party.
In the lead up to their grandparents' wedding, Crystal discovers there's a soft heart under Scott's muscled exterior. Bonding over family, fitness, and cheesy pick-up lines, she just might have found her swolemate. But when a photo of them goes viral, savage internet trolls put their budding relationship to the ultimate test of strength.
---
Author Chat with Amy Lea
Hi Amy! Welcome to the blog! Can you tell us a little bit more about yourself?
Hi! Thank you so much for having me. My name is Amy Lea and I'm a Chinese-Canadian bookstagrammer turned rom-com author. When I'm not at my government day job, I can be found listening to mid-2000s music, watching trash reality television, and obsessing over romance movies and books. Orangutans are my favorite animal in the entire world.
What made you decide to write about a biracial curvy fitness influencer as your main character? Did any of Crystal's struggles reflect your own?
I'm drawn to strong, confident main characters in romance. As I fleshed Crystal out, I realized she had a lot to say, and a lot of her journey was inspired by my own experiences. As an Asian girl who grew in an all-white community the 90s/early 2000s, I seldom saw myself represented in books or film, aside from flimsy side characters. When you don't regularly see yourself represented in the media you consume, you begin to think you're not worthy of being a main character in your own life.
Crystal's story is drawn from my own journey to self-acceptance. I wanted readers, particularly those who don't conform to Western societal beauty standards, to know that while loving yourself is such an important goal, it's OKAY to feel doubt sometimes. Crystal is seemingly the picture of strength and confidence. She's a character who, despite being an idol in the body positivity fitness community, still has her moments of doubt. I hoped to write a book that would show readers it's okay not to feel confident all the time – and that society still has a long way to go in normalizing marginalized bodies as being worthy of love.
And even more importantly, I wanted to write a book that would affirm to everyone that they deserve a happily ever after. That they deserve to be a main character in their own story.
I love how the story highlighted the toxic side of social media. I learned that you were active on Bookstagram (and your photos are so pretty OMG!) even before you were published, was there any change in how you use your social media platforms now than before?
Yes! I love the Bookstagram community and I credit so much of my publication journey to the connections I made there. For me, there was a natural pivot from using Bookstagram solely as a consumer of romance books to being a creator. For example, as a Bookstagrammer, I regularly posted reviews and personal information about my life. But as an author, I hope to maintain more privacy. I also don't believe in critiquing the work of my peers, so I now use my platform exclusively to hype and promote other books I love in addition to my own promo.
When you don't regularly see yourself represented in the media you consume, you begin to think you're not worthy of being a main character in your own life.

AMY LEA
My favorite scene from the book was when Crystal's dad expressed his support for her career, despite being apprehensive. THE ASIAN STRUGGLE!😂
Were there any scenes in the book that really stuck with you or something you consider as your favorite?
The struggle is real!! Yes – Crystal's scene with her father was one of my favorites to write because hearing her father's experience was a huge turning point in her journey. I'm always touched by family relationships and I really wanted to showcase the breadth of her support system.
Other favorite scenes of mine to write were all of the gym shenanigans in the beginning of the book. These scenes were some of the first to pop into my head before I started writing. To this day, the scenes are still so vivid in my mind. I also loved writing the axe throwing scene.
Which books would you recommend for readers who enjoyed Set on You?
What a great question! Readers who enjoyed SET ON YOU would probably enjoy THE FASTEST WAY TO FALL by Denise Williams, also a body-positive gym romance!
Scott was inspired by actor Chris Evans and I loved the various references and similarities between them. Now for my burning question, what is your favorite Chris Evans movie? (Mine's a tie between Snowpiercer and Captain America The Winter Soldier LOL)
Oh my god. How do I possibly choose???
Okay, I'm cheating, but it's a tie between: The Avengers: Endgame (the hammer scene in the final battle tho), and Before We Go, an underrated romance he directed and starred in. Fluffy Chris at his finest.
Ahhh! I love fluffy Chris too! But on a more exciting note, Are you currently writing your next project? Can you tell us anything about it?
Yes! Book 2 is in the works. More details will be released very soon, but I can tell you, it's Tara's book! For those who may not know, Tara is Crystal's book influencer sister. She's my favorite (don't tell Crystal and Mel I said that).
Lastly, what advice can you give to readers who are also aspiring writers?
My advice for aspiring authors is to find your community and nurture it early. Whether your community is other writers or readers, having a support system throughout the inevitable highs and lows of your journey to publication is so important. For me, I have found community both through fellow writers at my publisher, as well as on Bookstagram with the readers. I started out in the Bookstagram community as a fellow reader, reviewing and hyping up other books.
Through this, I was able to form genuine friendships and connections with other avid romance readers as a fellow fan-girl, and not the other way around, as an author. Now that I've transitioned into being an author, my Bookstagram peers have rallied behind me at every step through my publishing journey by beta reading, announcing my deal, supporting my cover reveal, etc. and I am so grateful for them.
Thank you so much for chatting with us, Amy!
Reach out to Amy Lea through her website, Twitter, or Instagram.
---
PIN THIS POST 📌