Arsenic and Adobo by Mia P. Manansala
Pub Date: May 04, 2021 by Berkley
Age Group: Adult
Genre: Mystery/Thriller
[Amazon | Goodreads | StoryGraph]
Synopsis
When Lila Macapagal moves back home to recover from a horrible breakup, her life seems to be following all the typical rom-com tropes. She's tasked with saving her Tita Rosie's failing restaurant, and she has to deal with a group of matchmaking aunties who shower her with love and judgment. But when a notoriously nasty food critic (who happens to be her ex-boyfriend) drops dead moments after a confrontation with Lila, her life quickly swerves from a Nora Ephron romp to an Agatha Christie case.
With the cops treating her like she's the one and only suspect, and the shady landlord looking to finally kick the Macapagal family out and resell the storefront, Lila's left with no choice but to conduct her own investigation. Armed with the nosy auntie network, her barista best bud, and her trusted Dachshund, Longanisa, Lila takes on this tasty, twisted case and soon finds her own neck on the chopping block…
This post contains affiliate links and I may earn a small commission through qualifying purchases.
Content Warnings
indications of evidence planting and police intimidation
drug use
fatphobia
racism
domestic violence (implied, not on the page)
On-Page Representation
POC (Filipino-American MC, Pakistani Muslim American, Korean-American, Mexican-American, Japanese-American, Black American)
LGBTQIAP+ (lesbian, bisexual, queer)
DISCLOSURE
I received an Advanced Readers Copy of this book from the publisher as part of the blog tour hosted by Caffeine Book Tours.
Initial Thoughts 🧠
I've been on the lookout for Arsenic and Adobo since I saw it online. When I found out that Caffeine Book Tours was hosting this tour, I immediately signed up!
Food and mystery, two of my favorite things in the whole world. The synopsis alone intrigued me, I mean from Nora Ephron to Agatha Christie? I love it already!
I truly enjoyed reading this book and it's been one of the best reading experiences I've ever had. The food descriptions were distractingly delicious so I couldn't sleuth as much as I wanted to.
Arsenic in Adobo 🍲
Let's talk first about the mystery aspect. I truly loved how it was executed in the book, a curveball I might say. The initial tone of the book sounded like a cliché rom-com: Lila Macapagal going back to her hometown after a bad break-up and help with the family business, only to end up being the primary suspect in a murder case.
I love whodunnit mysteries and I always grow suspicious of everyone from page one, but this book really took unpredictable to another level. Then again, maybe that's just me being distracted with all the food.
Filipino at Heart 👨‍👩‍👧‍👧
From delicious food to chismosa titas, Arsenic and Adobo nailed the Filipino representation that I've been craving. I love the family dynamics explored in the book, including the extended family, such as Lila's friends, and even Detective Park.
Hospitality is a big thing for Filipinos, and Filipinos love to express hospitality through food. Everyone's invited for a feast in Filipino Fiestas and we'd even let you take food-to-go. It doesn't matter if we've never met before or you're a little bit mean detective whose purpose is to get you to jail. You'll get food. Just kidding, I don't hate Detective Park that much.
Having a big extended family is a common thing for Asian families. I love the no-nonsense Lola Flor, she actually reminds me of my own grandma. Tita Rosie is honestly the sweetest, and everyone should have their own Tita Rosie. Lila's encounters with the Calendar trio were just something I could pull out of my own experiences with my actual aunts. It's funny and cringey at the same time because I remember my own encounters 🤣.
Similarly, friends play a part in that extended family. Adeena is Lila's best friend and her brother Amir is Lila's long-time crush, and well a possible love interest. I honestly liked that the book didn't dwell much on romance.
In conclusion, Lila's big family is an accurate representation of these and I loved seeing their interactions play out. From cooking food to the gossips, all the way to aunts prodding you about your dating life. Very Pinoy.
Overall Thoughts 💡
Arsenic and Adobo will truly be one of my favorite reads for this year.
The mix of mystery and drama was perfectly balanced. Additionally, I love the story's pacing and the pool of fleshed-out characters that really made me root for them. Lila's story is close to my heart because I really saw myself in her and we had a lot in common, sans the murder aspect.
I really recommend this book especially if you're looking for a cozy mystery mixed with drama and comedy. In addition, reading this would make you feel like a part of a big happy and a bit dysfunctional family. Manansala really nailed the homey and heartwarming feeling of a typical Filipino Family.
Now, I'm off to find some ube and try that ube crinkles that Lila likes to bake.
ABOUT THE AUTHOR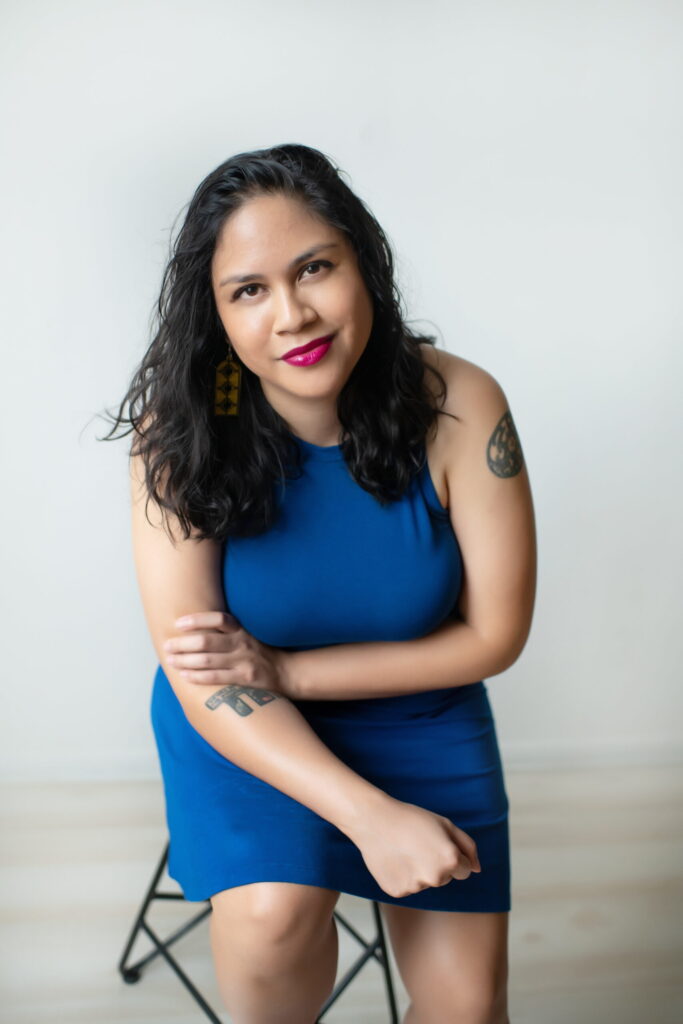 Mia P. Manansala is a writer from Chicago who loves books, baking, and bad-ass women. She uses humor (and murder) to explore aspects of the Filipino diaspora, queerness, and her millennial love for pop culture.
She is the winner of the 2018 Hugh Holton Award, the 2018 Eleanor Taylor Bland Crime Fiction Writers of Color Award, the 2017 William F. Deeck – Malice Domestic Grant for Unpublished Writers, and the 2016 Mystery Writers of America/Helen McCloy Scholarship. She's also a 2017 Pitch Wars alum and 2018-2019 mentor.
Author links: Website | Facebook | Goodreads | Instagram | Twitter
Let's Chat! 💬
What is your favorite food from your local cuisine?
Have you tried any Filipino food?
Drop your favorite books that feature food!