The Shaadi Set-Up by Lillie Vale
Pub Date: September 7, 2021 by G.P. Putnam's Sons
[Amazon | Goodreads | StoryGraph | Bookshop]
SYNOPSIS
High school sweethearts Rita Chitniss and Milan Rao were the golden couple, until the day he broke her heart. Now, six years later, Rita has turned her passion for furniture restoration into a career and has an almost-perfect boyfriend, Neil. The last thing she needs is for Milan to re-enter her life, but that's exactly what happens when her mother, an unfailing believer in second chances, sets them up. Milan is just as charming, cocky, and confident as he was back in school. Only this time, he actually needs her business expertise, not her heart, to flip a hard-to-sell house for his realty agency.
While Rita begrudgingly agrees to help, she's not taking any risks. To prove she's definitely over him, she signs herself and Neil up on MyShaadi.com, a Desi matchmaking site famous for its success stories and trustworthy enough to convince everyone that she and Neil are the new and improved couple. Instead, she's shocked when MyShaadi's perfect match for her isn't Neil…it's Milan. Ignoring the website and her mother is one thing, but ignoring Milan proves much more difficult, especially when she promises to help him renovate the beach house of her dreams. And as the two of them dive deeper into work—and their pasts—Rita begins to wonder if maybe her match wasn't so wrong after all….
This post contains affiliate links and I may earn a small commission through qualifying purchases.
DISCLOSURE
I received an Advanced Review Copy from Edelweiss and Penguin Random House. All opinions are my own.
Initial Thoughts 🧠
The Shaadi Set-Up was one of my most anticipated releases for 2021! I loved Lillie Vale's debut YA, Small Town Hearts! It's one of my favorite books and it's criminally underrated, tbh.
So when I heard that Lillie Vale's new book is an adult romance, I immediately added it to my TBR! The Shaadi Set-Up offers a hilarious yet emotional second chance romance! And I had a great time reading this one!
The Perfect Match
Honestly speaking, I'm not the biggest fan of arranged marriages. I know it's very common in South Asian and East Asian cultures, especially involving rich people 😂. What I do like about it is when the couple ends up really falling for each other. Although, this wasn't what the book was about. I just wanted to throw it out there.
Anyway, the looming presence of your family setting up your dating profiles, arranging your date nights, or pressuring you for marriage? Just thinking about it makes my skin crawl so much! And that's exactly what Rita had gone through. But I have to admit it was funny to read.
It was really easy to root for Rita and her loveable personality. I love how she employs a no-nonsense attitude (albeit staying respectful) towards her family and their hilarious attempt to get her into marriage.
However, Milan was on the opposite side for me. I like his romantic gestures towards Rita which really brought really fluffy and domestic scenes! But I think his attitude towards resolving their conflict needed more maturity. It felt like Rita was too forgiving towards him. I think if the book was in dual POV, I would've loved it more, and made me understand Milan better. He just needed more fleshing out in my opinion.
Second Chances
Like I mentioned above, I enjoyed the fluffy and domestic scenes! Rita and Milan really had a chemistry that I really rooted for. I love second chance romances, especially when the resolution of the conflict really pays off.
Unfortunately, this one didn't deliver as much as I expected it to. I wouldn't mind having extra chapters just to see a full closure. Because I think Rita really handled their relationship better than Milan. She was more sound, objective, and was more emotionally mature. I think if the book gave us more insight and depth into Milan's actions, I would've loved it more.
Still, I think Rita and Milan had a good journey and deserved their second chance.
Overall Thoughts 💡
Despite some hiccups, I really had fun reading The Shaadi Set-Up! It's mostly a lighthearted rom-com, packed with a little emotional punch that highlights the importance of family and communication.
I enjoyed the whole vibe and adored the house flipping scenes! I love those house flipping/tiny house renovation shows and reading this book made me really think of those. I also love that there really wasn't an antagonist in the book. I'm glad Neil wasn't a complete asshat!
Do I recommend it? Sure!
Especially if you love a good rom-com ala Falling Inn Love but with cute dogs!
ABOUT THE AUTHOR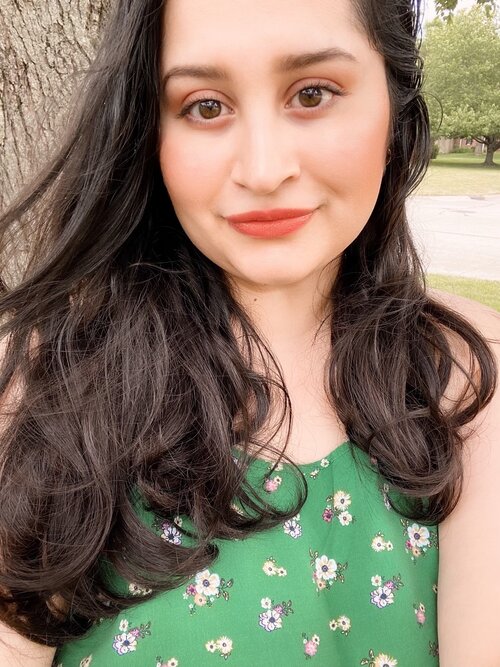 Lillie Vale is the author of the young adult novels Small Town Hearts and Beauty and the Besharam (forthcoming from Viking Children's). She writes about secrets and yearning, complicated and ambitious girls who know what they want, the places we call home and people we find our way back to, and the magic we make. Born in Mumbai, she grew up in Mississippi, Texas, and North Dakota, and now lives in an Indiana college town. The Shaadi Set-Up is her debut adult romantic comedy.
Let's Chat! 💬
What are your favorite second-chance romance books?