Hello, hello!
This is my first Author Chat post and today I'm really excited to bring you author Clarissa Goenawan! Clarissa got in touch with me a few months ago and I just recently finished and loved The Perfect World of Miwako Sumida!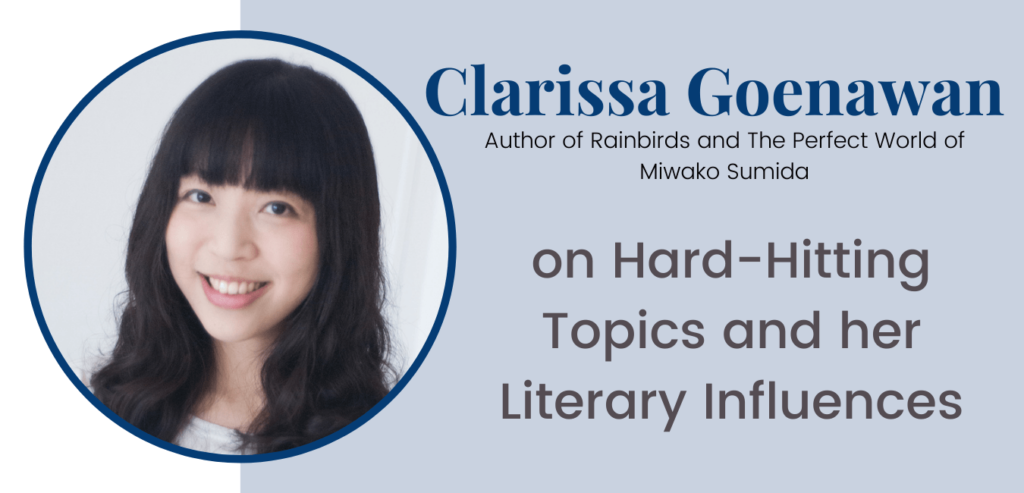 Hello, Clarissa! Thank you so much for chatting with us today! Can you tell us a little bit about yourself?
Clarissa Goenawan (CG): I'm an Indonesian-born Singaporean writer. My debut novel, Rainbirds, came out in 2018 and has been published in eleven different languages. My second novel, The Perfect World of Miwako Sumida, was published in March 2020. I write literary mysteries with elements of magical realism set in Japan. I love rainy days, pretty books, and green tea.
Your books are both heavily character-driven, so I'm interested to learn how you key in your plotlines while writing. Can you walk us through your writing process?
CG: Both Rainbirds and The Perfect World of Miwako Sumida are my NaNoWriMo projects. Each took me about five years to complete. ​​I don't plot. I usually have a clear idea of a beginning, a sense of ending, and some sort of key scenes I'd like to include—but nothing in-between. I just write, hoping that eventually, it'll turn into something. I'm a believer in trusting your characters and letting them lead you to unexpected places.
Related: The Perfect World of Miwako Sumida by Clarissa Goenawan | A Haunting and Compelling Page-Turner
Wow! Five years is a long time but I'm sure they're worth it! Jumping into The Perfect World of Miwako Sumida, the book tackles hard-hitting topics such as grief and sexual abuse, was it difficult for you to find balance in incorporating these topics in the story without it getting too dark?
CG: Not really. It was rather natural. Yes, my writing often deals with heavy topics, such as mental health and social issues. Often, there is a lot of regret, loss, and loneliness in my stories. But also, you'll find love and hope and forgiveness. I strongly believe that no matter how bleak the world might appear, there is always light at the end of the tunnel.
One thing I noticed about the book was Ryusei's part was told in first person POV, while Chie and Fumi-nee's are in third person. What was your rationale behind that decision?
CG: The first-person POV is the most natural for me, hence the first draft of The Perfect World of Miwako Sumida was written in multiple first-person POVs. In the subsequent edits, I rewrote the entire manuscript in the third person. I played around with various combinations before finally settling down with the current format.
While I haven't read Rainbirds yet, I learned that the books are set in the same universe. Do you have any upcoming or planned books that are also set in the same universe?
CG: I'm currently working on my third book, Watersong. Just like Rainbirds and The Perfect World of Miwako Sumida, it is set in Japan. The three novels are not in a series, but they are interrelated. You'll see characters in one book make appearances in the others. Do keep a lookout for the side characters, because they might be the main characters for the next book.
That's so great to hear! I'll be sure to check out Rainbirds while waiting for Watersong! Now, I wanted to hear about your writing influences. Who do you consider as your biggest literary influence/s?
CG: There are a lot of great authors I took inspiration from. I admire J. M. Coetzee and Deborah Levy for their clean prose, Haruki Murakami for his magical stories, Yasunari Kawabata and Banana Yoshimoto for their beautiful and atmospheric writing, Yoko Ogawa for her versatility, and Stephen King for his discipline and dedication to the writing life.
Lastly, what books can you recommend to readers who enjoyed your books?
CG: These are some of my favourites which I think have a similar vibe to my books:
I included the names of the books' translators to acknowledge their contribution in bringing these books to a wider audience.
Thank you so much for taking the time to chat with us, Clarissa!
You can find Clarissa Goenawan on Twitter, Instagram or on her Website.
---