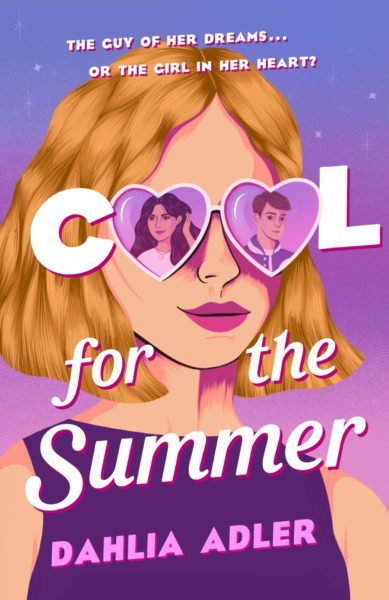 Cool For The Summer by Dahlia Adler
Pub Date: May 11, 2021 by Wednesday Books
[Amazon | Goodreads | StoryGraph]
SYNOPSIS
Lara's had eyes for exactly one person throughout her three years of high school: Chase Harding. He's tall, strong, sweet, a football star, and frankly, stupid hot. Oh, and he's talking to her now. On purpose and everything. Maybe…flirting, even? No, wait, he's definitely flirting, which is pretty much the sum of everything Lara's wanted out of life.
Except she's haunted by a memory. A memory of a confusing, romantic, strangely perfect summer spent with a girl named Jasmine. A memory that becomes a confusing, disorienting present when Jasmine herself walks through the front doors of the school to see Lara and Chase chatting it up in front of the lockers.
Lara has everything she ever wanted: a tight-knit group of friends, a job that borders on cool, and Chase, the boy of her literal dreams. But if she's finally got the guy, why can't she stop thinking about the girl?
Cool for the Summer is a story of self-discovery and new love. It's about the things we want and the things we need. And it's about the people who will let us be who we are.
This post contains affiliate links and I may earn a small commission through qualifying purchases.
ON PAGE REPRESENTATION
LGBTQ+ (Bisexual and Aroace rep)
Jewish Main Characters
DISCLOSURE
I received an Advanced Reader's Copy of this book from Netgalley and Wednesday Books. All opinions are my own.
Initial Thoughts 🧠
Cool For The Summer is the first Dahlia Adler book I've read. Tragic, I know, but hey now I totally understand all the hype surrounding her books. Not to mention she's awesome IRL as one of the voices of the YA LGBTQ+ Community!
Given the author's track record, there's already a level of confidence in terms of getting the representation right, plus a lot of readers really love her books so I'm literally just caving in for the hype. And boy, it delivers alright!
I really enjoyed the characters and the writing style, especially how it was told in alternating timelines as "Then" and "Now", which gives us an equal dose of backstory as the present one.
Also, I'm totally in love with the cover. Look at the colors!! If that doesn't scream BI RIGHTS, I don't know what will!
Summer Lovin' 🌞
I should probably retire this phrase since I used it on a recent post but it featured Cool For The Summer too so I'll let it pass. Besides, summer romances are one of my favorites!
Though in this case, Lara's was more of a secret summer fling. The summer before her senior year, she met Jasmine and they spent the perfect summer together. All good until it ended, until Jasmine walks right back to Lara's life as she transfers to her school. And Lara finally got the attention of Chase, the most popular guy in school, after years of crushing on him.
So… cliché but definitely complicated. I was so invested in their story, even though this wasn't really up my alley most of the time. But the characters were written well and fully fleshed out that's why I couldn't stop reading.
I thought I hate love triangles, but then reading this book (and more books with bisexual rep) made me realize that it's not that I hate love triangles, I just don't like them when they involve straight couples 🤣
Yep, a total eureka moment for me.
Summer Fling Don't Mean A Thing ⛱
Totally going Grease on this one because the lyrics of Summer Nights really fit the story of Lara and Jasmine! But where does Chase fit into all this?
Chase is literally the boy of Lara's dreams, she's had the biggest crush on him forever. Honestly, teenage me couldn't blame her. He's a jock, sure but there was more to him than the usual athlete and I love that Dahlia Adler made the choice of giving him more personality than just being a love interest. Plus, he's literally the sweetest kid.
Now to reiterate this lovely line from the synopsis, "But if she's finally got the guy, why can't she stop thinking about the girl?" Lara and Jasmine shared a deep bond during that summer, which changed Lara in many ways. She became more confident and more sure of herself, except obviously for her feelings and sexuality. This is often the point of YA stories with bi/pan rep. The endless curiosity and questioning, which is a valid feeling, and I always love seeing these characters take matters into their hands by putting themselves first and finally listening to their hearts.
Sexuality isn't something you buy in a Parisian boutique and wear for a season."

COOL FOR The summer, Dahlia adler
Dreams do change
Another thing I loved about the book was how it tells us that it's okay to let our dreams change. Setting up goals is one thing, but accepting that our goals may change in the future is another. Lara's dream was to be Chase's girlfriend until that one summer with Jasmine.
Again, I don't blame Lara. I think one of the weak points of the story was the lack of a deeper connection between Chase and Lara, which turned me to rooting for Jasmine more. Although, I also had issues with how Jasmine and Lara's conflict boiled down to miscommunication. Not a big fan, but then again they're teenagers so I'll let it pass.
Which brings me to another eureka moment, I am not the target age group of this novel anymore 😅 Still love it though!
Overall Thoughts 💡
Cool For The Summer is one of the best summer reads that I can recommend! It's a great contemporary novel that perfectly handles questioning one's sexuality. I absolutely adored the story and how the relationships evolved around friends and family. Plus, no one was an antagonist in the story and I liked the way how Chase and Lara ended their relationship on good working terms. It somehow reminds me of Steve and Robin from Stranger Things.
The book also tackles sex positivity and exploration in a good way, big props to Dahlia Adler for weaving these topics really well in the story. This book also has a diverse cast of characters, one in particular, is aroace.
I'm definitely adding this book into my collection of dearly beloved books with an amazing bisexual rep, like Perfect on Paper, Ramona Blue, and Small Town Hearts! If you read and loved those books, I'm sure you'll definitely enjoy this one!
ABOUT THE AUTHOR
Dahlia Adler is an Editor of mathematics by day, a Buzzfeed blogger and LGBTQReads overlord by night, and a Young Adult author at every spare moment in between. Her novels include the Daylight Falls duology, Just Visiting, the Radleigh University trilogy, and the upcoming Cool for the Summer (Wednesday Books, 2021); she is the editor of the anthologies His Hideous Heart (a Junior Library Guild selection) and That Way Madness Lies (Flatiron Books, 2021); and her short stories can be found in the anthologies The Radical Element, All Out, and It's a Whole Spiel. Dahlia lives in New York with her family and an obscene number of books, and can be found on Twitter and Instagram at @MissDahlELama.
Let's Chat 💬
Let me know your favorite books with amazing bisexual reps! Also have you read other books by Dahlia Adler? Let me know which one I should read next!