Summer is here and I can't be more disappointed because we can't go to the beach yet! But summer romance might be something we can dwell on since we don't need the beach to enjoy some summer lovin'.
Summer romance is a widely used trope in every form of media, and everyone loves it! Let's be real, who doesn't like to be swept away by all the fluff and kilig in the sweltering heat? 🥵
This post contains affiliate links and I may earn a small commission through qualifying purchases.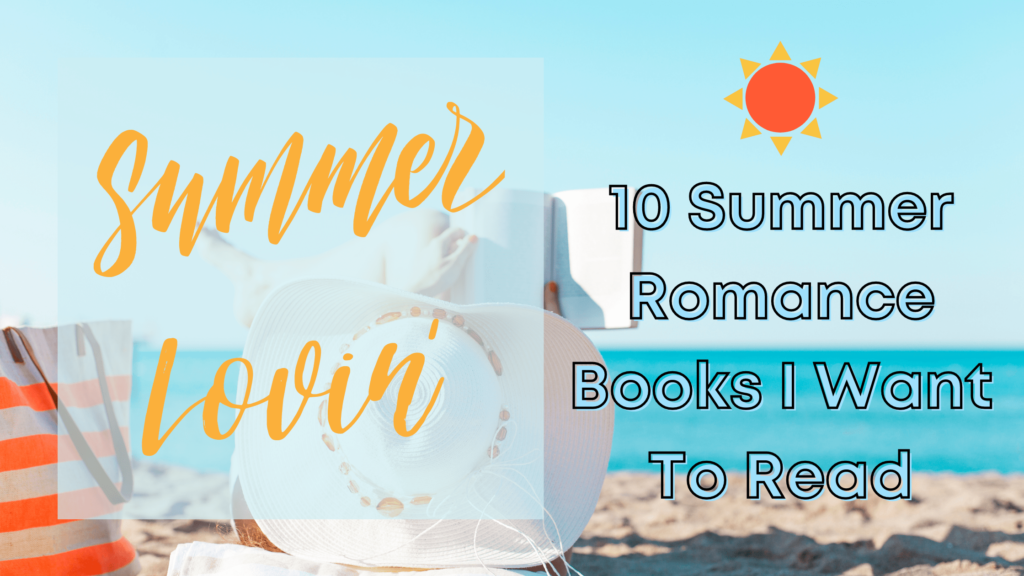 1. Cool For The Summer by Dahlia Adler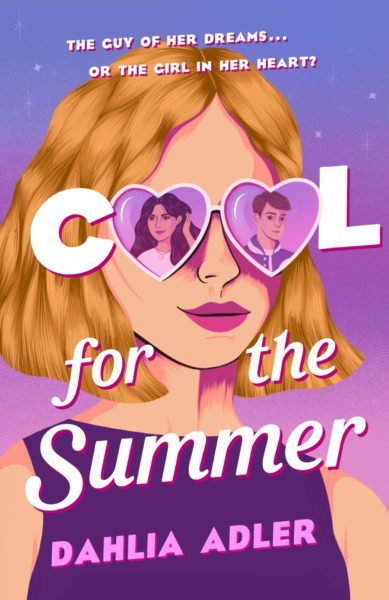 Lara's had eyes for exactly one person throughout her three years of high school: Chase Harding. He's tall, strong, sweet, a football star, and frankly, stupid hot. Oh, and he's talking to her now. On purpose and everything. Maybe…flirting, even? No, wait, he's definitely flirting, which is pretty much the sum of everything Lara's wanted out of life.
Except she's haunted by a memory. A memory of a confusing, romantic, strangely perfect summer spent with a girl named Jasmine. A memory that becomes a confusing, disorienting present when Jasmine herself walks through the front doors of the school to see Lara and Chase chatting it up in front of the lockers.
Lara has everything she ever wanted: a tight-knit group of friends, a job that borders on cool, and Chase, the boy of her literal dreams. But if she's finally got the guy, why can't she stop thinking about the girl?
I'm currently reading my review copy of this one as of writing and I'm loving it so far! This is my first Dahlia Adler book, can you even believe that? But don't worry I've got her other books on my radar so I'll definitely check them out as well.
What drew me in was that the main character is bisexual so yaaaaay for me! I can't wait to finish this book soon. Somehow this book reminds me of Small Town Hearts and Ramona Blue, which are my favorite books with bisexual main characters.
2. Mango Summer by Agay Llanera
Magic is in the air…
For the first time in a century, the fruit in San Antonio's most famous mango farm all turned sour. Fiona, thirty-six and single, knows why. According to her family's legend, the only way to keep the mangoes sweet is for the women who run the farm to be married and bear children. If Fiona doesn't find anyone soon, the inheritance her family has been protecting for generations is in danger of rotting away.
Greg used to have a massive crush on his older sister's best friend. When he drops by Fiona's farm to get his sister some of San Antonio's sweetest mangoes, his quick visit turns into an extended vacation. As the days go by, his feelings for Fiona begin to take root and grow. At twenty-eight, how can he convince Fiona that he's more than her friend's kid brother?
Agay Llanera is one of my favorite Filipino authors and I feel like it's a grave sin for me for not being able to read this yet! So maybe it's time I brush the dust off this book from my shelf and read it. Besides, this will count to my #StanAsianAuthors Reading Challenge!
3. Love & Other Natural Disasters by Misa Sugiura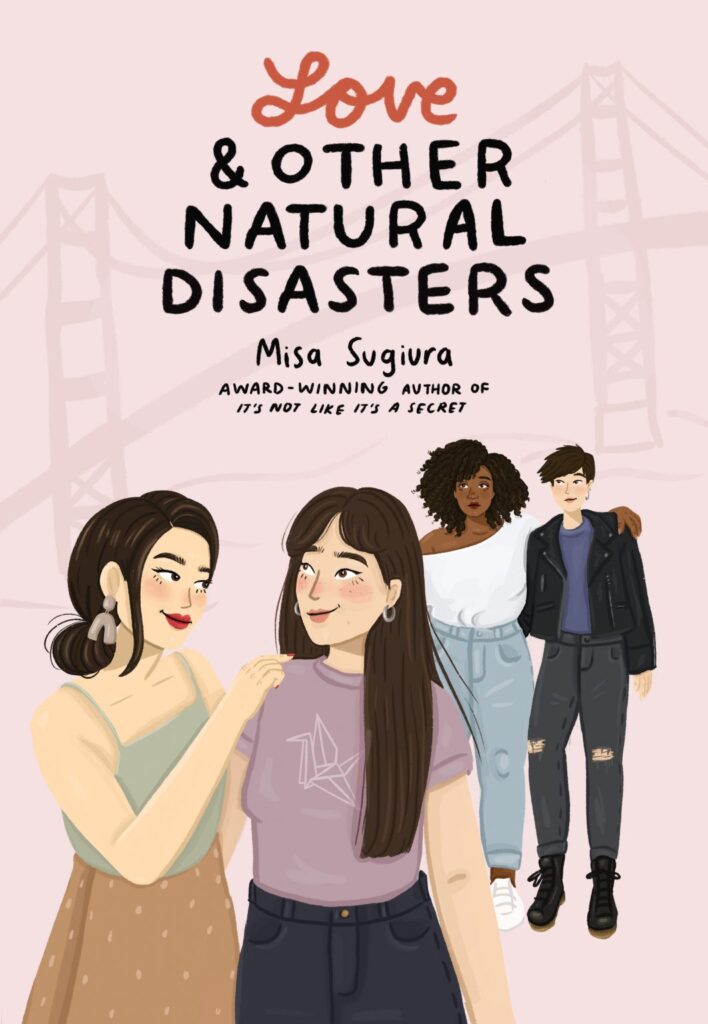 When Nozomi Nagai pictured the ideal summer romance, a fake one wasn't what she had in mind.
That was before she met the perfect girl. Willow is gorgeous, glamorous, and…heartbroken? And when she enlists Nozomi to pose as her new girlfriend to make her ex jealous, Nozomi is a willing volunteer.
Because Nozomi has a master plan of her own: one to show Willow she's better than a stand-in, and turn their fauxmance into something real. But as the lies pile up, it's not long before Nozomi's schemes take a turn toward disaster…and maybe a chance at love she didn't plan for.
Fake dating? That's good enough for me to sign up! That's one of my favorite tropes and I've read a lot of books with straight couples dealing with that, so it's time to switch it up. I love that there's a rise of YA books with LGBTQ+ main characters, which means we can get more representation mashed up with the typical romance tropes!
4. People We Meet On Vacation by Emily Henry
Two best friends. Ten summer trips. One last chance to fall in love.
Poppy and Alex. Alex and Poppy. They have nothing in common. She's a wild child; he wears khakis. She has insatiable wanderlust; he prefers to stay home with a book. And somehow, ever since a fateful car share home from college many years ago, they are the very best of friends. For most of the year they live far apart—she's in New York City, and he's in their small hometown—but every summer, for a decade, they have taken one glorious week of vacation together.
Until two years ago, when they ruined everything. They haven't spoken since.
Poppy has everything she should want, but she's stuck in a rut. When someone asks when she was last truly happy, she knows, without a doubt, it was on that ill-fated, final trip with Alex. And so, she decides to convince her best friend to take one more vacation together—lay everything on the table, make it all right. Miraculously, he agrees.
Now she has a week to fix everything. If only she can get around the one big truth that has always stood quietly in the middle of their seemingly perfect relationship. What could possibly go wrong?
So I have Beach Read in my TBR since last year, but I never got around to reading it. Now, Emily Henry put out another summer romance so that's two books that I want to read! I really hope I could get my hands to a copy of this one because I've been hearing a lot of good things about this book!
5. The Summer of Broken Rules by K.L. Walther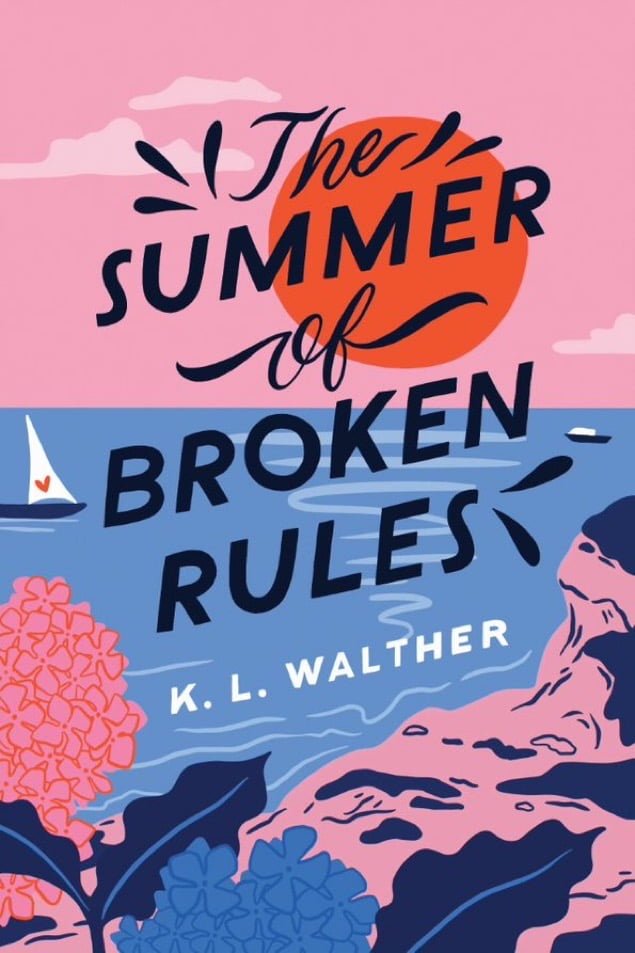 Meredith Fox has been going to Martha's Vineyard for the summer as long as she can remember. But this summer is the first one back since the death of Meredith's sister. It will all be overwhelming, but even more since the entire extended family will be together for her cousin's big wedding.
Unfortunately, Meredith's longtime boyfriend unexpectedly dumped her two weeks before the wedding, leaving her dateless. Luckily, she has the perfect distraction. Her family has a tradition of playing the ultimate game of Assassin every summer, and this year it will take place during the week of wedding festivities.
But her target just happens to be a very cute groomsman. She's determined to not let herself get distracted, not let herself be lost in another doomed relationship. But as the week progresses, she can't help falling for him, which may cost her not only the game, but also her heart.
Summer romance = Summer Weddings! I'm excited about this because the premise sounds so interesting and for sure I'm going to feel all the emotions! It's going to be fun playing Assassin during a wedding.
6. Where The Rhythm Takes You by Sarah Dass
Seventeen-year-old Reyna has spent most of her life at her family's gorgeous seaside resort in Tobago, the Plumeria. But what once seemed like paradise is starting to feel more like purgatory. It's been two years since Reyna's mother passed away, two years since Aiden – her childhood best friend, first kiss, first love, first everything – left the island to pursue his music dreams. Reyna's friends are all planning their futures and heading abroad. Even Daddy seems to want to move on, leaving her to try to keep the Plumeria running.
And that's when Aiden comes roaring back into her life – as a VIP guest at the resort.
Aiden is now one-third of DJ Bacchanal – the latest, hottest music group on the scene. While Reyna has stayed exactly where he left her, Aiden has returned to Tobago with his Grammy-nominated band and two gorgeous LA socialites. And he may (or may not be) dating one of them…
Inspired by Jane Austen's Persuasion, Where the Rhythm Takes You is a romantic, mesmerizing novel of first love and second chances.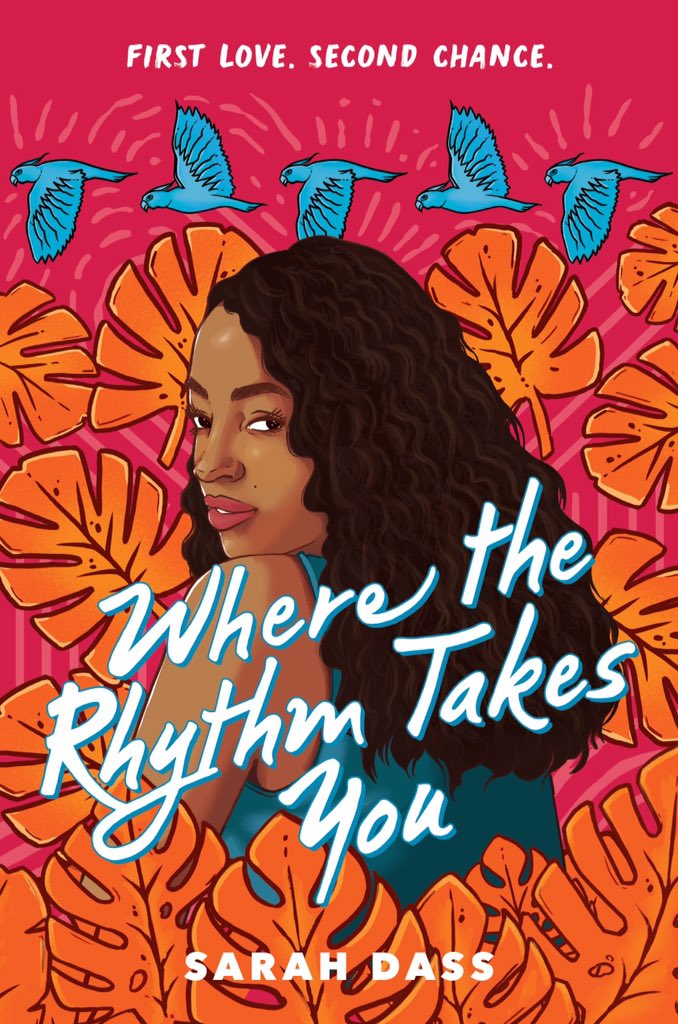 First of all, look at that cover! It's absolutely stunning! 💖
I'm a sucker for second chance romances especially the mutual pining! Now, I'm not familiar with the plot of Persuasion by Jane Austen, except for the second chance romance trope. However, everything about this book just screams amazing to me and I can't wait to get this!
7. The Summer Job by Lizzy Dent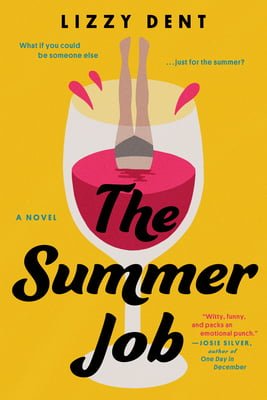 What if you could be someone else? Just for the summer…
Birdy has made a mistake. Everyone imagines running away from their life at some point. But Birdy has actually done it. And the life she's run into is her best friend Heather's. The only problem is, she hasn't told Heather.
The summer job at the highland Scottish hotel that her world class wine-expert friend ditched turns out to be a lot more than Birdy bargained for. Can she survive a summer pretending to be her best friend? And can Birdy stop herself from falling for the first man she's ever actually liked, but who thinks she's someone else?
One good friend's very bad decision is at the heart of this laugh-out-loud love story and unexpected tale of a woman finally finding herself in the strangest of places.
Just give me books with characters going on a life crisis because I, too, have no idea what I want to do in my life! I bumped this up my TBR because of how fun the synopsis was.
8. We Can't Keep Meeting Like This by Rachel Lynn Solomon
Quinn Berkowitz and Tarek Mansour's families have been in business together for years: Quinn's parents are wedding planners, and Tarek's own a catering company. At the end of last summer, Quinn confessed her crush on him in the form of a rambling email—and then he left for college without a response.
Quinn has been dreading seeing him again almost as much as she dreads another summer playing the harp for her parents' weddings. When he shows up at the first wedding of the summer, looking cuter than ever after a year apart, they clash immediately. Tarek's always loved the grand gestures in weddings—the flashier, the better—while Quinn can't see them as anything but fake. Even as they can't seem to have one civil conversation, Quinn's thrown together with Tarek wedding after wedding, from performing a daring cake rescue to filling in for a missing bridesmaid and groomsman.
Quinn can't deny her feelings for him are still there, especially after she learns the truth about his silence, opens up about her own fears, and begins learning the art of harp-making from an enigmatic teacher.
Maybe love isn't the enemy after all—and maybe allowing herself to fall is the most honest thing Quinn's ever done.
More summer weddings, yay! I love the premise of this one because I enjoy it when characters are thrown into situations where they keep meeting each other. Also, a cynic + hopeless romantic? Sign me up!
I have to admit, I haven't read anything from Rachel Lynn Solomon, but she's one of the authors I always look out for. I got her The Ex-Talk lined up and I can't wait to read that one too!
9. Wait For It by Jenn McKinlay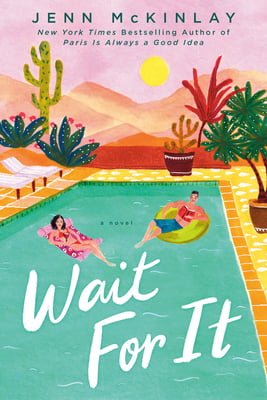 Stuck in a dreary Boston winter, Annabelle Martin would like nothing more than to run away from her current life. She's not even thirty years old, twice-divorced, and has just dodged a marriage proposal… from her ex-husband. When she's offered her dream job as creative director at a cutting-edge graphic design studio in Phoenix, she jumps at the opportunity to start over.
When she arrives in the Valley of the Sun, Annabelle is instantly intrigued by her anonymous landlord. Based on the cranky, handwritten notes Nick Daire leaves her, she assumes he is an old, rich curmudgeon. Annabelle is shocked when she finally meets Nick and discovers that he's her age and uses a wheelchair. Nick suffered from a stroke a year ago, and while there's no physical reason for him not to recover, he is struggling to overcome the paralyzing fear that has kept him a prisoner in his own home.
Despite her promise to herself not to get involved, Annabelle finds herself irresistibly drawn to Nick. And soon she wonders if she and Nick might help each other find the courage to embrace life, happiness, and true love.
This reminded me of The Flatshare by Beth O'Leary, except the guy is the landlord and not a roommate. Still, this is giving me a little cohabitation vibe which is another one of my favorite tropes!
The only thing I'm sad about is that this book is going to be released in August and that's too far away!
10. Meet Me in Paradise by Libby Hubscher
Marin Cole has never:
Seen the ocean
Climbed a mountain
Taken a risk on love
….But if her sister's plan works, she just might do all three.

Ever since her journalist mother died on assignment, Marin has played it safe, refusing to set foot outside the state of Tennessee. Her wild-child younger sister, Sadie, has trotted the globe as a photographer, living off of art and adrenaline.
When Sadie returns from a tough assignment abroad and looks a little worse for wear, Marin reluctantly agrees to a sisters' spa weekend on the tropical island of Saba. But her lifelong fear of travel is affirmed when Sadie misses the flight, Marin's luggage gets mixed up with another passenger's, and an episode of turbulence sends her hurtling into the lap of Lucas Tsai, the handsome stranger who stole her sister's seat.
For the first time in a long time, Marin has to step outside of her comfort zone as she explores the island with Lucas and learns what she's been missing out on. With each breathtaking new experience, Marin gets closer to her real self, the man she's falling for, and the heart-wrenching truth about why she's there in the first place.
A lot of initial reviews I've read for this book mentioned how emotional this book was, and honestly, I'm here for it! Sure, summer romances can be all fluff, but I love stories that evoke a lot of different layers of emotions.
PIN THIS POST 📌
Let's Chat! 💬
What are your favorite summer romance books? Leave me your recommendations in the comments!