Add these spooky Filipino horror books in your TBR pile and learn more about the rich folklore of the Philippines!
Halloween is one of my favorite seasons, mainly because I love horror and mystery! Despite not having a cozy weather and the smell of pumpkin spice, Filipinos know how to celebrate this spooky season!
While y'all are having your Halloween Parties, we're all out here camping out in the cemeteries, visiting our dearly departed ones. 😂 Undas is a Filipino term, derived from the Spanish word "Hondar", meaning honor, that we use interchangeably with All Saints' Day and All Souls' Day.
One thing I love about our culture is the rich folklore and mythology. I honestly loved listening to old tales of aswang, engkato, and mangkukulam told by my Lola, when she was still alive. Yes, nothing beats the thrill of having goosebumps and having to sleep with the lights on. 🤣
And to celebrate this spooky season, I'm listing down some Filipino Horror books for you to check out! Although, some of them also can be considered speculative fiction as they also touch some fantasy and supernatural themes.
This post contains affiliate links and I may earn a small commission through qualifying purchases.
Seven Spooky Filipino Horror Books 👻
Trese by Budjette Tan and Kajo Baldisimo
Trese is a comic series that features Alexandra Trese, a detective that specializes in supernatural crimes. The series mainly draws out themes from Philippine Urban Legends and Folklore, such as the famous White Lady in Balete Drive.
It was also adapted into an animated series on Netflix, which I really enjoyed watching!
Ang Mga Kaibigan Ni Mama Susan by Bob Ong
Ang Mga Kaibigan Ni Mama Susan (Mama Susan's Friends) revolves around a college student, Galo, who returns to his hometown when his grandmother, Mama Susan, becomes sick.
The book was told from Galo's POV by his journal entries, as he uncovers the mystery surrounding his hometown and Mama Susan.
The book has been reported to have a film adaptation, which might be released in the Philippines soon. I'm really excited to see how they'll bring this to the screen as I really enjoyed reading this book.
All That Darkness Allows: 13 Tales of Horror and Dread by Various Authors
All That Darkness Allows is a speculative/horror anthology by 13 Filipino Authors. The stories touched on different supernatural aspects rooted in modern Filipino culture.
This book was also one of the Top 10 Finalists for the Filipino Readers' Choice Awards 2022, under the Fiction Anthology category.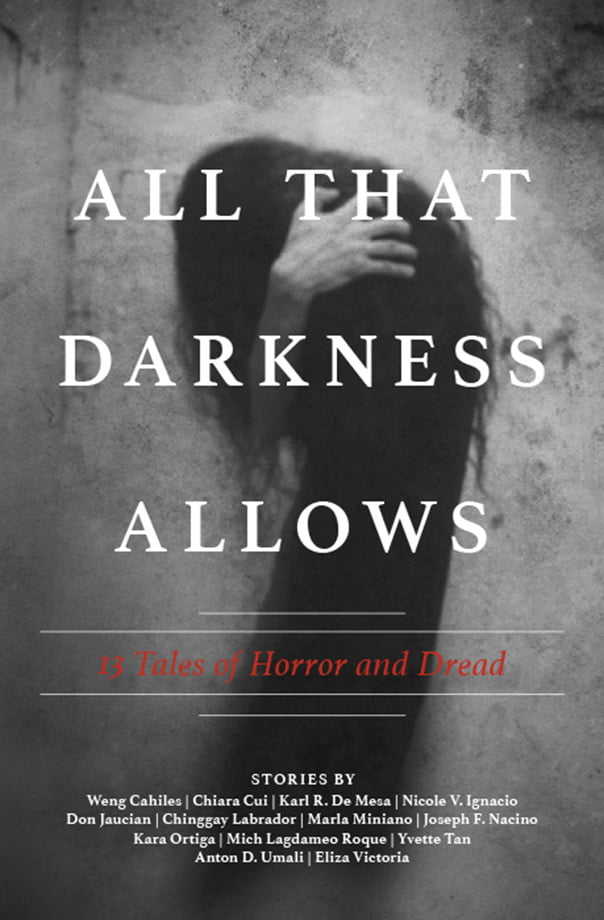 Never Have I Ever by Isabel Yap
Never Have I Ever is another anthology that revolves around Filipino folklore and urban legends. Isabel Yap's debut collection is a mix of horror, urban fantasy, and science fiction that will surely bring some chills.
Nightfall by Eliza Victoria
Nightfall is technically a science fiction novel, but it's definitely a thrilling read. The story follows an interconnected story set in a dystopian Philippines where biomodifications are generally accepted as a way of living.
If you enjoyed watching Black Mirror, you might like this book!
Janus Silang Series by Edgar Calabia Samar
Janus Silang is a 5-book YA Fantasy-Horror series that follows Janus Silang, and RPG player who found himself in a string of deaths that might be related to the game.
The book series has a huge following and the first book bagged the National Book Awards for Fiction Novel in Filipino in 2016, and won the National Children's Book Awards in 2016.
True Philippine Ghost Stories by Gianna Maniego (Editor)
There's no other way to end this list than to mention the good old True Philippine Ghost Stories which honestly made my entire childhood! If you're a Pinoy kid back in the early 2000s, this series probably got you in a chokehold.
True Philippine Ghost Stories is a collection of "true" ghost stories submitted by readers, most featuring urban legends and other Filipino horror tropes.
From "our school used to be a hospital or cemetery" to stories of aswang and other Filipino mythological creatures, this series will surely quench your thirst for horror stories.
---
I hope you get to read these books and enjoy the rich folklore of the Philippines! I'm definitely eyeing to read some of these too!
PIN THIS POST 📌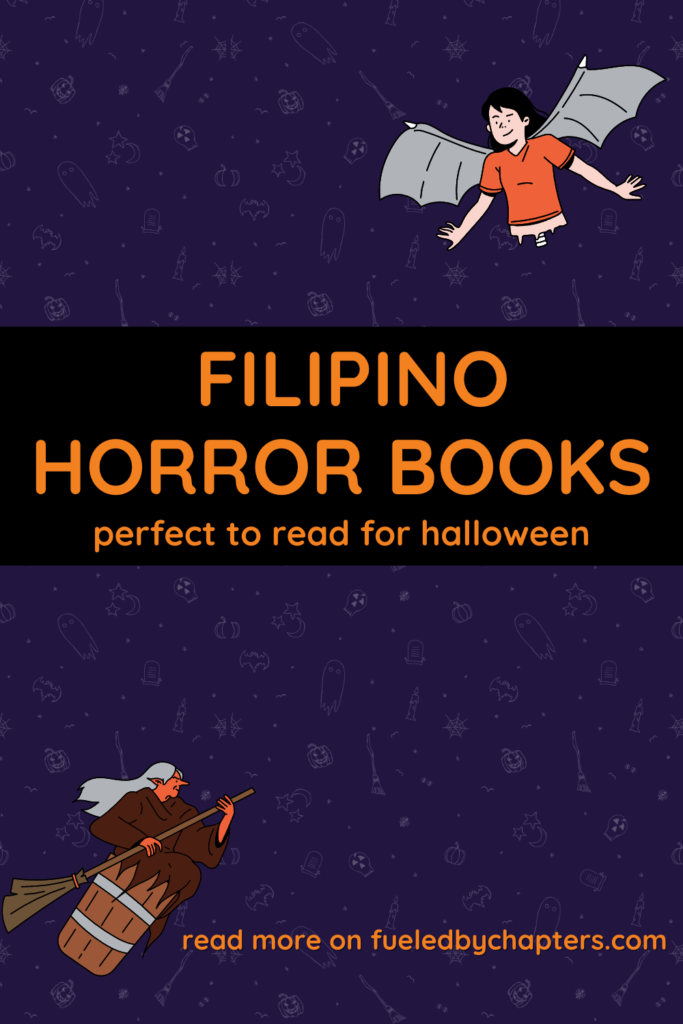 Let's Chat! 💬
Have you read any of the books featured in this list? What's on your Halloween TBR or watchlist?