Like A Love Song by Gabriela Martins
Pub Date: August 03, 2021 by Underlined
[Amazon | Goodreads | StoryGraph | Bookshop]
SYNOPSIS
This debut paperback original romance follows a Latina teen pop star whose image takes a dive after a messy public breakup until she's set up with a swoon-worthy fake boyfriend.
Fake boyfriend. Real heartbreak?
Natalie is living her dream: topping the charts and setting records as a Brazilian pop star…until she's dumped spectacularly on live television. Not only is it humiliating—it could end her career.
Her PR team's desperate plan? A gorgeous yet oh-so-fake boyfriend. Nati reluctantly agrees, but William is not what she expected. She was hoping for a fierce bad boy—not a soft-hearted British indie film star. While she fights her way back to the top with a sweet and surprisingly swoon-worthy boy on her arm, she starts to fall for William—and realizes that maybe she's the biggest fake of them all. Can she reclaim her voice and her heart?
This post contains affiliate links and I may earn a small commission through qualifying purchases.
DISCLOSURE
I received an Advanced Reader's Copy from NetGalley and Delacorte Press as part of the Blog Tour hosted by TBR and Beyond. All opinions are my own.
Initial Thoughts 🧠
I have to admit, I'm not really the biggest fan of celebrities or Hollywood in YA Fiction but it was the fake dating trope that drew me to reading Like A Love Song. And I'm happy to report that I truly enjoyed this book!
I love the main characters, Nati and William, as well as Nati's friends, Padma and Brenda! The whole thing was just wholesome and cute!
Not Exactly a Meet Cute
Our main characters, Natalie and William, first met on the red carpet accidentally bumping into each other. William is a budding indie actor who doesn't exactly like the spotlight, while Natalie is a famous pop star. So when William makes some remarks about the frivolous glitz and glamour of the industry, it wasn't exactly a meet-cute scenario at least for Nati. Especially when she got publicly dumped by her boyfriend, Trent, minutes before she goes on stage to receive her award.
I like that their opposing opinions about fame and publicity were one of the central themes of the story. William was the more reserved and private type, while Nati was more open to the public about her life, being active on social media and all. Their playful banter was really cute and I love that they genuinely started as friends despite their PR relationship setup. It was an absolute delight to see how their relationship blossomed into a romantic one!
William was very sweet and funny, and he was way beyond Trent, Nati's ex, in all aspects. He listens, gives her enough space to express herself, and most importantly, he loves socks he supports her and makes her fully realize the importance of family. I just wish I got more backstory of William!
A Wonderful Story of Finding Yourself
As a Latinx-American woman, Nati's struggles felt very realistic. Obviously, I can't remark on the representation, other than it felt really genuine. I loved seeing her whole journey on getting back to her Brazilian roots. As a performer, Nati felt like she needed to Americanize herself in order to appeal more to the public. She made efforts with her appearance like straightening her hair and sticking with her stage name, Natalie instead of Natalia or Nati (pronounced Nah-tchy), because it's easier to pronounce.
The way this arc of Nati was executed was really lovely. I always enjoy seeing people live their truths and pursue their passion! I feel like I'm living vicariously through them. 😂 I love the contrasting aspects of Nati's and William's relationship with their respective families. William was really close to his family, while Nati only had her mom, as she struggles to communicate with her family back in Brazil. Still, she was able to find her voice and herself in the process as she reconnects with her identity.
I'm done pretending to be someone I think they'll like better…

like a love song by gabriela martins
Speaking of identity, Like A Love Song also tackles the topics of being in the spotlight, as well as how it connects to being a part of the LGBTQ+ community. Nati's friends, Padma and Brenda are in a relationship. Padma is a lesbian Pakistani-American, and a famous DJ, while Brenda is a bisexual Brazilian-American. Meanwhile, William comes out to Nati as bisexual, in one of their conversations.
I actually love that conversation of theirs because William emphasized that he wants to discuss his own sexuality on his own terms and didn't want the public to take away that choice from him. That message resonated with me so much, especially with the previous discourses in publishing, where some authors were forced to come out for the sake of authenticity in their stories.
Overall Thoughts 💡
Like A Love Song is a celebration of identity and finding oneself. I really appreciate the whole message of the book! This was such a fun, entertaining, and definitely swoon-worthy read!
I love the fake-dating, plus there's also another one of my favorite tropes present: "there's only one bed"! This book really delivered in all aspects! What I do wish though was more exploration of William's character. He was super interesting and I would've loved it if there was more to his backstory.
Do I recommend this? Definitely!
If you're looking for a mix of heartfelt emotions and fluffy romance, Like A Love Song should definitely be up on your list!
Giveaway 🎁
a Rafflecopter giveaway
ABOUT THE AUTHOR
GABRIELA MARTINS is a Brazilian kidlit author and linguist. Her stories feature Brazilian characters finding themselves and love. She was a high school teacher and has also worked as a TED Ed-Club facilitator, where she helped teens develop their own talks in TED format to present. She edited and self-published a pro-bono LGBTQ+ anthology (KEEP FAITH) with all funds going to queer people in need. When she's not writing, she can be found cuddling with her two cats, or singing loudly and off-key.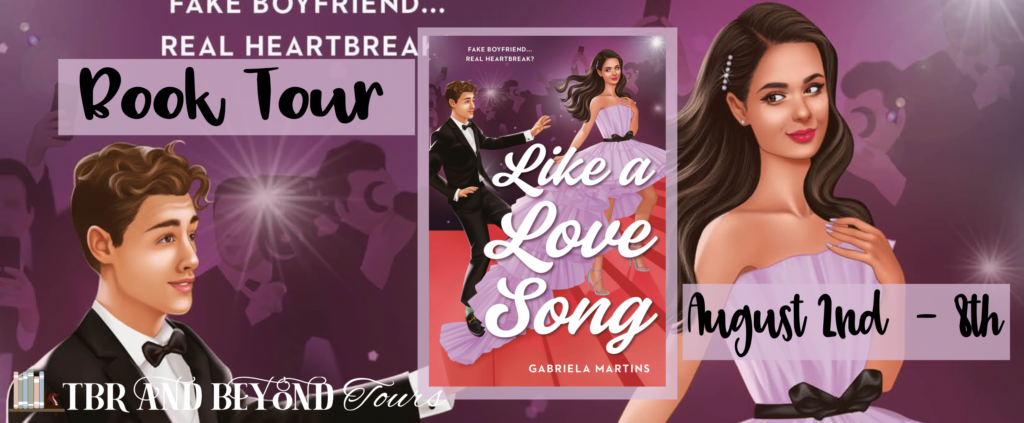 Let's Chat! 💬
Have you read Like A Love Song already? What are your favorite romance tropes? Drop your recs below!