From The Repository is a collection of my old book reviews lifted from my old website. Check out the rest here.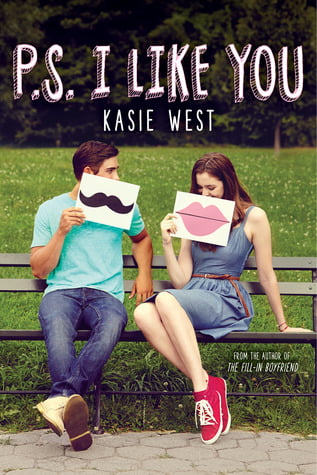 P.S. I Like You by Kasie West
Pub Date: July 26, 2016 by Point
[Amazon | Goodreads | StoryGraph | Bookshop]
SYNOPSIS
Signed, sealed, delivered…
While spacing out in chemistry class, Lily scribbles some of her favorite song lyrics onto her desk. The next day, she finds that someone has continued the lyrics on the desk and added a message to her. Intrigue!
Soon, Lily and her anonymous pen pal are exchanging full-on letters—sharing secrets, recommending bands, and opening up to each other. Lily realizes she's kind of falling for this letter writer. Only, who is he? As Lily attempts to unravel the mystery and juggle school, friends, crushes, and her crazy family, she discovers that matters of the heart can't always be spelled out…
This post contains affiliate links and I may earn a small commission through qualifying purchases.
My Thoughts 🧠
If there's one thing I can say about Kasie West's books, it's the fact that they never disappoint. Her books are literally my happy pill, and this one is the latest addition to the collection. I really loved that I listened to the audiobook because Shannon McManus is a great narrator! I'll definitely be on the lookout for more books that she narrated.
Audiobooks have been a big help for me recently since I'm always on the go and I've no time to actually sit and hold a physical book because of work schedules. Hopefully, it'll get better soon because I really miss reading physically.
Going back to the story, the concept was fresh and very intriguing. It somehow reminded me of Julie Buxbaum's Tell Me Three Things, except it's exchanging notes instead of emails. I really love books that intrigue me. And it was fun trying to figure out who the love interest is.
Cute romance and amazing family dynamics
This isn't my favorite Kasie West novel because I found some things that I had a small issue with, but first, let's get to the good parts.
I really enjoyed the part where Lily and her pen pal exchanged letters. It was really cute and like Lily, I found myself anticipating their next note exchange. It was fun to learn about the pen pal just about the same way she did. Lily also loves music, which was one of the things I really looked forward to, although for some reason it didn't resonate to me that much in the book. There's also a great representation of friendship and family dynamics, and I loved it so much! It was one of the best things in the book.
Flat, Cardboard Characters
Now for the aspects of the book that didn't really sit with me.
First, I felt like the characters were underdeveloped. It did focus on Lily and some, but everyone else felt like cardboard. I also predicted the mystery pen pal way too early. There were two guys I suspected, but I was able to guess who it was earlier than I was hoping. Although, I have to admit that it was nice to see Lily's relationship shift and grow with Mr. Mysterious.
I'm just going to put it out here: The other guy deserved better too! I'm not implying he should've been the one who ended up with Lily, but he really deserved better in general.
Overall Thoughts 💡
Overall, P.S. I Like You has been a saving grace for me. It set my reading pace and sparked my interest again in books. It's really been too long! I love that it was a light and refreshing story, with its ups and downs, but it will definitely make you smile.
The Distance Between Us and On The Fence still remain my favorites from Kasie West! Let's see if that changes in the future!
Let's Chat! 💬
What's your favorite contemporary novel that features characters who are penpals?
---
This review was first published on The Bibliophile Confessions on May 14, 2018.