The Perfect World of Miwako Sumida by Clarissa Goenawan
Pub Date: March 10, 2020 by Soho Press
[Amazon | Goodreads | StoryGraph | Bookshop]
SYNOPSIS
From the critically acclaimed author of Rainbirds comes a novel of tragedy and dark histories set in Japan.
University sophomore Miwako Sumida has hanged herself, leaving those closest to her reeling. In the months before her suicide, she was hiding away in a remote mountainside village, but what, or whom, was she running from?
Ryusei, a fellow student at Waseda who harbored unrequited feelings for Miwako, begs her best friend Chie to bring him to the remote village where she spent her final days. While they are away, his older sister, Fumi, who took Miwako on as an apprentice in her art studio, receives an unexpected guest at her apartment in Tokyo, distracting her from her fear that Miwako's death may ruin what is left of her brother's life.
Expanding on the beautifully crafted world of Rainbirds, Clarissa Goenawan gradually pierces through a young woman's careful façade, unmasking her most painful secrets.
This post contains affiliate links and I may earn a small commission through qualifying purchases.
🛑 Content Warnings 🛑
Suicide, Death, Grief, Sexual Abuse, Bullying, Transphobia, Abortion
DISCLOSURE
I received a finished copy from the author for review. All opinions are my own.
Initial Thoughts 🧠
I don't read a lot of literary fiction so I was a little scared and overwhelmed to read this. It was the mystery element that pulled me in. Honestly, once I started reading, there was no turning back.
The Perfect World of Miwako Sumida is a definite page-turner. I enjoyed the emotional and compelling elements of the story that left me wanting more. I haven't read Rainbirds but I heard that this was set in the same universe, so I'm definitely going to try to read that.
A Story Told in Three
The Perfect World of Miwako Sumida was told in three parts and POVs. First, from Ryusei, Miwako's schoolmate who's also in love with her; Chie, Miwako's best friend; and Fumi-nee, Ryusei's older sister and Miwako's mentor/employer.
Ryusei's was in the first person POV, while the others are in the third person. I actually found that interesting because I think it established how close Ryusei and Miwako were. It was a nice touch. I found Ryusei's part as the strongest among the three perspectives. It was really interesting and emotional to see how Ryusei dealt with Miwako's death, as he searched for answers on what drove Miwako to her final days.
Chie's POV dealt with heavier topics, so here comes the haunting part. I love the backstory of how Chie and Miwako became friends. Chie was jealous of Miwako at first and her jealousy became fuel for curiosity. It was quite an unusual foundation for a friendship. Although, it was very clear by the end that she really loved Miwako. Chie's character growth throughout the book was a stand-out.
Fumi-nee's POV was mixed with magical realism. However, it also dealt with heavy topics like bullying. As Fumi-nee is a transwoman, I think the trans rep was handled okay, being one of the key points in her back story. As the eldest child, I definitely connected with her easily, although there were some times where her actions didn't make sense to me.
An emotional love story
I think it's fair to say that this book is a love story. While it wasn't entirely romantic, I definitely enjoyed the different iterations of love shown in the book. Having three of Miwako's closest friends tell their story before and after Miwako's death elicited different emotions. I definitely enjoyed how connected I felt with the characters.
Dealing with different hard-hitting topics, the author was able to intricately weave them into the narrative with balance and care. I think that Goenawan was able to perfectly capture the emotions of letting go and moving on.
Overall Thoughts 💡
The Perfect World of Miwako Sumida dips between mystery and literary fiction. And I love that this book is my gateway to literary fiction as I've always wanted to try that genre.
I really had a great time reading this! Although I had some pacing issues, I like that the transition from before and after Miwako's death was smooth and natural. I also think that the characters could've had more fleshing out. Still a great book, overall.
Do I recommend this? A hundred percent yes!
If you're a well-balanced mix of mystery, contemporary fiction with a little magical realism, this book is for you!
Also just a quick note, I have a quick interview post with the author coming up soon!
ABOUT THE AUTHOR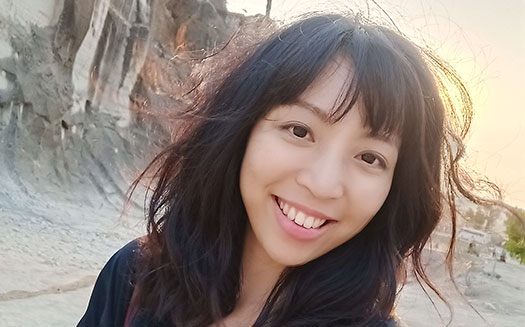 Clarissa Goenawan is an Indonesian-born Singaporean writer. Her award-winning short fiction has appeared in literary magazines and anthologies in Singapore, Australia, Japan, Indonesia, the UK, and the US. Rainbirds, her first novel, has been published in eleven different languages. Clarissa is represented by Pontas Agency.
PIN THIS POST 📌
Let's Chat! 💬
Do you have any literary fiction recommendations? Drop them below!