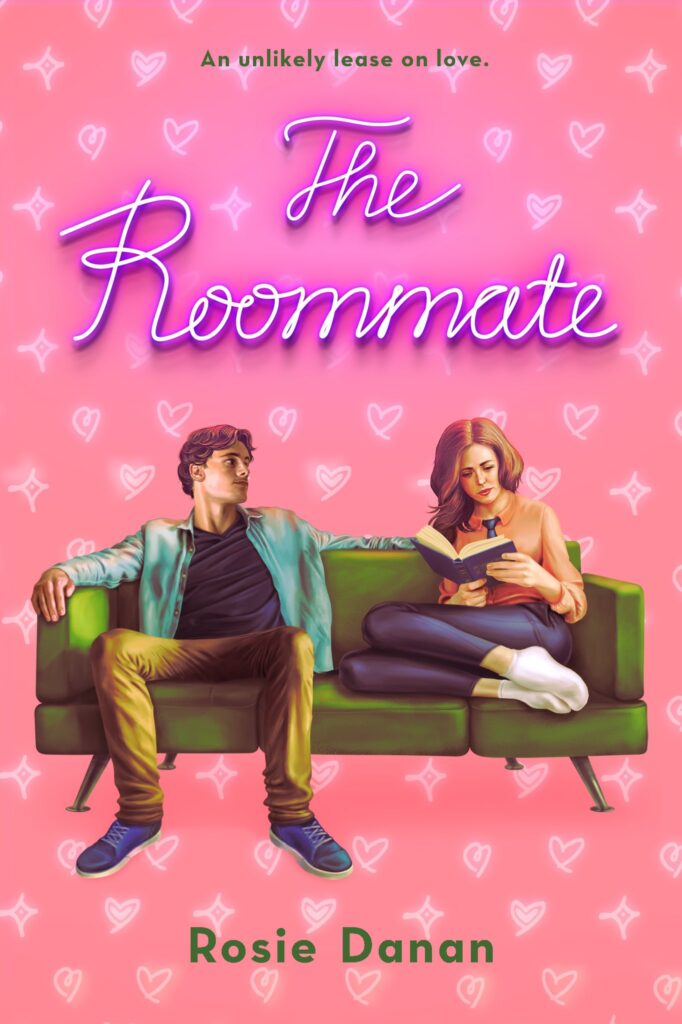 The Roommate by Rosie Danan
Pub Date: September 15, 2020 by Berkley Romance
[Amazon | Goodreads | StoryGraph]
SYNOPSIS
House Rules:
Do your own dishes.
Knock before entering the bathroom.
Never look up your roommate online.

The Wheatons are infamous among the east coast elite for their lack of impulse control, except for their daughter Clara. She's the consummate socialite: over-achieving, well-mannered, predictable. But every Wheaton has their weakness. When Clara's childhood crush invites her to move cross-country, the offer is too much to resist. Unfortunately, it's also too good to be true.

After a bait-and-switch, Clara finds herself sharing a lease with a charming stranger. Josh might be a bit too perceptive—not to mention handsome—for comfort, but there's a good chance he and Clara could have survived sharing a summer sublet if she hadn't looked him up on the Internet…

Once she learns how Josh has made a name for himself, Clara realizes living with him might make her the Wheaton's most scandalous story yet. His professional prowess inspires her to take tackling the stigma against female desire into her own hands. They may not agree on much, but Josh and Clara both believe women deserve better sex. What they decide to do about it will change both of their lives, and if they're lucky, they'll help everyone else get lucky too.
Initial Thoughts 🧠
I've been trying to pick up The Roommate since last year, but for some reason, it wasn't clicking for me, so I kept dropping it. But the buzz surrounding it really made me curious!
Fast forward to this year, I tried again and I couldn't stop! I think I burned through about 6 hours just reading this book.
Fun Fact: this was the first book I read on my new Kindle Paperwhite. Yes, I caved in and finally bought one, but that's another story for another time. 😏
I truly enjoyed reading this book because it kept surprising me in a really cool way!
Forced Cohabitation and Mutual Attraction 👀
The Roommate follows our main characters, Clara and Josh who are total opposites. Clara is a Manhattan socialite who loves rules and sticks with them like a tape. While Josh is this easy, outgoing guy who also turns out to be… well…
Josh Darling, one of the hottest names in the porn industry.
This wasn't explicitly stated in the synopsis, which was truly an effective surprise! I've got to tell you I literally laughed out loud when Clara found out.
Clara and Josh were thrown together due to circumstances with Clara's friend, Everett. See, Clara was supposed to room with Everett, but the guy fled to go on tour with his band. So Clara and Josh "from Craigslist" ended up living together in Everett's apartment.
I totally enjoyed their banter! At the very start, Josh already seemed to be this nice and funny guy, and Clara was this uptight elite woman who's a stickler to the rules. Josh teasing Clara about almost everything was so adorably funny to see, especially during the part where Josh found Clara watching one of his videos the day she found out about what he does for a living.
But honestly, these two characters, as much as they have a polarizing dynamic, turn out to have so much in common. It was great to see how their opposite personalities complement each other.
The chemistry between them was so electrifying and sizzling hot, that sometimes I feel like I'm literally present in the room with them. I have to admit I found myself anticipating their steamy scenes because it's that effective!
And this is why I love forced cohabitation because there's always tension and mutual pining between the characters. Not gonna lie, the last book I read also had forced cohabitation 😜
Sex Positivity and Consent 💑
Rosie Danan was able to flesh out these characters in a way that the lust and pleasure were there but also leaves room for proper exploration to highlight mature communication to further their relationship.
This isn't the first time I read a book where the heroine is a "prude" and naive (not the first time I read a book with a main character who's a sex worker either 👀) when it comes to sex, but I think that The Roommate will be a memorable one for me because the author was able to convey self-exploration in a really positive and healthy light.
While Clara was as innocent as she can be, she goes out of her comfort zone, at her own pace, and Josh, as flirty as he can be, emphasizes the importance of consent and mutual pleasure. I think it's one of the greatest points in the book!
More on sex positivity, The Roommate never shied away from the idea that partners should achieve equal importance when it comes to sexual pleasure, and more importantly the idea of the female gaze and pleasure in the adult entertainment industry.
I know that pornography is not a comfortable topic for everyone but this book really highlights the reality of inequalities and exploitation that's happening in the industry.
Some fears kill us. They drain us our whole lives, and we die filled with regret.

THE ROOMMATE BY ROSIE DANAN
Fluff and Smut 💋
The Roommate is equally fluffy and smutty, I'm going to say that upfront. There are a lot of spicy chapters and sex scenes are explicitly graphic, there's even a mutual masturbation scene! 🔥🔥
But it was also full of achingly cute and adorable scenes, even the slightest little things they do for each other. UGH, I LOVE FLUFF! 💖 And not only with Clara and Josh but also with their relationships with their friends and family, like Jill (Clara's Aunt) and slightly with Naomi, who has this no-nonsense woman with a strong personality but is really a cinnamon roll inside.
Final Thoughts 💡
As I mentioned, The Roommate surprised me in many good ways. When people said, "Don't judge a book by its cover." THIS IS WHAT THEY MEAN.
The moment I learned about Josh being a sex worker, I buckled up in my seat because I knew I was going to be on a wild ride and while it was one, there were also other aspects of the story that were really heartwarming and touching.
The book had it all, comedy, hot stuff and fluff, overcoming fears and insecurities, healthy depiction of relationships, and a great highlight of the reality of the adult entertainment industry.
Now I finally understand the hype that surrounds this book and it is well deserved. 👏🏼
I'm excited for the next book, The Intimacy Experiment because it features Naomi! I really loved her strong presence and I'm excited to dive into her story! 😍
ABOUT THE AUTHOR
The New York Times calls Rosie Danan's debut novel, THE ROOMMATE "a book about people expanding into their best possible selves…warmly funny and gorgeously sexy." The rom-com received a 2020 Ripped Bodice Award for Excellence in Romantic Fiction and has been optioned for film. A companion book THE INTIMACY EXPERIMENT is forthcoming April 6, 2021 in the US and UK.
When not writing, Rosie enjoys jogging slowly to fast music, petting other people's dogs, and competing against herself in rounds of Chopped using the miscellaneous ingredients occupying her fridge.
Let's Chat!
Have you read The Roommate? If so what did you think about it?
What is your favorite romance trope?
Do you have any romance book recommendations that have a forced cohabitation trope?