Here's the list of my most anticipated books of 2022! I had this planned since last year but I was adjusting to a new work arrangement so I got a little busy when the year started.
Plus, I totally had no idea which of my anticipated titles are actually coming out this year. Thanks to a little research and the help of some friends, I finally compiled a list of my most anticipated titles for 2022!
This post contains affiliate links and I may earn a small commission through qualifying purchases.
Most Anticipated Young Adult Books of 2022
The Red Palace by June Hur (Jan 25, 2022)
SYNOPSIS
Joseon (Korea), 1758. There are few options available to illegitimate daughters in the capital city, but through hard work and study, eighteen-year-old Hyeon has earned a position as a palace nurse. All she wants is to keep her head down, do a good job, and perhaps finally win her estranged father's approval.
But Hyeon is suddenly thrust into the dark and dangerous world of court politics when someone murders four women in a single night, and the prime suspect is Hyeon's closest friend and mentor. Determined to prove her beloved teacher's innocence, Hyeon launches her own secret investigation.
In her hunt for the truth, she encounters Eojin, a young police inspector also searching for the killer. When evidence begins to point to the Crown Prince himself as the murderer, Hyeon and Eojin must work together to search the darkest corners of the palace to uncover the deadly secrets behind the bloodshed.
June Hur, critically acclaimed author of The Silence of Bones and The Forest of Stolen Girls, returns with The Red Palace—a third evocative, atmospheric historical mystery perfect for fans of Courtney Summers and Kerri Maniscalco.
I really enjoyed Hur's debut, The Silence of Bones, and as someone who loves to watch K-dramas, it's no surprise that this book made it to my most anticipated books of 2022. I'm currently reading it and I'm excited about all the suspense and romance!
See You Yesterday by Rachel Lynn Solomon (May 03, 2022)
SYNOPSIS
From the author of Today Tonight Tomorrow comes a magical romance in the vein of Groundhog Day about a girl forced to relive her disastrous first day of college—only to discover that her nemesis is stuck in the time loop with her.

Barrett Bloom is hoping college will be a fresh start after a messy high school experience. But when school begins on September 21st, everything goes wrong. She's humiliated by the know-it-all in her physics class, she botches her interview for the college paper, and at a party that night, she accidentally sets a frat on fire. She panics and flees, and when she realizes her roommate locked her out of their dorm, she falls asleep in the common room.

The next morning, Barrett's perplexed to find herself back in her dorm room bed, no longer smelling of ashes and crushed dreams. It's September 21st. Again. And after a confrontation with Miles, the guy from Physics 101, she learns she's not alone—he's been trapped for months.

When her attempts to fix her timeline fail, she agrees to work with Miles to find a way out. Soon they're exploring the mysterious underbelly of the university and going on wild, romantic adventures. As they start falling for each other, they face the universe's biggest unanswered question yet: what happens to their relationship if they finally make it to tomorrow?
I love the premise of the time loop situation. To make things more exciting, both main characters are aware of it. A lot of the time loop stories I come across usually involve only one character consciously aware of the reset. I think the race against time makes the stakes and emotions higher. I'm really looking forward to this one! Rachel Lynn Solomon is quickly becoming one of my auto-read authors!
Once Upon A K-Prom by Kat Cho (May 17, 2022)
SYNOPSIS
What would you do if the world's biggest K-pop star asked you to prom? Perfect for fans of Jenny Han and Sandhya Menon, this hilarious and heartfelt novel brings the glamour and drama of the K-pop world straight to high school.
Elena Soo has always felt overshadowed. Whether by her more successful older sisters, her more popular twin brother, or her more outgoing best friend, everyone except Elena seems to know exactly who they are and what they want. But she is certain about one thing – she has no interest in going to prom. While the rest of the school is giddy over corsages and dresses, Elena would rather spend her time working to save the local community center, the one place that's always made her feel like she belonged.
So when international K-pop superstar Robbie Choi shows up at her house to ask her to prom, Elena is more confused than ever. Because the one person who always accepted Elena as she is? Her childhood best friend, Robbie Choi. And the one thing she maybe, possibly, secretly wants more than anything? For the two of them to keep the promise they made each other as kids: to go to prom together. But that was seven year ago, and with this new K-pop persona, pink hair, and stylish clothes, Robbie is nothing like the sweet, goofy boy she remembers. The boy she shared all her secrets with. The boy she used to love.
Besides, prom with a guy who comes with hordes of screaming fans, online haters, and relentless paparazzi is the last thing Elena wants – even if she can't stop thinking about Robbie's smile…right?
Childhood best friends? K-Pop romance? Enough said.
But yeah, I love Kat Cho's writing and I'm excited for her first contemporary YA!
Summer's Edge by Dana Mele (May 31, 2022)
SYNOPSIS
I Know What You Did Last Summer meets The Haunting of Hill House  in this atmospheric, eerie teen thriller following an estranged group of friends being haunted by their friend who died last summer.
Emily Joiner was once part of an inseparable group—she was a sister, a best friend, a lover, and a rival. Summers without Emily were unthinkable. Until the fire burned the lake house to ashes with her inside.
A year later, it's in Emily's honor that Chelsea and her four friends decide to return. The house awaits them, meticulously rebuilt. Only, Chelsea is haunted by ghostly visions. Loner Ryan stirs up old hurts and forces golden boy Chase to play peacemaker. Which has perfect hostess Kennedy on edge as eerie events culminate in a stunning accusation: Emily's death wasn't an accident. And all the clues needed to find the person responsible are right here.
As old betrayals rise to the surface, Chelsea and her friends have one night to unravel a mystery spanning three summers before a killer among them exacts their revenge.
It's been too long since I read People Like Us by Dana Mele, but I remember how captivated I was with the story. I'm really excited to read more from her! This was pitched as The Haunting of Hill House meets I Know What You Did Last Summer, which I both loved so I'm dying to read this!
Additions to my most anticipated books of 2022 are two YA novels without official cover yet, namely, Chloe and the Kaishao Boys by Mae Coiyuto and Seoulmates by Susan Lee!
---
Most Anticipated Adult Books of 2022
Love and Other Disasters by Anita Kelly (Jan 18, 2022)
SYNOPSIS
The first openly nonbinary contestant on America's favorite cooking show falls for their clumsy competitor in this delicious romantic comedy debut "that is both fantastically fun and crack your heart wide open vulnerable." (Rosie Danan, author of The Roommate)
Recently divorced and on the verge of bankruptcy, Dahlia Woodson is ready to reinvent herself on the popular reality competition show Chef's Special. Too bad the first memorable move she makes is falling flat on her face, sending fish tacos flying—not quite the fresh start she was hoping for. Still, she's focused on winning, until she meets someone she might want a future with more than she needs the prize money.
After announcing their pronouns on national television, London Parker has enough on their mind without worrying about the klutzy competitor stationed in front of them. They're there to prove the trolls—including a fellow contestant and their dad—wrong, and falling in love was never part of the plan.
As London and Dahlia get closer, reality starts to fall away. Goodbye, guilt about divorce, anxiety about uncertain futures, and stress from transphobia. Hello, hilarious shenanigans on set, wedding crashing, and spontaneous dips into the Pacific. But as the finale draws near, Dahlia and London's steamy relationship starts to feel the heat both in and outside the kitchen—and they must figure out if they have the right ingredients for a happily ever after.
I love the rise of queer adult romances from the Big 5 Publishers! The premise of this book sounds fun and we all know that reality competitions often bring out the best disasters. The great reviews I keep reading makes me really excited for this one!
Lease on Love by Falon Ballard (Feb 01, 2022)
SYNOPSIS
Beach Read meets The Flatshare in this warmly funny and delightfully sharp debut rom-com about a down-on-her-luck young woman who turns an innocent mix-up between a dating app and a roommate app into a new chance at love.
After getting passed over for an overdue—and much needed—promotion, Sadie Green is in desperate need of three things: a stiff drink, a new place to live, and a one-night-stand. When one drink turns into one too many, Sadie mixes up a long-ignored dating app for a roommate-finding app and finds herself on the doorstep of Jack Thomas's gorgeous Brooklyn brownstone. Too bad she's more attracted to his impressive real estate than she is to the man himself.
Jack, still grieving the unexpected death of his parents, has learned to find comfort in video games and movie marathons instead of friends. So while he doesn't know just what to make of the vivaciously verbose Sadie, he's willing to offer her his spare bedroom while she gets back on her feet. And with the rent unbeatably low, Sadie can finally pursue her floristry side hustle full-time. The two are polar opposites, but as Sadie's presence begins to turn the brownstone into a home, they both start to realize they may have just made the deal of a lifetime.
Cohabitation!!!! That's all it takes for me to be excited! The main characters being polar opposites also offer a lot of chemistry and tension that I'm looking forward to devour!
Homicide and Halo-Halo (Feb 08, 2022)
SYNOPSIS
Things are heating up for Lila Macapagal. Not in her love life, which she insists on keeping nonexistent despite the attention of two very eligible bachelors. Or her professional life, since she can't bring herself to open her new café after the unpleasantness that occurred a few months ago at her aunt's Filipino restaurant, Tita Rosie's Kitchen. No, things are heating up quite literally, since summer, her least favorite season, has just started.
To add to her feelings of sticky unease, Lila's little town of Shady Palms has resurrected the Miss Teen Shady Palms Beauty Pageant, which she won many years ago–a fact that serves as a wedge between Lila and her cousin slash rival, Bernadette. But when the head judge of the pageant is murdered and Bernadette becomes the main suspect, the two must put aside their differences and solve the case–because it looks like one of them might be next.
Arsenic and Adobo was one of my favorite reads last year so I'm really looking forward to this book! I can't wait to experience another gastronomic mystery from Tita Rosie's Kitchen! I was a left hanging with the romance from the first book so I'm curious as to how it will pick up in this one. I can't wait to meet Lila's Calendar Titas and the rest of the gang again!
Delilah Green Doesn't Care by Ashley Herring Blake (Feb 22, 2022)
SYNOPSIS
A clever and steamy queer romantic comedy about taking chances and accepting love—with all its complications—by debut author Ashley Herring Blake.
Delilah Green swore she would never go back to Bright Falls—nothing is there for her but memories of a lonely childhood where she was little more than a burden to her cold and distant stepfamily. Her life is in New York, with her photography career finally gaining steam and her bed never empty. Sure, it's a different woman every night, but that's just fine with her.
When Delilah's estranged stepsister, Astrid, pressures her into photographing her wedding with a guilt trip and a five-figure check, Delilah finds herself back in the godforsaken town that she used to call home. She plans to breeze in and out, but then she sees Claire Sutherland, one of Astrid's stuck-up besties, and decides that maybe there's some fun (and a little retribution) to be had in Bright Falls, after all.
Having raised her eleven-year-old daughter mostly on her own while dealing with her unreliable ex and running a bookstore, Claire Sutherland depends upon a life without surprises. And Delilah Green is an unwelcome surprise…at first. Though they've known each other for years, they don't really know each other—so Claire is unsettled when Delilah figures out exactly what buttons to push. When they're forced together during a gauntlet of wedding preparations—including a plot to save Astrid from her horrible fiancé—Claire isn't sure she has the strength to resist Delilah's charms. Even worse, she's starting to think she doesn't want to…
I absolutely love how Ashley Herring Blake writes sapphic romances and I'm glad that we're finally getting one in the adult age group! I'm sure the forced proximity between the characters will bring some palpable chemistry and I'm looking forward to that!
Four Aunties and A Wedding by Jesse Q. Sutanto (Mar 29, 2022)
SYNOPSIS
The aunties are back, fiercer than ever and ready to handle any catastrophe–even the mafia–in this delightful and hilarious sequel by Jesse Q. Sutanto, author of Dial A for Aunties.

Meddy Chan has been to countless weddings, but she never imagined how her own would turn out. Now the day has arrived, and she can't wait to marry her college sweetheart, Nathan. Instead of having Ma and the aunts cater to her wedding, Meddy wants them to enjoy the day as guests. As a compromise, they find the perfect wedding vendors: a Chinese-Indonesian family-run company just like theirs. Meddy is hesitant at first, but she hits it off right away with the wedding photographer, Staphanie, who reminds Meddy of herself, down to the unfortunately misspelled name.
Meddy realizes that is where their similarities end, however, when she overhears Staphanie talking about taking out a target. Horrified, Meddy can't believe Staphanie and her family aren't just like her own, they are The Family–actual mafia, and they're using Meddy's wedding as a chance to conduct shady business. Her aunties and mother won't let Meddy's wedding ceremony become a murder scene–over their dead bodies–and will do whatever it takes to save her special day, even if it means taking on the mafia.
Another sequel that I'm looking forward to! I truly loved Dial A For Aunties so I'm excited to dive back into Meddy's story along with her utterly chaotic Aunties!
Set on You by Amy Lea (May 10, 2022)
SYNOPSIS
A gym nemesis pushes a fitness influencer to the max in Amy Lea's steamy debut romantic comedy.

Curvy fitness influencer Crystal Chen built her career shattering gym stereotypes and mostly ignoring the trolls. After her recent breakup, she has little stamina left for men, instead finding solace in the gym – her place of power and positivity.
Enter firefighter Scott Ritchie, the smug new gym patron who routinely steals her favorite squat rack. Sparks fly as these ultra-competitive foes battle for gym domination. But after a series of escalating jabs, the last thing they expect is to run into each other at their grandparents' engagement party.
In the lead up to their grandparents' wedding, Crystal discovers there's a soft heart under Scott's muscled exterior. Bonding over family, fitness, and cheesy pick-up lines, she just might have found her swolemate. But when a photo of them goes viral, savage internet trolls put their budding relationship to the ultimate test of strength.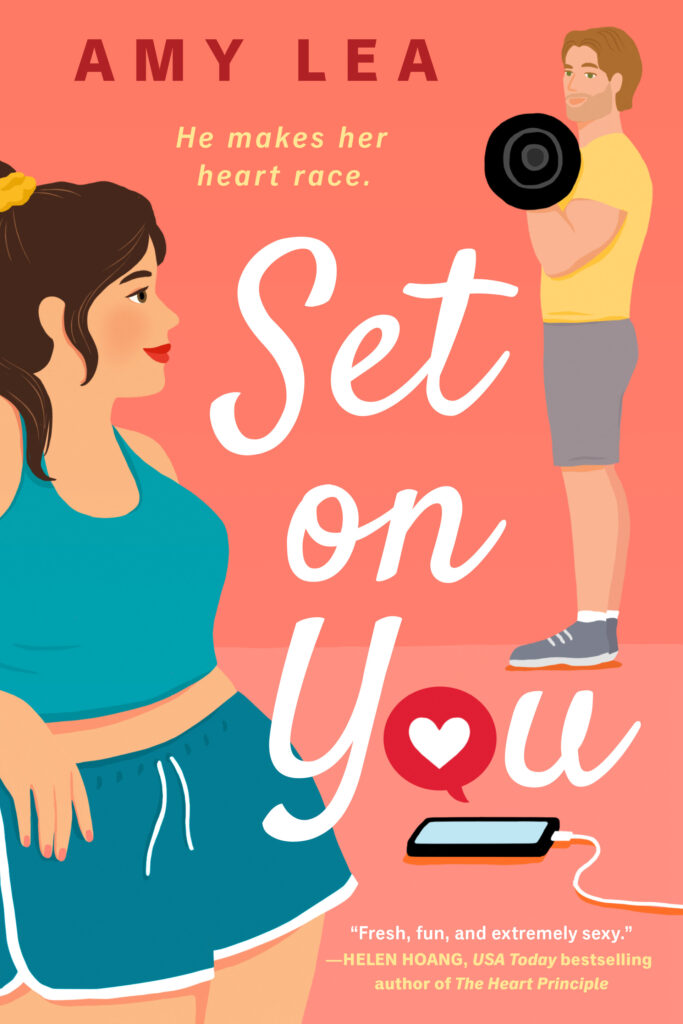 Not going to lie, this book came across my radar because the author said that her hot firefighter male lead was inspired by Chris Evans so yeah… that's exactly why I want to read this book. I just wanted to be upfront about that. Perceive me the way you want. Do anything with that information. 😂
I'd also like to mention these books that doesn't have official covers yet, that I'm excited to read: Love on the Brain by Ali Hazelwood, A Very Merry Bromance by Lyssa Kay Adams, Up To No Good by Rosie Danan, Blackmail and Bibingka by Mia P. Manansala and Just Like Magic by Sarah Hogle. I can't believe these will all be releasing by Fourth Quarter of 2022! I can't wait to see the covers, honestly! I've already seen the cover for Blackmail and Bibingka as the author recently shared it in her newsletter, but I'm really looking forward to seeing the others!
---
I'm only aiming to read five books this year and I'm really hoping that I can read at least half of this list. Setting a low reading goal helps me relax and focus on other things, but honestly, it's not like I don't read way more than I intended. Last year, I was only aiming to read 3 books, but I managed to finish 86 titles. Let's see what happens this year!
I hope you had fun browsing my most anticipated books of 2022!
PIN THIS POST 📌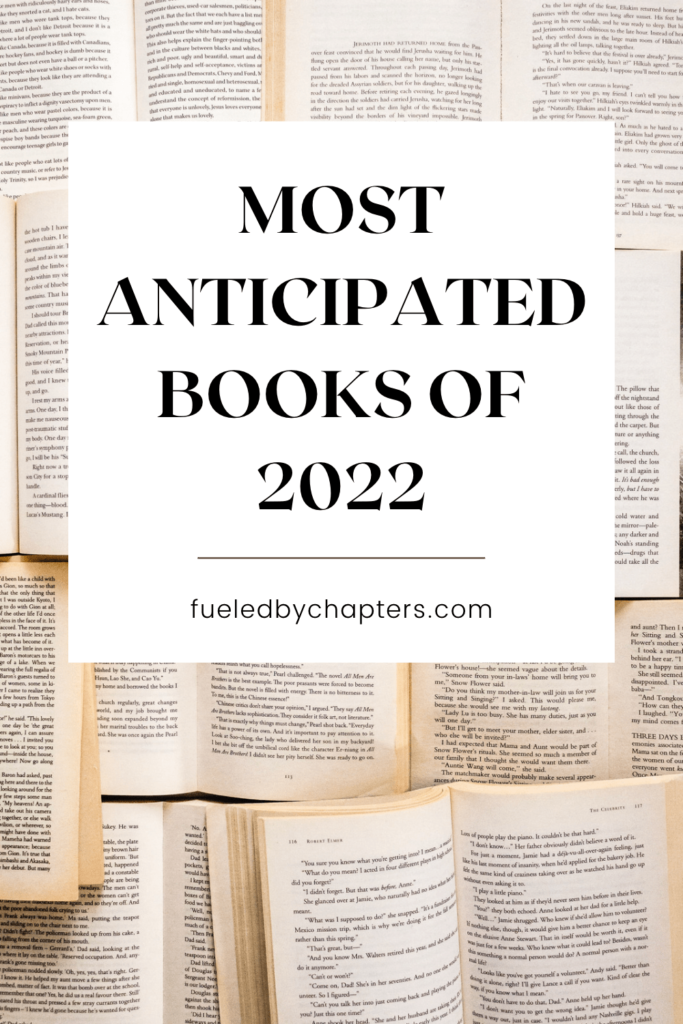 Let's Chat! 💬
Which of these titles are also in your most anticipated books of 2022?