From The Repository is a collection of my old book reviews lifted from my old website. Check out the rest here.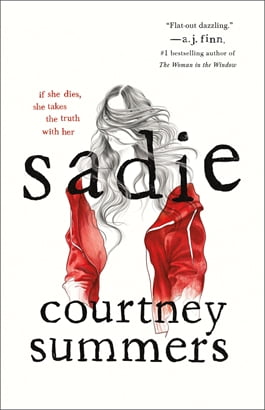 Sadie by Courtney Summers
Pub Date: September 4, 2018 by Wednesday Books
[Amazon | Goodreads | StoryGraph | Bookshop]
SYNOPSIS
Sadie hasn't had an easy life. Growing up on her own, she's been raising her sister Mattie in an isolated small town, trying her best to provide a normal life and keep their heads above water.
But when Mattie is found dead, Sadie's entire world crumbles. After a somewhat botched police investigation, Sadie is determined to bring her sister's killer to justice and hits the road following a few meager clues to find him.
When West McCray—a radio personality working on a segment about small, forgotten towns in America—overhears Sadie's story at a local gas station, he becomes obsessed with finding the missing girl. He starts his own podcast as he tracks Sadie's journey, trying to figure out what happened, hoping to find her before it's too late.
This post contains affiliate links and I may earn a small commission through qualifying purchases.
My Thoughts 🧠
I was originally going to read the ARC version of it, but as I started it and saw how it was written, I got the audiobook instead and I wasn't disappointed! Sadie isn't an ordinary audiobook, as it isn't an ordinary book.
In case you didn't know, I love true crime podcasts as much as I love thriller YAs and the minute I saw the synopsis for this book, I immediately added it to my TBR. Though, unlike others, I didn't devour this book in one sitting, because this was brutally honest and raw. I literally was at the edge of my seat because it was intense.
The novel was told in a very compelling manner. One through the point of view of Sadie herself, the other through West McCray's podcast called "The Girls". Reading this book was like hitting two birds with one stone for me because I got a mystery novel and a true crime podcast complete with actual interviews. It definitely heightened my reading experience. Listening to the audiobook with the full cast was a delightful experience!
Courtney Summers is a genius. This was the first book I read from her and I really need to remedy that. She wrote Sadie perfectly which made it easy to root for her. Her raw emotions made her both vulnerable yet strong at the same time. She's definitely one of the best-crafted characters in YA and I really love her character development.
I also liked how it seemed like Sadie was always one step ahead of McCray. There was the illusion of hope that McCray would find Sadie and help her. Of course, I wouldn't say anything about the ending, but this chase really got me hanging on every second.
Overall Thoughts 💡
Sadie is definitely one of my favorite books of all time. It's a tragic yet compelling page-turner that will definitely keep you on your toes.
These are the words my mind can spit out without giving away too much, but I hope, thriller fans or not, that you'll give this book a try. Sadie is a heartbreaking story of loss, grief, and sisterhood that everyone should definitely read.
Let's Chat! 💬
Have you read Sadie yet? What are your favorite YA Thrillers?
---
This review was first published on The Bibliophile Confessions on November 04, 2018.