From The Repository is a collection of my old book reviews lifted from my old website. Check out the rest here.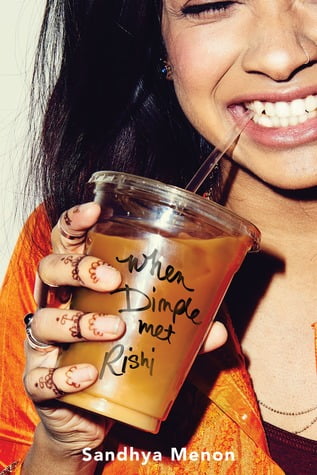 When Dimple Met Rishi by Sandhya Menon
Pub Date: May 30, 2017 by Simon Pulse
[Amazon | Goodreads | StoryGraph | Bookshop]
SYNOPSIS
A laugh-out-loud, heartfelt YA romantic comedy, told in alternating perspectives, about two Indian-American teens whose parents have arranged for them to be married.
Dimple Shah has it all figured out. With graduation behind her, she's more than ready for a break from her family, from Mamma's inexplicable obsession with her finding the "Ideal Indian Husband." Ugh. Dimple knows they must respect her principles on some level, though. If they truly believed she needed a husband right now, they wouldn't have paid for her to attend a summer program for aspiring web developers…right?
Rishi Patel is a hopeless romantic. So when his parents tell him that his future wife will be attending the same summer program as him—wherein he'll have to woo her—he's totally on board. Because as silly as it sounds to most people in his life, Rishi wants to be arranged, believes in the power of tradition, stability, and being a part of something much bigger than himself.
The Shahs and Patels didn't mean to start turning the wheels on this "suggested arrangement" so early in their children's lives, but when they noticed them both gravitate toward the same summer program, they figured, Why not?
Dimple and Rishi may think they have each other figured out. But when opposites clash, love works hard to prove itself in the most unexpected ways.
This post contains affiliate links and I may earn a small commission through qualifying purchases.
My Thoughts 🧠
First of all, let's admire the cover of this book! Since the cover reveal was made, I immediately added this to my TBR pile because of how adorable the cover was! And I'm really glad that more POCs are being featured in book covers.
When Dimple Met Rishi was straight-up quirky, nerdy, and truly enjoyable. I loved Dimple and Rishi's banter and interaction from the get-go. Both of them are huge nerds in their own ways and I just love it! Dimple is feisty, smart, and passionate. In contrast to Dimple's feistiness, Rishi is such a pure soft boy!!! He's so adorable and I love the fact that he never gave up on Dimple, even as friends.
When Dimple Met Rishi was told in alternating POVs, which I love, but because of the formatting of the ARC, it was a little hard for me to keep track of the shift in the POV, but overall it was delightful to see the story in both voices. Dimple and Rishi totally complement each other in a lot of ways, and they're one of my favorite YA couples to date.
I also enjoyed how the Indian culture was explored in the book, and how it steered away from the usual culture I see in Bollywood movies. It was modernized in a way, that kids are getting more freedom to make their own choices in life since their tradition plays a big part in the story. It's also sex-positive!
I think the only issue I had was it's a little predictable especially towards the end. Although, we all love our happy endings, don't we?
Overall Thoughts 💡
When Dimple Met Rishi is a sassy rom-com that will leave you laughing, crying, and swooning all at the same time. Menon's writing is so lovely and heartwarming and I can't wait to read more from her. I definitely recommend this book to everyone!
PIN THIS POST 📌
Let's Chat! 💬
Have you read When Dimple Met Rishi? What did you think about it?
---
This review was first published on The Bibliophile Confessions on June 15, 2017.