The Red Palace by June Hur
Pub Date: Jan 25, 2022 by Feiwel and Friends
[Amazon | Goodreads | StoryGraph | Bookshop]
SYNOPSIS
Joseon (Korea), 1758. There are few options available to illegitimate daughters in the capital city, but through hard work and study, eighteen-year-old Hyeon has earned a position as a palace nurse. All she wants is to keep her head down, do a good job, and perhaps finally win her estranged father's approval.
But Hyeon is suddenly thrust into the dark and dangerous world of court politics when someone murders four women in a single night, and the prime suspect is Hyeon's closest friend and mentor. Determined to prove her beloved teacher's innocence, Hyeon launches her own secret investigation.
In her hunt for the truth, she encounters Eojin, a young police inspector also searching for the killer. When evidence begins to point to the Crown Prince himself as the murderer, Hyeon and Eojin must work together to search the darkest corners of the palace to uncover the deadly secrets behind the bloodshed.
June Hur, critically acclaimed author of The Silence of Bones and The Forest of Stolen Girls, returns with The Red Palace—a third evocative, atmospheric historical mystery perfect for fans of Courtney Summers and Kerri Maniscalco.
This post contains affiliate links and I may earn a small commission through qualifying purchases.
DISCLOSURE
I received an Advanced Readers Copy of this book. June Hur and I are mutuals on social media. All opinions are my own.
Initial Thoughts 🧠
I feel like I've mentioned this a million times already, but The Red Palace is one of my most anticipated books of 2022! Having read The Silence of Bones and a few of Forest of Stolen Girls, I knew that The Red Palace will be quite the ride.
Also, I'm coming off fresh from finishing The Red Sleeve, a historical K-drama I recently became completely obsessed with. There were common characters in the book and the drama. The Red Palace features King Yeongjo, Prince Sado, and Lady Hyegyeong; The Red Sleeve has King Yeongjo, Lady Hyegyeong, and Lee San/King Jeongjo, who is Prince Sado's son. These are actual people in Korean history, which made the premise more exciting. I was always fascinated by that era in Korean History, despite the tragedies that happened.
Dipping into my The Red Sleeve withdrawals, there was an actual scene in both stories where the female lead were both told they look like one of King Yeongjo's deceased daughters. In the book, Hyeon was told that she looked like Princess Hwahyeop, Prince Sado's favored sister; while Deok-im was told by King Yeongjo that she reminds him of Princess Hwapyeong, whom he favors.
I just feel like the similarities really elevated my reading experience!
A Haunting Mystery
I think The Red Palace is a suitable description of the violence and death that occurs within the palace walls, especially during that era. One of the things I love about June Hur's writing style is the immersive and atmospheric storytelling. The build-up of the intrigue paired with her gorgeous prose really makes the story breathtaking. As a K-drama fan, the book's world-building was easy for me to imagine, having watched a lot of historical K-dramas. But I still find myself looking forward to it because of Hur's captivating writing style.
As always, the mystery is coupled with a bit of political intrigue. Although this time, it's more serious as one of the prime suspects was the Crown Prince himself. The stakes are higher which makes it more exciting. I'm a big fan of thrillers/mysteries so there are times when I can easily guess the culprit but this one managed to surprise me! I enjoyed how unpredictable the culprit was. I really didn't see it coming!
A Sweet, Slow-Burn Romance
A lot of thriller/mysteries I've read doesn't contain a lot of romance, but this one brought us a subtle, yet very kilig-inducing one! The romance was another reason why I was so excited to read The Red Palace.
Romances in historical K-dramas are often portrayed as slow-burn and innocent because of Confucian beliefs, which honestly makes the tension more exciting. June Hur perfectly captured the romantic tropes I was hoping to see and managed to make me root for Hyeon and Eojin from the very beginning! I also think that the romance was a great palate cleanser from the mystery aspect of the book.
I hope the author continues to include some romance in her future books. Once June Hur actually writes a scene with the couple attending the Lantern Festival, it's all over for me!
The Tragedy of Crown Prince Sado
Perhaps this was the biggest reason why I was excited to read this book. I've been familiar with the story of Crown Prince Sado since I consume a lot of Korean media. He's been depicted in numerous dramas and movies, but I'm most familiar with the movie, The Throne. I watched it several years ago since I was a big fan of Yoo Ah-in, who played Crown Prince Sado. I'm planning on rewatching it sometime soon!
Also Read: 5 Young Adult Books to Read if You Love K-Dramas
In the book, he is referred to by his formal name, Prince Jangheon (Sado was given to him posthumously by his father, King Yeongjo). Based on different publications about the Prince, he was mentally ill. Since mental illnesses weren't all fully explored yet during that era, Prince Jangheon was just regarded as a violent man. He had a difficult and strained relationship with King Yeongjo, which also brought him a lot of political opponents. In 1762, he was ordered by King Yeongjo to starve inside a rice chest for eight days which led to his death.
The Red Palace was set years before Prince Jangheon's death, but the book offered us a peek into Prince Jangheon's issues. I like how the book took a lot of real aspects, but remained a loose adaptation of his story. Since I knew a little bit of his background, I didn't suspect him as the killer from the start, but I think it was also vital to the story that his grave acts weren't erased.
Overall Thoughts 💡
The Red Palace deserves all the hype it's getting! I'm so glad a lot of people enjoyed this book and I think it's June Hur's best one yet. I really had fun reading this book!
The characters were fleshed-out, the intrigue was well-built and compelling, and the romance was just perfectly written.
Do I recommend The Red Palace? Definitely!
The Red Palace surely takes up a spot in my top reads for 2022! If you enjoy a great mystery with a little bit of romance and some real historical elements, you shouldn't miss reading The Red Palace!
ABOUT THE AUTHOR
June Hur was born in South Korea and raised in Canada, except for the time when she moved back to Korea and attended high school there. She studied History and Literature at the University of Toronto. She began writing her debut novel after obsessing over books about Joseon Korea. When she's not writing, she can be found wandering through nature or journaling at a coffee shop. She is the author of The Silence of Bones, The Forest of Stolen Girls, and The Red Palace, published by Feiwel & Friends/Macmillan, and she currently lives in Toronto with her husband and daughter.
PIN THIS POST 📌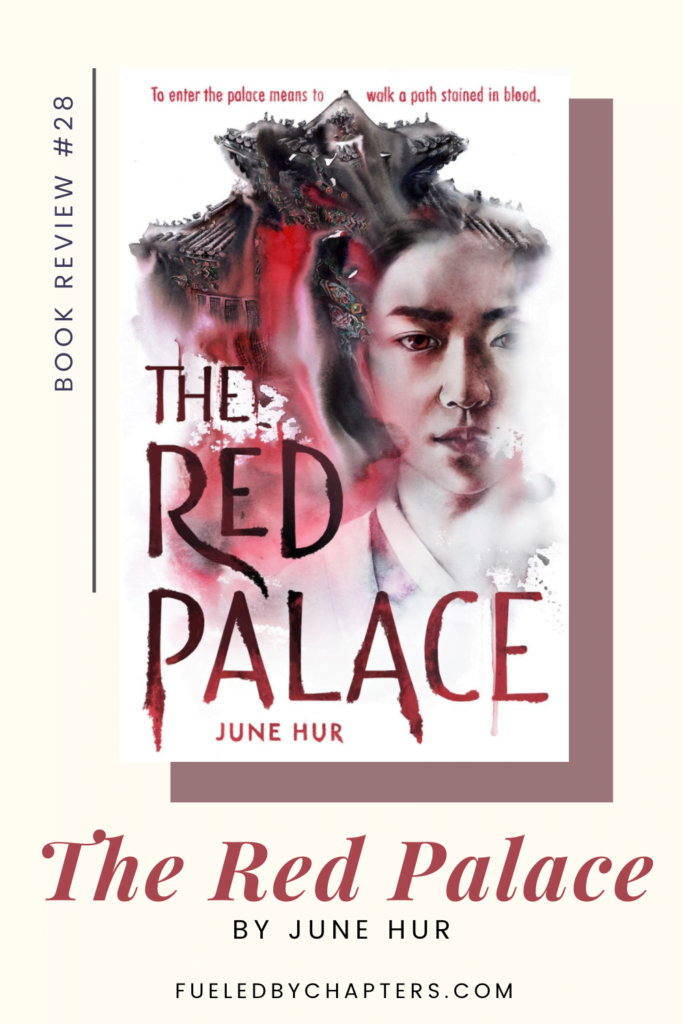 Let's Chat! 💬
Do you enjoy historical mysteries? Drop your favorites down below!