Hello, fellow bookworms! I'm sharing another book review today!
The Noh Family by Grace K. Shim is a K-drama-inspired YA novel that follows Chloe Chang and her discovery of her estranged paternal relatives.
This post contains affiliate links and I may earn a small commission through qualifying purchases.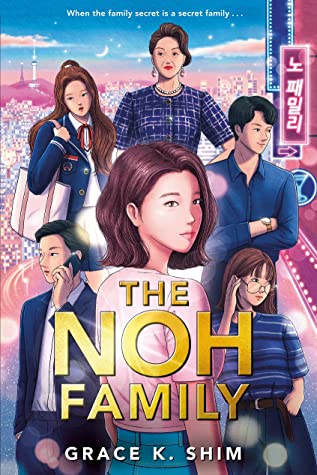 The Noh Family by Grace K. Shim
Pub Date: May 03, 2022 by Kokila
Rating
SYNOPSIS
A sparkling K-drama inspired debut teen novel by Grace Shim, THE NOH FAMILY introduces irrepressibly charming teen Chloe Kang, who is reunited with her deceased father's estranged family via a DNA test, and is soon whisked off to Seoul to join them…
When her friends gift her a 23-and-Me test as a gag, high school senior Chloe Kang doesn't think much of trying it out. She doesn't believe anything will come of it–she's an only child, her mother is an orphan, and her father died in Seoul before she was even born, and before her mother moved to Oklahoma. It's been just Chloe and her mom her whole life.
But the DNA test reveals something Chloe never expected–she's got a whole extended family from her father's side half a world away in Korea. Her father's family are owners of a famous high-end department store, and are among the richest families in Seoul. When they learn she exists, they are excited to meet her. Her mother has huge reservations, she hasn't had a great relationship with her husband's family, which is why she's kept them secret, but she can't stop Chloe from travelling to Seoul to spend two weeks getting to know the Noh family.
Chloe is whisked into the lap of luxury, but something feels wrong. Chloe wants to shake it off–she's busy enjoying the delights of Seoul with new friend Miso Dan, the daughter of one of her mother's grade school friends. And as an aspiring fashion designer, she's loving the couture clothes her department store owning family gives her access to. But soon Chloe will discover the reason why her mother never told her about her dad's family, and why the Nohs wanted her in Seoul in the first place. Could joining the Noh family be worse than having no family at all?
Amazon | Goodreads | StoryGraph | BookShop
Disclosure
I received an Advanced Reader's Copy from NetGalley and Penguin Random House. All opinions are my own.
Initial Thoughts 🧠
I was excited to read this book since I'm a huge K-drama fan. The trope of a long-lost family is very much cliché and overused but it didn't really stop me from reading the book. It's not my favorite trope either.
The book started fine, I like the intrigue and like Chloe, I was excited to meet the Noh family. And I guess that was the only thing in common between Chloe and me. Sadly, I couldn't connect with her.
Underdeveloped Characters
I've learned to cut YA characters some slack when it comes to naivety, but Chloe was too naive that her character's decisions seemed absurd at times. I don't know if it's just because I'm older and wiser, or it's me being a K-drama fan, but if I was in her shoes, I'd have a little skepticism in me.
And speaking of the characters, I wish they were more developed. All of them just felt too flat, even Chloe. No one really stood out, except maybe for Mr. Kim, but even he had an underdeveloped personality.
Off Pacing and Flat Writing Style
The writing style wasn't for me, as the tone felt too omniscient. There was too much telling and exposition that the characters felt too distant. It also got wrapped up quickly at the end, and it somehow feels rushed. There wasn't anything big, although I liked how Chloe realizes that a family doesn't always have to be a conventional type of thing.
I also wished Chloe really had the chance to learn more about his Dad, but the spotlight keeps shining on the others, like Samchon, who she doesn't even meet!
Also, the budding romance between Chloe and Mr. Kim was a little off-putting. I wish the author stated his age first because I kinda imagined Mr. Kim as a middle-aged guy. I mean, I don't mind the age gap that much (Hello, Twenty-Five, Twenty-One!) but it's hard when the characters aren't described enough to leave so much in the reader's imagination.
Overall Thoughts 💡
The book had potential, but sadly it didn't live up to my expectations. I like the incorporation of Korean culture and how Chloe tried to adapt, but for the most part, this book was predictable and formulaic.
Dedicating one star for mentioning two of my favorite K-dramas: Prison Playbook and Hospital Playlist. LOL
Do I recommend The Noh Family? Hmmm, not really. Although, if you're looking for something cliché and trope-filled, I'd say try it.
---
A few weeks ago, I made a post dissecting the K-drama tropes featured in The Noh Family, so check it out!
ABOUT THE AUTHOR
Grace grew up in Tulsa Oklahoma as one of two Korean-Americans at her high school (her sister was the other one). Today, Grace writes books with Korean-American protagonists that she wished she had read about as a teen. When she's not plotting (the writing kind, not the world domination kind), you can find her wearing a Korean sheet mask, baking French macarons, and unintentionally killing house plants & succulents. She lives in the Bay Area with her husband and three kids.
PIN THIS POST 📌
Let's Chat! 💬
Do you like books with cliché tropes? How about in films or TV shows?