Hello and welcome to my stop for The Noh Family Book Blog Tour! I'm excited to share my featured content today.
As a K-drama veteran, I'm familiar with different K-drama tropes and sometimes I play a little bit of trope bingo when I watch. There are times when these tropes become iconic scenes.
For today, I'll be featuring The Noh Family by Grace K. Shim and dissect the popular tropes used in the book. Plus, I'll recommend some K-dramas that fit the bill and play these tropes really well!
Dissecting K-Drama Tropes featuring The Noh Family
While brainstorming for this post, I looked back at the shows I watched for the last couple of years and the urge to rewatch some of my faves was strong. So, I ended up rewatching Hot Stove League last week! 😂
To be honest, it was a little hard compiling this K-drama recommendations. For one, my taste in K-dramas has definitely narrowed down to slice of life, thriller/mystery, and sports genres and some underrated ones.
But for today, I picked mostly popular ones so it won't be hard to find if you decide to watch them. I've watched and enjoyed most of the dramas on this list, save for a couple.
The Noh Family had three major tropes that stood out for me, which happens to be some of the most popular cliche K-drama tropes that watchers would agree. But full disclosure, I am not Korean and my opinions about Korean culture are solely based from years of watching K-dramas and other South Korean content.
So, without further ado, let's get into it!
Trope #1: Long-Lost Heir or Relative (Chaebol or Royal Family)
I'm sure you've seen this one or read it in a book! There are so many iterations of this trope like in Princess Diaries or Anastasia. In The Noh Family, Chloe discovers that not only does she have an entire extended family in Seoul, her grandmother is also a CEO of a large high-end department store, making her a part of a chaebol family.
In South Korea, the term chaebol simply means a large conglomerate being run by a family. Although, it's also used to refer to a rich person or family.
What makes this trope different in South Korean media?
For starters, the intense drama. This trope usually appears in long/daytime dramas or in makjang dramas, which are characterized by their over-the-top and absurd plots. A lot of the conflict usually stems from the hierarchy and family politics.
Protagonists who happen to be long-lost heirs are usually subject into scrutiny, either by the public or some members of the family, sometimes both. Most of the time, they come from a humble upbringing and prefers to live a normal life. Although, there are some shows with a thrilling revenge plot, especially in historical dramas.
I'm not actually a big fan of this trope, but I like the long-lost heir of a royal family so for this trope I tend to enjoy historical dramas more than those in a contemporary setting.
Here are some shows I enjoyed that portrayed this K-drama trope really well.
Louie is the handsome heir of a business empire who becomes homeless after suffering from an amnesia. Meanwhile, Bok-sil is a frugal country girl who goes to Seoul for a better life.
Calling Louie a long-lost heir might be a little reach, as he's already an adult when he had an amnesia. But one of the fun and interesting parts of this show is seeing Louie adapt to a frugal lifestyle led by Bok-sil, as opposed to his former lavish lifestyle. Plus, the chemistry between the main actors was adorable!
Similarities with The Noh Family: Louie's grandmother is also the head of the company.
Seo Ji-an finds out that she was the long-lost granddaughter of Haesung Group, who was disappeared 25 years ago. She takes a chance to rise to her status as part of a chaebol family, but family secrets sends her back to the lowest point of her life.
I haven't actually watched this since I can't commit to a 52-episode drama, but I know enough since this one got really popular in K-dramaland.
Similarities with The Noh Family: Dramatic family secrets, and like Chloe, Ji-an finds herself smack in the middle of a chaebol family.
Da-mi, a young palace maid, finds out that her long-lost twin brother is the Crown Prince Lee Hwi. Hwi loses his life because of a mistaken identity. Their mother, the Crown Princess Consort recognizes Da-mi as her daughter and persuades her to pose and live as the Crown Prince Hwi.
This was one of the K-dramas I tuned in every week! I rarely do that to be honest, but Park Eun-bin, who plays Da-mi and Hwi, is one of my favorite actresses. Besides, I was so intrigued when the first teaser for this came out. Being a historical drama, this one had a lot of politics and power play, but the rom-com aspect was really cute and refreshing too! And this drama introduced me to Rowoon!
Similarities with The Noh Family: Da-mi and Chloe are both long-lost heirs who found companionship with people of average lifestyle; Family drama with conniving and disapproving family members.
Crown Prince Lee Yul is injured and finds himself under the care of Hong Shim and her father. Yul experiences temporary amnesia because of his injuries. Unaware of his identity, he lives as a commoner named Won Deuk. He marries Hong Shim to escape punishment from a marriage law he passed as the Crown Prince, where he ordered all citizens to be married to save their country from the drought.
This is another show I really enjoyed! This also has the same vibes with Shopping King Louie, and what's funny is both female leads were played by the same actress.
Similarities with The Noh Family: Like Chloe, Yul also found companionship with the commoners he lived with as Won Deuk; Also family drama with conniving family members.
Trope #2: Disapproving Parents or Grandparents
This trope goes hand in hand with the first one, especially in romance dramas with chaebol leads, or in daytime family dramas. We've seen this in Boys Over Flowers and The Heirs, and other rich/poor relationships.
Honestly, this is one of the popular K-drama tropes that I'm tired of seeing. I find it toxic and annoying because most of the time, the conflict stems from the elitist and classist views of the parental figures.
Here are some K-Dramas that fit this trope.
Kim Joo-won is an arrogant and perfectionist CEO, who ends up switching bodies with Gil Ra-im, a poor stuntwoman. Their initial repulsion towards each other grows into attraction, and they marry despite Joo-won's mom's disapproval.
This was one of the earlier K-dramas I watched and I honestly don't remember the smallest of details, but whew! Let me tell you, Joo-won's mom is stressful af! I do remember being annoyed as hell!
Similarities with The Noh Family: Like Halmoni, Joo-won's mom was disapproving of her son's relationship with Ra-im as they are not from the "same league".
A modern-day Cinderella retelling that centers on Eun Ha-won who meets a chairman of a large corporation and convinces her to move in his mansion as a live-in butler for his three grandsons who are cousins. Ha-won finds herself in the center of the three cousins and their handsome bodyguard.
This drama had mixed reviews. I actually didn't finish this as I'm tired of love triangles, what more a love quadrangle? But it fits really well with the trope! It actually features more cliche tropes so if you're a fan of those, you'd probably enjoy this!
Similarities with The Noh Family: Protagonists who find themselves wedged into chaebol heirs, and the Chairman was disapproving of his son and grandson's relationships with people of different wealth class.
Shin Ha-ri is a food researcher who works for a large company owned by Kang Tae-mu. Her best friend Jin Young-seo, a chaebol heiress, asks her to attend a blind date as her replacement, she reluctantly agrees. Pretending to be Young-seo, Ha-ri learns that her date is none other than her boss, Kang Tae-mu. Tae-mu, tired of his grandfather's constant nagging about his marriage, decides to marry the next woman he's meeting, which turns out to be Ha-ri.
This one is probably one of the best rom-com K-dramas at least for 2022! I followed this show weekly, and it made me anticipate Mondays! Not only does this show feature disapproving parental figures, it also pokes a lot of fun with more cliché tropes. So, if you want a lighthearted and refreshing take on cheesy K-drama tropes, I highly recommend A Business Proposal!
Similarities with The Noh Family: Protagonists entangled with chaebol heirs and disapproving parental figures.
Trope #3: Dramatic Umbrella Scenes
Now this one is a real classic! Umbrella scenes are one of the best romantic plot devices and there are so many iterations for this!
In South Korean cinematograpy, one angle isn't enough. In rom-com dramas, like kissing scenes, umbrella scenes are usually shown in different angles. It's a little cheesy, but it works!
But nowadays, umbrella scenes aren't exclusive for romance and the same goes for The Noh Family.
Here are some of my favorite iconic umbrella scenes!
Reply 1988's Jung-bong and Mi-ok. This scene was more of a parody, which makes it more iconic!
Descendants of the Sun's Yoo Si-jin and Seo Dae-young. Another parody but this marks the start of their awesome bromance. Also, the placement of this scene was enough to pull our heartstrings.
I Am Not A Robot's Aji-3/ Jo Ji-ah and Kim Min-kyu. This was just straight up adorable and I love the importance of the umbrella in the show.
Mr. Queen's Queen Cheorin/Kim So-yong. This is perhaps the funniest and most iconic umbrella scene I've watched. Who doesn't want to see the Queen of Joseon twerking to Blackpink?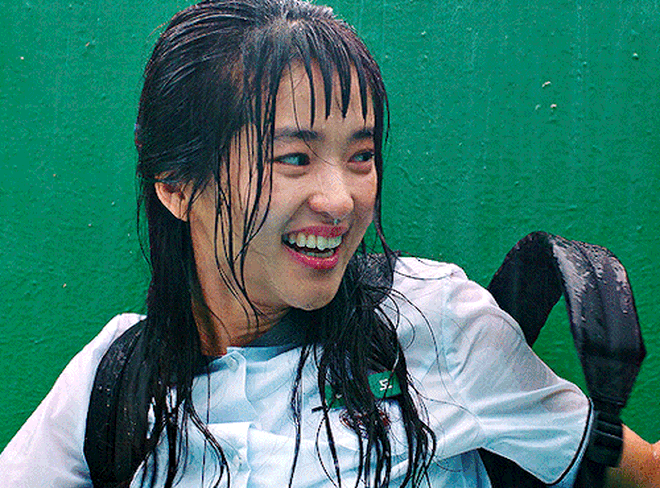 Twenty-Five, Twenty-One's Na Hee-do and Ko Yu-rim. There are actually a lot of funny umbrella scenes in this show, but this one was my absolute favorite! Hee-do's pure admiration towards Yu-rim and how it progressed throughout the show was one of the reasons why I love this show so much!
---
There are a dozen of shows and tropes unmentioned in this post, but here are the ones that really stood out to me! I hope you enjoyed reading this feature. This was fun and I might do another in the future!
About The Book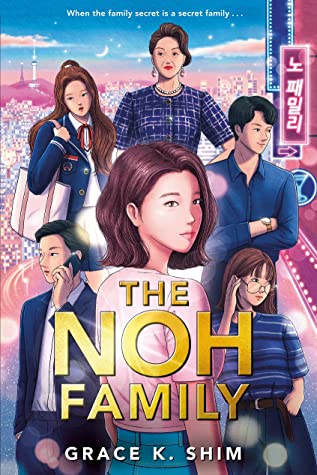 The Noh Family by Grace K. Shim
Pub Date: May 03, 2022 by Kokila
Amazon | Goodreads | StoryGraph | BookShop
SYNOPSIS
A sparkling K-drama inspired debut teen novel by Grace Shim, THE NOH FAMILY introduces irrepressibly charming teen Chloe Kang, who is reunited with her deceased father's estranged family via a DNA test, and is soon whisked off to Seoul to join them…
When her friends gift her a 23-and-Me test as a gag, high school senior Chloe Kang doesn't think much of trying it out. She doesn't believe anything will come of it–she's an only child, her mother is an orphan, and her father died in Seoul before she was even born, and before her mother moved to Oklahoma. It's been just Chloe and her mom her whole life. But the DNA test reveals something Chloe never expected–she's got a whole extended family from her father's side half a world away in Korea. Her father's family are owners of a famous high-end department store, and are among the richest families in Seoul. When they learn she exists, they are excited to meet her. Her mother has huge reservations, she hasn't had a great relationship with her husband's family, which is why she's kept them secret, but she can't stop Chloe from travelling to Seoul to spend two weeks getting to know the Noh family.
Chloe is whisked into the lap of luxury, but something feels wrong. Chloe wants to shake it off–she's busy enjoying the delights of Seoul with new friend Miso Dan, the daughter of one of her mother's grade school friends. And as an aspiring fashion designer, she's loving the couture clothes her department store owning family gives her access to. But soon Chloe will discover the reason why her mother never told her about her dad's family, and why the Nohs wanted her in Seoul in the first place. Could joining the Noh family be worse than having no family at all?
ABOUT THE AUTHOR
Grace grew up in Tulsa Oklahoma as one of two Korean-Americans at her high school (her sister was the other one). Today, Grace writes books with Korean-American protagonists that she wished she had read about as a teen.When she's not plotting (the writing kind, not the world domination kind), you can find her wearing a Korean sheet mask, baking French macarons, and unintentionally killing house plants & succulents. She lives in the Bay Area with her husband and three kids.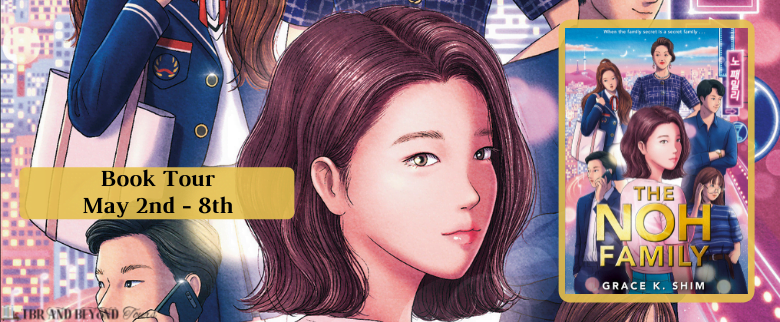 Follow the rest of the tour here.
---
PIN THIS POST 📌
Let's Chat! 💬
Are you a K-drama fan? What are your favorite popular K-drama tropes? How about the ones you're tired of seeing?