Penned by Prison Playbook screenwriter, Jung Bo Hoon, Racket Boys is a youth-oriented sports drama that revolves around the lives of middle-school badminton athletes in a small province in South Korea and their journey towards the national team.
About Racket Boys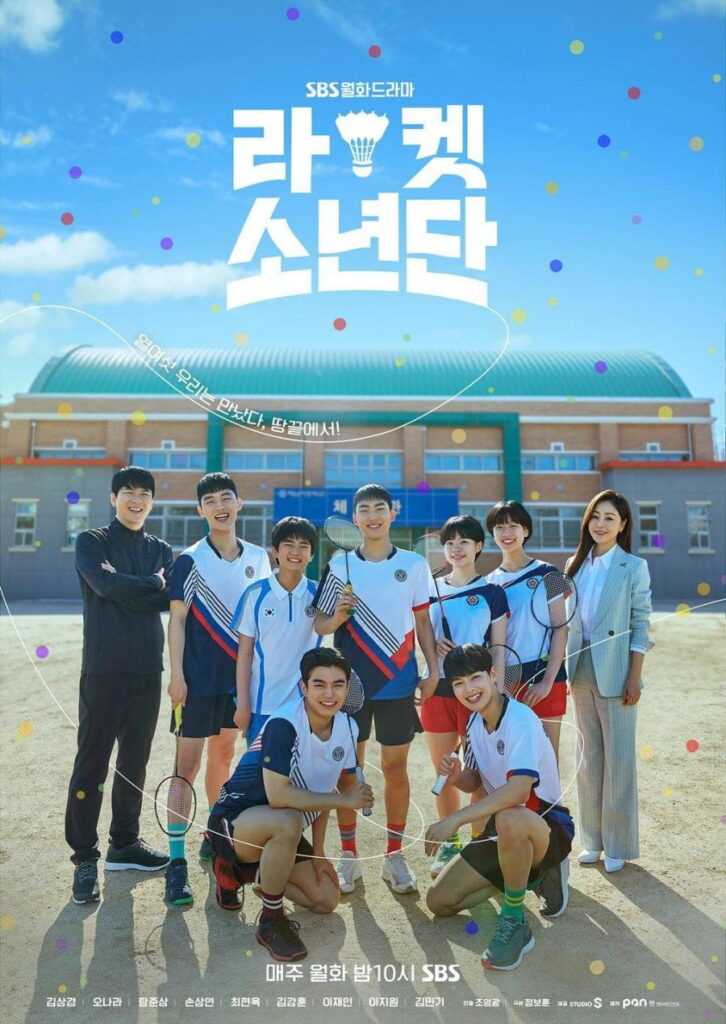 Racket Boys (라켓소년단, Racket Sonyeondan)
Director: Jo Young Kwang
Screenwriter: Jung Bo Hoon
Genres: Coming-of-Age, Sports, Friendship, Comedy
Main Cast: Kim Sang Kyung, Oh Na Ra, Tang Jun Sang, Son Sang Yeon, Choi Hyun Wook, Kim Kang Hoon, Kim Min Gi, Lee Jae In, Lee Ji Won
Synopsis (Netflix)
"A city kid is brought to the countryside by his father's new coaching gig: reviving a ragtag middle school badminton team on the brink of extinction."
My Thoughts 🧠
I don't exactly remember how I convinced myself to watch this show. Although, this was definitely on my radar since it had the same screenwriter as Prison Playbook. I binged this show for about three days, as I was really hooked on the story.
I like slice-of-life dramas and Racket Boys definitely delivered on that aspect. I really had a great time watching this drama because it was very reminiscent of Reply 1988, which is my all-time favorite. Well, that's actually a given since Jung Bo Hoon was actually the co-writer of Reply 1988 from what I learned. The friendship between the kids, paired with the different backstories of the villagers really reminded me of R88.
Loveable and Relatable Characters
One of the things I love about slice-of-life dramas is that they often revolve around a group of characters, rather than the usual 2 main leads. In this show, each of the main characters was given enough depth and layers to be explored throughout the series.
The friendship between the characters is super adorable! Hae Kang (Tang Jun Sang) was a little distant from the team at first, but he grew to love their company. The boys are equally adorable as well and I love how they complement each other!
Bang Yoon Dam (Son Sang Yeon) is their ace player and team captain, who's an Instragram enthusiast. Being the eldest in their family also adds pressure to him and his badminton career. Na Woo Chan (Choi Hyun Wook) is the team's mediator. He also often plays in their doubles matches. His father doesn't approve of him playing badminton, which often causes a ruckus in their household. Lee Yong Dae (Kim Kang Hoon) is the team's youngest player. A clingy and adorable kid, who looks up to his teammates and National Athlete Lee Yong Tae. Joining them is their class president, Jeong In Sol (Kim Min Gi), a lonely top student who's longing to play badminton with friends.
I always enjoy their scenes together, especially when the girls, Han Se Yoon (Lee Jae In) and Lee Han Sol (Lee Ji Won) also came into staying with them in Hae Kang's house. They're on the young side but it definitely reminded me of my college dorm days!
I enjoyed seeing the characters overcome their struggle in their journey to become junior national athletes. Their journey and character arcs were really inspiring and in a way nostalgic because they're very relatable!
Heartwarming and Comedic
Aside from the adorable friendship between the kids, the show also tackles great family dynamics. Hae Kang's parents are both badminton coaches and former national athletes. I enjoyed seeing their relationship develop and grow closer as Hae Kang takes up badminton again.
The other character's family dynamics were also lightly touched upon, but I particulary teared up when Woo Chan's father attended one of his games and finally showed his support. It was a beautiful moment to witness and I know how important it is to have a great support system in your family especially when you're a teenager.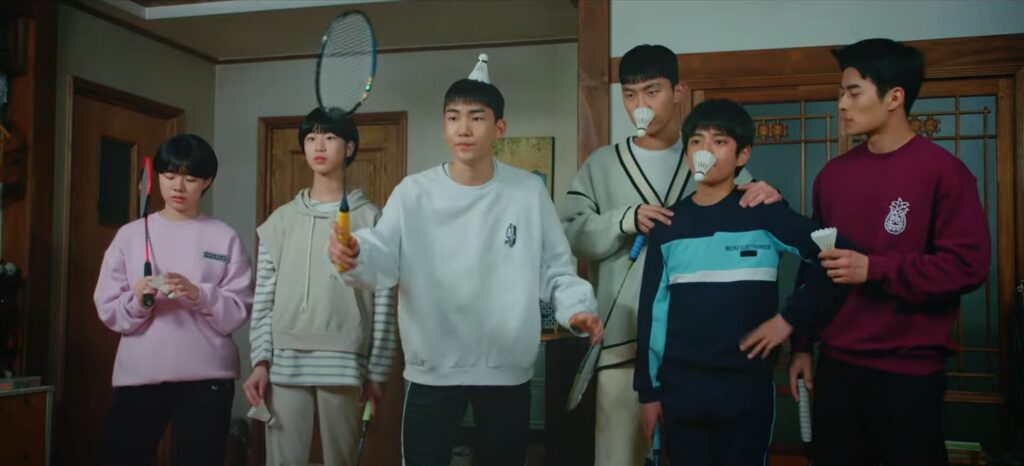 The episodes are long enough to be able to squeeze in the villager's back stories without it seeming to be forced. Each of their struggles were tackled really well, yes I cried loads of times too! I also love seeing the villagers gather together, which also brings a lot of emotional and funny scenes. The beauty of Racket Boys is the stories are really relatable.
The comedic timing was on point as well! They serve as a good balance to the emotional scenes, and there's so much youthful energy radiating from it. The humor really brings me back to Prison Playbook and Reply 1988!
Speaking of Prison Playbook, there were a lot of cameos from actors (including Park Hae Soo, whom you might recognize from Squid Game) who worked with Jung Bo Hun in Prison Playbook! It was super fun seeing them and make references from the drama.
Innocent and Adorable Romance
Ahhh, the beauty of innocent crushes and first love! The cute chemistry between the characters also led to a budding youthful romance!
One of the common tropes in K-dramas is the childhood connection between characters. Hae Kang and Se Yoon knew each other back when they were starting their badminton track, as they used to train together. Se Yoon's dream is to become the youngest member of the national team, but Hae Kang always keeps her grounded while also supporting her dream.
Another cute couple in Racket Boys is Yoon Dam and Han Sol! Han Sol has a crush on Yoon Dam since he's pretty much popular, but it became more kilig and cute when Yoon Dam started hinting that he likes Han Sol as well!
Seeing these kids get flustered in each other's presence was truly satisfying!
Overall Thoughts 💡
Racket Boys is currently gunning to be my top K-Drama for 2021!
The storytelling is top-notch, and provides a well-balanced mix of emotions. The characters are easy to root for and I love how fleshed-out they are! The episodes varies around 60-80 minutes, but they don't seem too long! In fact, I'm always left wanting for more.
The ending also was satisfying, although it could also be a good set-up for a second season! It would be fun to explore their stories once again!
I definitely recommend Racket Boys, especially if you love coming-of-age and youth-oriented K-dramas!
PIN THIS POST 📌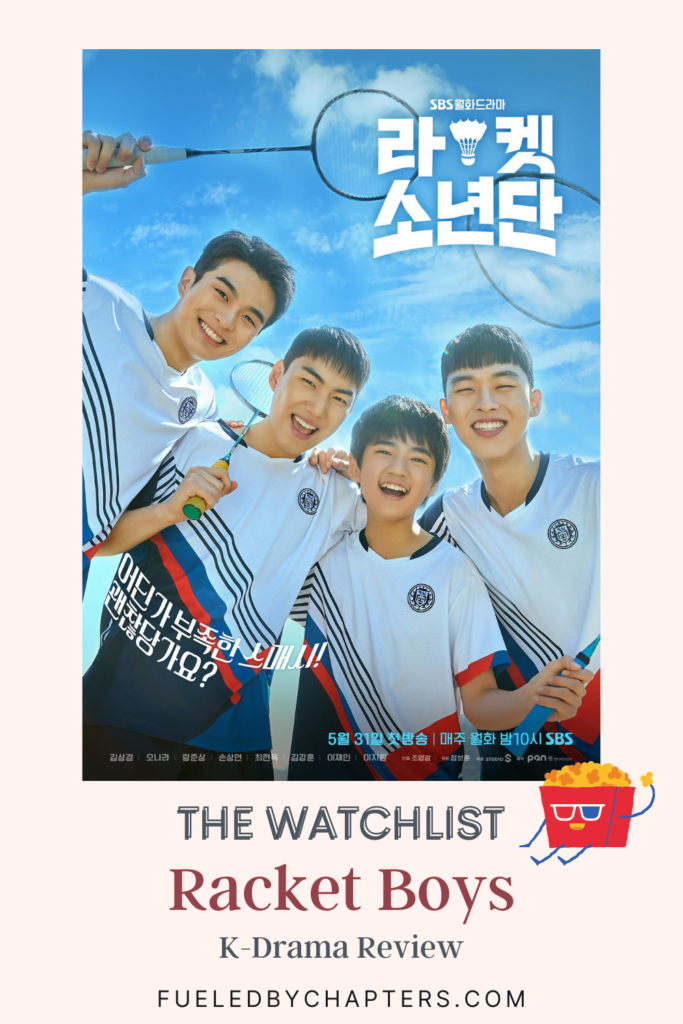 Let's Chat! 💬
Do you enjoy watching K-Dramas? What's the last K-drama you've watched?