From creators Shin Won Ho and Lee Woo Jung of the hit Reply Series (Reply 1997, 1994, 1988) and Prison Playbook, here's another slice of life K-drama that you shouldn't miss from our Shin-Lee duo!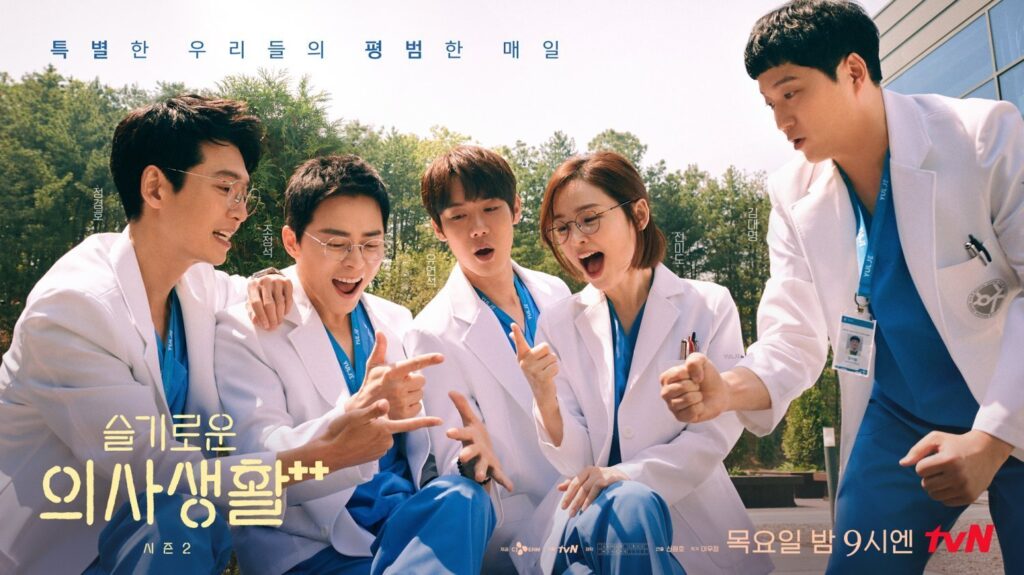 Hospital Playlist revolves around the lives of five doctors who have been friends since their freshman year at medical school. The show stars Jo Jung Seok as Lee Ik Jun, a general surgery professor; Jeon Mi Do as Chae Song Hwa, a neurosurgery professor; Yoo Yeon Seok as Ahn Jeong Won, a pediatric surgery professor; Jung Kyung Ho as Kim Jun Wan, professor of cardiothoracic surgery; and Kim Dae Myung as Yang Seok Hyeong, an OBGYN professor.
Having five main characters all from different medical professional backgrounds seems a little overwhelming. Needless to say, you'll definitely fall in love with these lovely people, including the people around them!
Since Thursday is Hospital Playlist Day, let me list down five reasons why you shouldn't miss watching this!
Five Reasons Why You Should Watch Hospital Playlist
1. It's Not Your Typical Medical K-Drama 🏥
As a self-confessed K-drama veteran, here's how I can describe a typical medical K-drama from what I've seen:
Main Characters
Lives a simple life; Usually the top student or a genius; haunted by a traumatic or complicated past
Villains / Antagonists
Either rich or super chaebol rich; MC's rival student/colleague or someone with a powerful position in the hospital
Other Elements
Dirty office/hospital politics, money, revenge plot, side romance involving a love triangle between the main character, love interest, and rival.
Hospital Playlist completely subverts a lot of these tropes from the very beginning. Like two of the five main characters are chaebol rich but they prefer to live a simple life. And here's why this drama sticks out for me: THERE ARE NO VILLAINS!
They did a great job in casting veteran actors Kim Kap Soo and Kim Hae Sook, who are both known to play rich or powerful antagonists. I loved how the creators poked fun at how they're usually typecasted as villains, but they really were adorable in the series!
As a slice-of-life drama, Hospital Playlist is more character-driven with a light plot that weaves in different stories. It shines a light on the supporting characters, may it be patients or other hospital staff, just as much as it does on the main characters. Instead of having the usual office politics and power play, they show a more grounded characterization of each people in the hospital.
2. A Soundtrack That Fills Everyone's Hearts 🎤
Our five doctor friends all excel in their specialization, but here's something else they're good at: band jamming sessions!
This scene right here was my main push to continue watching Hospital Playlist! I was originally going to wait for the series to be fully released on Netflix so I can binge it, but after watching Song Hwa hilariously belt out in this scene, I was a goner.
The weekly wait was painfully long but it was so worth it, especially since they feature songs each episode and release them the day after so I get to relish in them as I wait for new episodes. The songs they feature are covers of popular songs in South Korea during the 90s and early 200s, which fits the bill as the characters met in 1999.
What's even more interesting was that the actors really learned how to play the instruments instead of just using hand doubles. And all five of them are musically inclined too! Jeon Mi Do who Song Hwa is actually a musical actress, which came as a total surprise to me at first! They also dubbed their band as Mido and Falasol, a wordplay on Jeon Mi Do's name and the musical scale notes (do re mi… you got it right?)
3. Food That Tells Stories 🍜
This is a dead giveaway since there's always food in K-dramas, but in Hospital Playlist, food is just as important as their music. There's at least one scene where they come together and eat either in Song Hwa's office or Jeong Won and Jun Wan's office. I love that they make use of these scenes as a way of bridging connections between friends and families.
Most of the comedic scenes also involve food, but it is also used as a storytelling device in the romance aspect of the drama. The more we see the characters eat together, the more they get closer.
4. Friendship Goals and Kilig-Inducing Romance 🥰
If you're familiar with the works of the Shin-Lee duo, you can always expect that friendship will be one of the central themes in the story. All of their previous dramas feature a group of friends that will definitely make you root for them individually and as a group.
Their chemistry on-screen as friends is just as adorable as their off-screen friendship. I think that's what makes their chemistry authentic and genuine. Sure, the characters they play are different from the actors' personalities but their relationship isn't any different behind the camera. I absolutely loved their interactions both in the drama, behind the scenes, and during interviews.
What started out as an awkward table reading for the actors, led to a tearful goodbye between friends as the drama ended. With two spin-off shows along the way! 😂
5. You'll Learn A Lot of Life Lessons 💙
As a slice of life k-drama, you'll learn a lot of life lessons from Hospital Playlist. The creators mentioned that they wanted to shine a light on doctors' lives through this drama and bring healing to the viewers.
I guess it was in good timing that season one of Hospital Playlist aired during the height of the pandemic because it truly highlighted the importance of health care workers while providing an escape to reality since the drama didn't tackle the pandemic. The production team managed to portray a realistic representation of the medical field, based on reviews from doctors that I'm seeing. I can only wish that the health care system in Yulje Hospital was just as efficient as ours or in the whole world even.
Each episode conveys life lessons that hit straight to the heart. I've lost count of how many times I cried watching the doctor-patient interactions or heartwarming scenes, especially this one scene above.
---
Before Season 2 aired this year, we fans were blessed with Wise Camping Life, a short variety show with the main cast camping for one night on set. And two weeks after Season 2 ended, Wise Mountain Village Life started to air. It's another variety spin-off ala Three Meals A Day, featuring the main cast and some of the supporting cast living a simple organic life in a mountain village.
So if you have decided to watch Hospital Playlist and fell in love with the characters and their stories, don't forget to check out their spin-offs because they're as adorable and hilarious as the drama itself!
PIN THIS POST 📌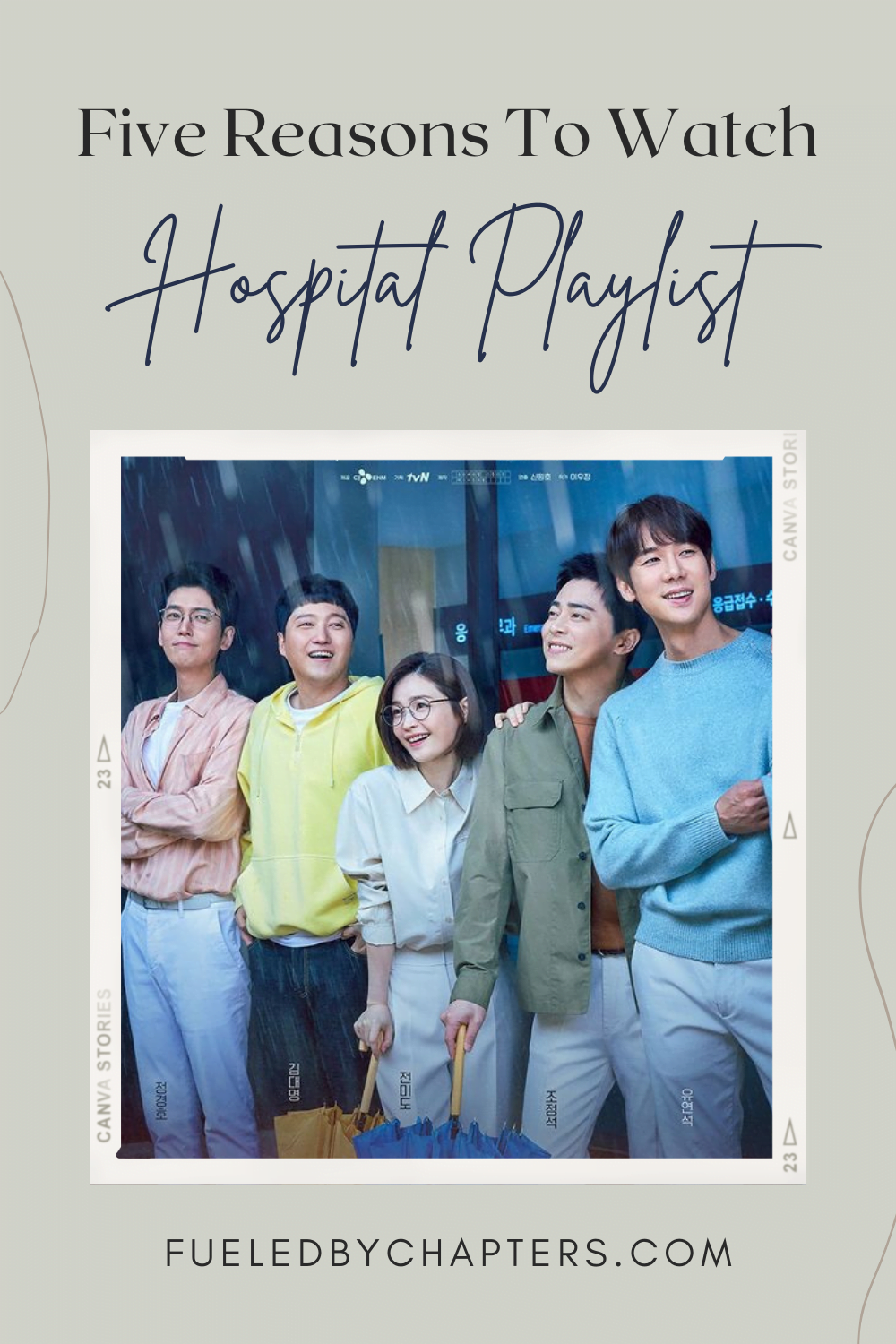 Let's Chat! 💬
Do you have any favorite K-dramas? Have you watched or are you planning to watch Hospital Playlist?