This post contains affiliate links and I may earn a small commission through qualifying purchases.
The Dead Romantics by Ashley Poston
Pub Date: Jun 28, 2022 by Berkley
[Amazon | Goodreads | StoryGraph | BookShop | Book Depository | Fully Booked (PH)]
Rating
SYNOPSIS
A disillusioned millennial ghostwriter who, quite literally, has some ghosts of her own, has to find her way back home in this sparkling adult debut from national bestselling author Ashley Poston.
Florence Day is the ghostwriter for one of the most prolific romance authors in the industry, and she has a problem—after a terrible breakup, she no longer believes in love. It's as good as dead.
When her new editor, a too-handsome mountain of a man, won't give her an extension on her book deadline, Florence prepares to kiss her career goodbye. But then she gets a phone call she never wanted to receive, and she must return home for the first time in a decade to help her family bury her beloved father.
For ten years, she's run from the town that never understood her, and even though she misses the sound of a warm Southern night and her eccentric, loving family and their funeral parlor, she can't bring herself to stay. Even with her father gone, it feels like nothing in this town has changed. And she hates it.
Until she finds a ghost standing at the funeral parlor's front door, just as broad and infuriatingly handsome as ever, and he's just as confused about why he's there as she is.
Romance is most certainly dead . . . but so is her new editor, and his unfinished business will have her second-guessing everything she's ever known about love stories.
DISCLOSURE
I received an Advanced Readers Copy of this book from Penguin Random House as part of a blog tour. All opinions are my own.
---
Initial Thoughts
When one of Berkley's publicists reached out to me and pitched this book, I was immediately hooked by the first paragraph of the synopsis. I'm also a millennial ghostwriter who may or may not be disillusioned.
I haven't read a lot of romance books featuring ghosts, The Dead Romantics kinda reminded me of The Mediator Series by Meg Cabot. From the very start, I was intrigued and I found it easy to connect with Florence's character.
Love is Dead
Having been traumatized by her previous relationship, Florence believes love and romance are dead. I can quite relate to her cynicism, but I also appreciate how her backstory gave us a peek at why and how she no longer believed in love.
And I also loved how Florence was able to grow out of it, despite being involved with a drop-dead gorgeous ghost (pun intended) who is also her editor. I absolutely love Ben, and his personality just screams a sweet cinnamon roll! A hot cinnamon roll who loves to read romance.
Also Read: The Bromance Book Club by Lyssa Kay Adams
Florence and Ben were adorable. Their interactions are just so lovely and I love how Ben always reassures Florence, especially during times when she's second-guessing herself.
The romance, along with the comedic elements, just brings enough fluff and lightheartedness to the otherwise heavy-hitting elements in the story. I loved how well-balanced these elements are and they really made the story feel fleshed out.
Exploring Grief and Death
Now onto the heavy topics, The Dead Romantics also dealt with grief and death as the main elements. Somehow, the book reminded me of The Haunting of Hill House, minus all the scary stuff and jump scares, as Florence's family owns a funeral parlor.
Ashley Poston's writing style really stuck out to me. I can't believe this was the first book of hers that I've read. I love how lyrical her words are, especially during the scenes where Florence was dealing with the loss of her father. I could really empathize and resonate with Florence's emotions, especially since I'm also the eldest sibling.
Florence reconnecting with her family was delightful to read. It was an eclectic mix of emotions, really. Her family has a fair share of hilarious dynamics and very heartfelt interactions that tug my heartstrings. I just really loved how the themes of grief and family were tackled in the book!
Overall Thoughts
I'm so happy I got to read this book because I finally got the 5-star read I was hoping for. The Dead Romantics was just the perfect book I needed!
Do I recommend The Dead Romantics? Yes! I definitely recommend The Dead Romantics by Ashley Poston, especially if you're looking for a well-balanced and well-rounded story that highlights grief and family.
ABOUT THE AUTHOR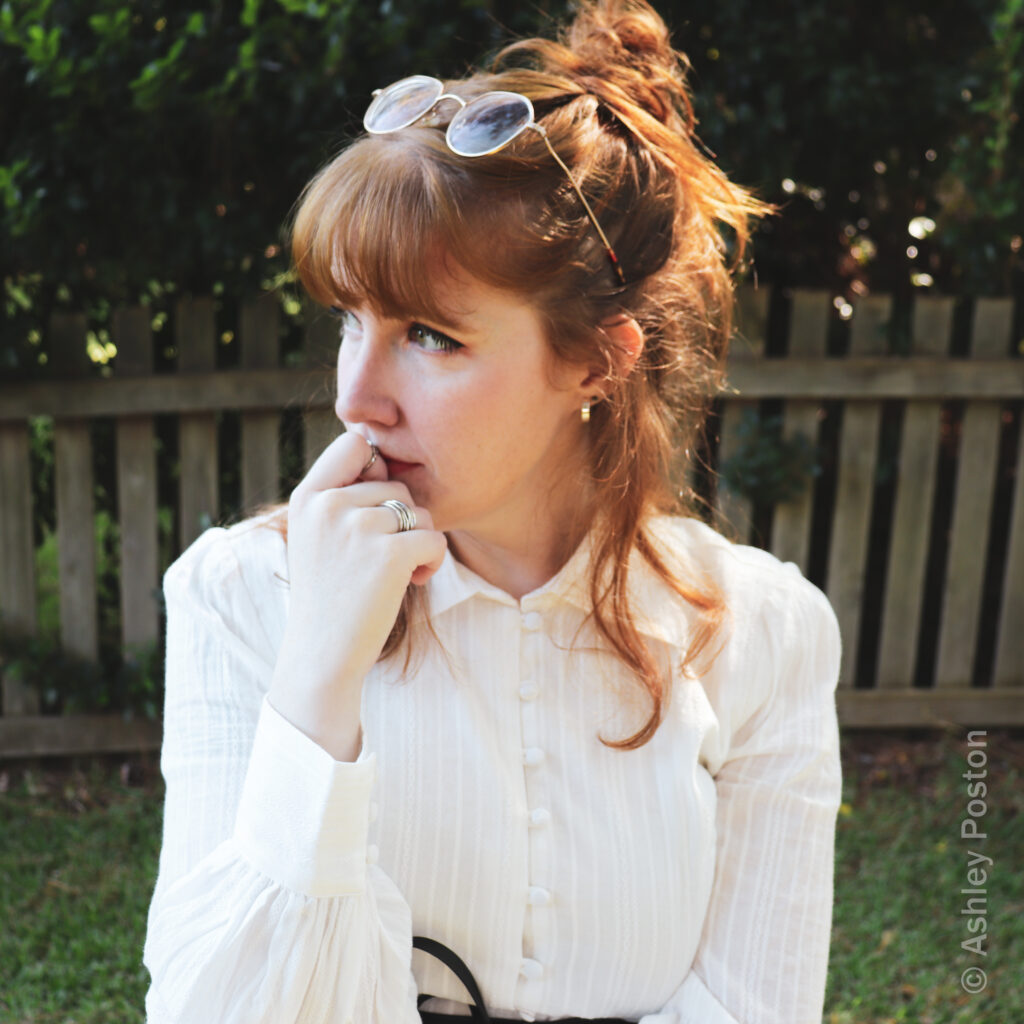 Ashley Poston graduated from the University of South Carolina and has spent the last ten years in the publishing industry as a social media coordinator, a marketing designer, and finally an author. Her novels have been featured on the Indie Next List, Teen Vogue, Seventeen, EW, CNN, Hypable, and Buzzfeed, among others.
When not writing, she likes to build miniature rooms and takes long walks as an excuse to listen to Dungeons and Dragons podcasts. She lives in South Carolina with her bossy cat, Paprika, and they are firm believers that we're all a bunch of weirdos looking for other weirdos, asking for their AO3 username.
---
PIN THIS POST 📌
Let's Chat! 💬
What are some of your favorite romance books with ghosts? Have you read The Dead Romantics yet?