From The Repository is a collection of my old book reviews lifted from my old website. Check out the rest here.
Play It By Ear by Tara Frejas
Pub Date: May 15, 2019 by Romance Class Books
SYNOPSIS
What does it really take to be a champion?
When East Genesis Project's Jo Yihwan reluctantly pinch-hits for injured band mate Steven Bae in a reality TV-slash-talent competition, he decides he's only in it to win. After all, he is representing his band, and the All-Kill Champion title had some handsome perks attached to it.
But he didn't expect to meet a gutsy, driven teammate like Ha Yoojung, or feel drawn to her incandescent spirit week after week after week. He didn't expect her to be carrying a devastating secret that could cost them the grand prize, either.
What starts as a competition becomes so much more. With careers, a long-held dream, and honor at stake, can Yihwan and Yoojung's hearts survive?
This post contains affiliate links and I may earn a small commission through qualifying purchases.
My Thoughts 🧠
So here I am again, completely fallen in love with another Tara Frejas novel. I swear Frejas's writing keeps getting better every damn time. Honestly, I went into this book blindly. I only knew that this would be about Jo Yihwan joining a reality TV contest to replace Steven Bae.
We all knew Yihwan from Scandalized, as East Genesis Project's band leader. Mostly aloof and brooding, but an actual cinnamon roll. Meanwhile, Ha Yoojung is a level-headed, won't-take-any-shit-from-anyone aspiring idol trying to debut in the business for years. Yihwan and Yoojung got paired up for All Kill Champion, a reality talent show.
Of course, I loved seeing the whole EGP gang, Fi and Gabe included. It was truly refreshing to see another side of Yihwan in this story. It gave me a better understanding of his personality.
Yoojung's character was also well written. Tara Frejas really knows how to flesh out her characters and I do appreciate the amount of effort she exerts when creating and introducing new characters.
Play It By Ear captured the reality of the Korean Entertainment industry. From fan interactions and online buzz (including online hatred which is truly appalling) to dropping some piping hot tea that is power dynamics between influential people and celebrities. It tackled and called out the blatant abuse of power by key people, something the Korean Entertainment Industry is infamous for.
Storytelling-wise, I love how Tara included news articles, song lyrics, and chat logs in the story which elevates the reading experience. I felt like I was watching a K-drama unfold through the pages.
Overall Thoughts 💡
Overall, Play It By ear was one hell of a ride to read. It's equal parts funny, inspiring, and FLUFFY!! I can't wait to read more from this universe, especially from that one man called Steven Bae.
PIN THIS POST 📌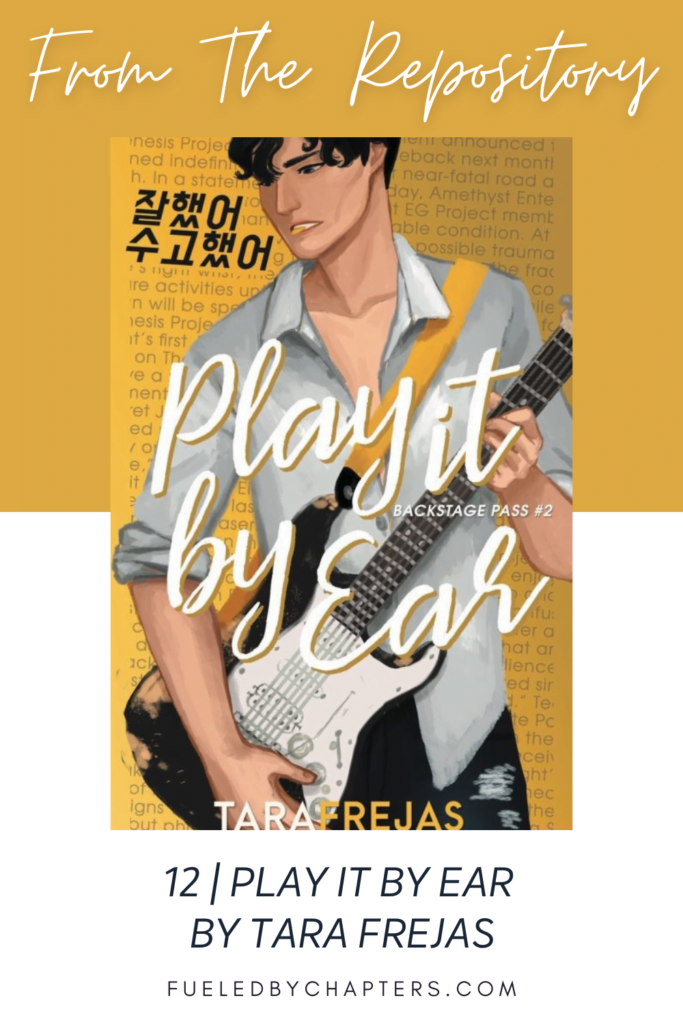 Check out other books set in South Korea…
Let's Chat! 💬
Have you read Play It By Ear or any of Tara Frejas's books?
---
This review was first published on The Bibliophile Confessions on May 21, 2019. A review copy was provided by the author. All opinions are my own.