From The Repository is a collection of my old book reviews lifted from my old website. Check out the rest here.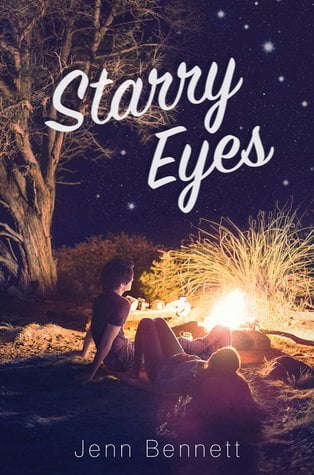 Starry Eyes by Jenn Bennett
Pub Date: April 3, 2018 by Simon Pulse
[Amazon | Goodreads | StoryGraph]
SYNOPSIS
Ever since last year's homecoming dance, best friends-turned-best enemies Zorie and Lennon have made an art of avoiding each other. It doesn't hurt that their families are the modern day, Californian version of the Montagues and Capulets.
But when a group camping trip goes south, Zorie and Lennon find themselves stranded in the wilderness. Alone. Together.
What could go wrong?
With no one but each other for company, Zorie and Lennon have no choice but to hash out their issues via witty jabs and insults as they try to make their way to safety. But fighting each other while also fighting off the forces of nature makes getting out of the woods in one piece less and less likely.
And as the two travel deeper into Northern California's rugged backcountry, secrets and hidden feelings surface. But can Zorie and Lennon's rekindled connection survive out in the real world? Or was it just a result of the fresh forest air and the magic of the twinkling stars?
This post contains affiliate links and I may earn a small commission through qualifying purchases.
My Thoughts 🧠
Here's the thing, Jenn Bennett writes awesome contemporaries. I can still remember how I fell in love with Anatomical Shape of the Heart and stole a great piece of my heart.
Going into this book blindly might have been the best decision. I think it's really one of the best ways to get into something. Did I have any expectations? Maybe. I just knew that it's going to be good. I easily devoured this book in a span of a weekend.
I'm not the biggest fan of hate to love trope, but I have to admit that it's really growing on me. There's always the tension and chemistry to look forward to, but mostly, it's how the characters get drawn to each other in spite of everything.
For Zorie and Lennon, it was a case of getting in the middle of a family clash—it was mostly Zorie's dad having issues with Lennon's moms. Yep, MOMS. I really loved the family dynamics depicted in the book. Zorie with her stepmom Joy, and Lennon with his moms, Sunny and Mac.
To the Stars and Back
The characters were well developed and very relatable. I love Zorie's love for astronomy and Lennon's love for outdoor adventure. Zorie and Lennon really complemented each other's personalities and it was a great experience reading their story: from being best friends to them falling out, and finally coming together again.
Emotions translated pretty well from the pages. Another thing I loved was the illustrations, which were maps from Lennon's notebook.
Overall Thoughts 💡
Their whole adventure, being stuck with each other in the wild, was really interesting. I enjoyed the narration, and the voice made it easier to imagine the scenes.
Overall, Starry Eyes was a really lovely book. I adored literally everything about it. Jenn Bennett's writing style is a wonder. She writes intricately and well fleshed out stories that will surely make their way to everyone's hearts. Starry Eyes definitely made it to my favorite books of all time.
Let's Chat! 💬
Have you read anything from Jenn Bennett yet?
What was your favorite book that involved a road trip or an adventure?
This review was first published on The Bibliophile Confessions on May 6, 2018. I received an ARC of this book from the publisher. This did not affect my review in any way.