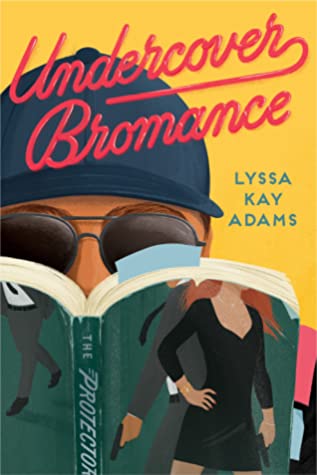 Undercover Bromance (Bromance Book Club, #2) by Lyssa Kay Adams
Pub Date: March 10, 2020 by Berkley Romance
[Amazon | Goodreads | StoryGraph | Bookshop]
SYNOPSIS
Braden Mack thinks reading romance novels makes him an expert in love, but he'll soon discover that real life is better than fiction.
Liv Papandreas has a dream job as a pastry chef at Nashville's hottest restaurant. Too bad the celebrity chef owner is less than charming behind kitchen doors. After she catches him harassing a young hostess, she confronts him and gets fired. Liv vows revenge, but she'll need assistance to take on the powerful chef.
Unfortunately, that means turning to Braden Mack. When Liv's blackballed from the restaurant scene, the charismatic nightclub entrepreneur offers to help expose her ex-boss, but she is suspicious of his motives. He'll need to call in reinforcements: the Bromance Book Club.
Inspired by the romantic suspense novel they're reading, the book club assists Liv in setting up a sting operation to take down the chef. But they're just as eager to help Mack figure out the way to Liv's heart… even though she's determined to squelch the sparks between them before she gets burned.
This post contains affiliate links and I may earn a small commission through qualifying purchases.
Initial Thoughts 🧠
Once I learned that Braden Mack was going to be the male protagonist, I was already on board with this. I loved Mack in the first book despite him being too much of a flirt in the first book. And then, I learned Liv was the female protagonist and I thought, sure that could work.
They had a little altercation in the first book when Mack ate Liv's food and that was it. I got super excited to go back to the book club, and it's a good thing I got this book for a steal ($1.99 on Kindle Store). And since it had the same audiobook narrator, I just couldn't resist listening as well. I really had fun listening while highlighting passages from my Kindle. Maybe too much fun that I ended up having 209 highlights 🤣
However, I'm going to be really honest and say that I have mixed feelings about this one.
The Malewives
I just thought of the meme "Mansplain, Manipulate, Malewife" while writing this review, but the malewife thing really fits 🤣. Like in the first book, our top alpha males continue to acknowledge the faults of the patriarchy and toxic masculinity.Sure, the bare minimum and all, but it still makes my heart sing.
I'm really happy that we got to see more of Mack's character in Undercover Bromance. I think this spent a lot more on his perspective, as compared to Liv's. Or maybe his thoughts just stood out more for me. He's such a total doofus and a hopeless romantic. His backstory and how he came to be a romance reader were interesting. He wears his heart to his sleeve and he's always direct and honest with Liv, except for one thing.
I think his secret should've been revealed earlier to the reader. Main characters keeping secrets from the readers are a hit and miss for me, and most of the time the hits for me are reserved for thrillers/mysteries. For this book, it didn't really feel like a big surprise once it was revealed. I guess my sleuthing skills are getting good because I predicted some parts of it.
I just really enjoyed the scenes with the Bromance Book Club, especially with our cheese-loving Russian! I'm really glad he has a book coming out and I'm excited to see more of his adventures with cheese 🤣
Fear is a powerful motivator, but so is love.

undercover bromance by lyssa kay adams
Gaslight, Gatekeep, Girlboss
Now here lies my problem. I liked Liv in the first book. Despite her cynicism and hostility towards the guys, she was really supportive of Thea. And as someone who has sisters, I totally understand where she's coming from. In this book, however, she just straight-up annoyed me.
I get the feminist agenda this book was trying to include, but I just couldn't handle Liv's attitude, especially towards Jessica and Alexis. She's trying to stand up for them, but it felt like she was just trying to use them just to get her goal The gaslighting, victim-blaming and her judgmental attitude didn't sit well with me. She also kept telling Mack to "man up" and was making fun of his manicures, like girl tone down that internal misogyny.
I appreciate that she's been called out for it, but still… it felt like she got away too easy. Another thing that didn't work out for me was her issues with her dad. It just felt like a repeat of Thea's. I think if the story tackled that a little more, it would've worked better.
Overall Thoughts 💡
Despite the issues I had, I still enjoyed reading and listening to Undercover Bromance for the most part. Thanks again to Andrew Eiden's Russian accent 🤣. I'm really looking forward to listening to The Russian's story soon.
I wish there were more The Protector chapters, but I think the lack of it worked out just fine. I loved the little Romantic Suspense aspect, especially that one part that included a fart. 😂
Braden Mack was the total standout, and I liked how he was always supportive and understanding towards Liv. I just wished Liv could be the same. I liked the banter between them, but I think the chemistry could be better.
Do I recommend this? Um, for Mack and the guys, sure.
Undercover Bromance has a great ensemble of cishet men I could trust. It's a fun read full of entertainment, sweet snuggles, and chickens!
ABOUT THE AUTHOR
Lyssa Kay Adams read her first romance novel in eighth grade after swiping one from her grandmother's book shelf and was hooked forever. After a nearly 20-year career as a journalist, her dreams of writing and publishing her own HEAs came true in 2015 with the release of her first novel, Seventh Inning Heat, followed by the RITA-nominated novella, Wild in Rio. Today, she writes full-time from her home in Michigan with a pesky, fluffy K9 assistant named Domino who spends most of his day snoring on her desk (that is, when he's not burying things around the house).
Author Links: Website | Twitter | Instagram | Facebook | Pinterest
Let's Chat! 💬
Have you read any books in the Bromance Book Club series? Let me know what you think!