The Rundown is where I recollect and wrap-up stuff every two months. Check out other wrap-up posts here.
Kumusta?
I can't believe I'm actually writing this rundown post. Oh, how I missed this feeling! Although as a contrast, I'm not going to talk about books. Well, not completely. 😜
So what happened?
This January, I finally got to launch this website which I baptized as Fueled By Chapters through a subtle welcome post. Dumb me forgot which day the welcome post was supposed to go live hahaha 😅. All because I was busy with work.
Yes, I've got a new job!!!🎉 Although I'm still adjusting, it's been pretty interesting so far since it's a little bit unrelated to my previous one. I'm also doing a part-time gig as a social media manager for a food blogger. I mean, I've been doing this social media thing for years so I figured why not make money out of it, right?
As for the blog, I'm still testing the waters as I seem to have lost my way a little. Gutenberg is a little bit confusing 😅 but I like the WYSIWYG feature! Also having no pressure with planning and writing content feels amazing, but I kinda miss it too.
For the past two months, I've basically just been watching stuff. Oh, I also listened to Season 2 of RomComPods! The wonders of working at home! But before I get into the films and shows I've watched, I want to give a quick shoutout to these Jan-Feb Book Releases that piqued my interest.
I've Got You Covered!
Not reading doesn't stop me from browsing on Goodreads and finding these gems! I honestly love illustrated covers so I'm sharing a rundown of these recent releases from the past two months. And here's to hoping that I could read at least one of them 🥂
BLURB
A sensitive, funny, and painful coming-of-age story with a wry voice and tons of chisme, Fat Chance, Charlie Vega tackles our relationships to our parents, our bodies, our cultures, and ourselves.
DETAILS
Pub Date: Feb 02, 2021 by Holiday House
352 Pages | Young Adult
BLURB
Rose Szabo's thrilling debut is a dark and thrilling novel about a teen girl who returns home to her strange, wild family after years of estrangement, perfect for fans of Wilder Girls.
Exquisitely terrifying, beautiful, and strange, this fierce gothic fantasy will sink its teeth into you and never let go.
DETAILS
Pub Date: Feb 02, 2021 by FSG
394 Pages | Young Adult
BLURB
The Hate U Give meets Get Out in this honest and powerful exploration of prejudice in the stunning novel from sister-writer duo Maika and Maritza Moulite, authors of Dear Haiti, Love Alaine.
DETAILS
Pub Date: Jan 05, 2021 by Inkyard Press
384 Pages | Young Adult
BLURB
From New York Times bestselling and award-winning author Rene Watson comes a new YA–a love story about not only a romantic relationship but how a girl finds herself and falls in love with who she really is.
DETAILS
Pub Date: Feb 02, 2021 by Bloomsbury YA
304 Pages | Young Adult
BLURB
Sparks fly between two teens as they grapple with grief, love, and the future in this unforgettable debut novel sure to entice fans of Jandy Nelson and Jennifer E. Smith.
Ashley Schumacher's devastating and beautiful debut, Amelia Unabridged, is about finding hope and strength within yourself, and maybe, just maybe, falling in love while you do it.
DETAILS
Pub Date: Feb 16, 2021 by Wednesday Books
304 Pages | Young Adult
Roll the Credits
So now I get to list down the movies and TV shows I've watched for the last two months, mostly Korean shows. Plus, I'm taking Korean Lessons so watching them regularly really helps especially with vocabulary.
Now onto the actual rundown…
Movies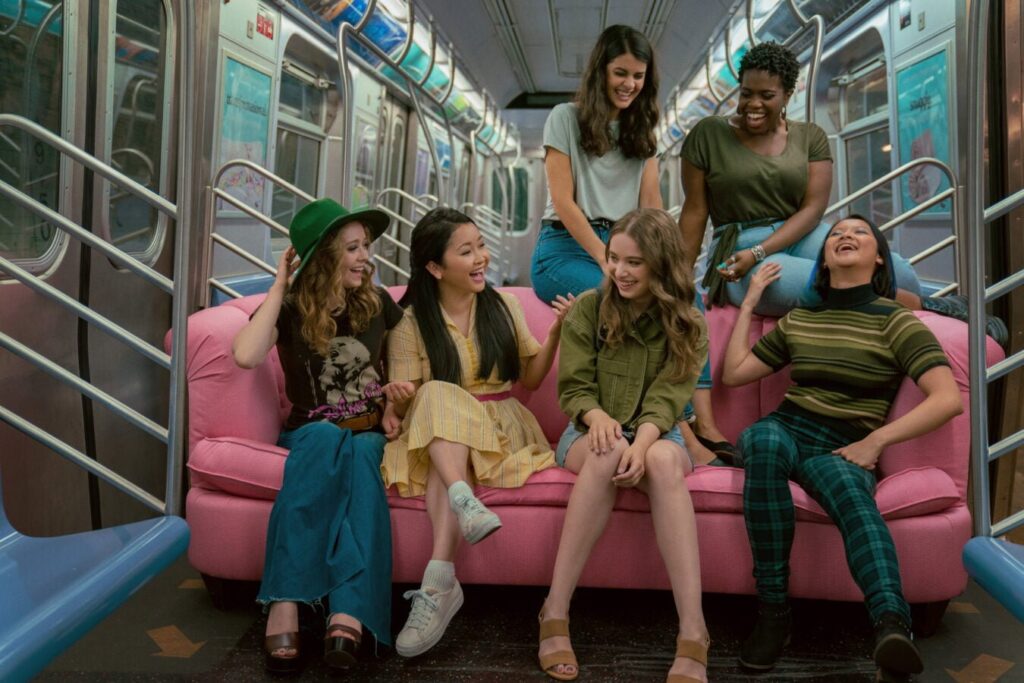 I didn't watch any movies… except for these two. I have to be honest, I wasn't that excited for TATB3 but I felt like I had to watch it for the sake of finishing the series. The books were great, but I just felt like I grew out of it that's why. Still, I enjoyed the movie. Not going to the same university as your boyfriend is not the end of the world, Lara Jean.
Now let's discuss a victory in Korean Cinema. Space Sweepers (승리호, lit. Spaceship Victory) really swept everyone away. This was Song Joong Ki's return to the big screen after The Battleship Island. Okay, so yes I was excited because it's Joong Ki, but the other actors in the cast got me excited as well! Besides, this was marketed as the first Korean Film set in space so everyone was really looking forward to it.
Along with Song Joong Ki, who plays Pilot Kim Tae Ho, stars Kim Tae Ri (The Handmaiden) as Captain Jang, Jin Seon Kyu (Extreme Job) as Mechanic Tiger Park, Yoo Hae Jin (Confidential Assignment) as Bubs / Eobdongi, Park Ye Rin as Dorothy / Kot-nim, and Richard Armitage as James Sullivan.
No spoilers, but I was honestly blown away with the VFX and the plot was executed well in my opinion. It received pretty positive reviews so I think Director Jo Sung Hee's brainchild for almost a decade really paid off. The movie was multi-lingual too which is why I think it was received well globally.
TV Shows
I'm only listing the ones I've finished but I've watched a couple of episodes of Bridgerton and Brooklyn Nine-Nine S7. I'm also caught up with WandaVision, and yes EVERY EPISODE IS AMAZING AND I CAN'T WAIT FOR THE REST OF PHASE FOUR HOLY COW! That's all for the Western TV and we shall sail to the other side because Netflix will apparently spend $500 million to bring more South Korean content to us!
Sweet Home is an apocalyptic South Korean thriller that tells the story of a group of tenants fight to survive.
I opened 2021 with this one and it was the best choice I made.
Busted is a South Korean Variety show starring big-name celebrities such as Yoo Jae Seok (Running Man), and Park Min Young (What's Wrong With Secretary Kim) who play fictionalized characters of themselves as detectives. Season 3 dealt with more serious topics such as bullying and suicide which are prominent in the country. I think the way they handled the topics was okay, but the series, in general, fell off for me. I still enjoyed it though.
So this show will go down as one of my favorites for sure. These four misfits are actually demon hunters called "Counter" posing as Noodle Shop employees. It's a great mix of comedy, action, and serious business too.
RUN-ON (JTBC / Netflix, 2020-21)
How do I even start with this one? Okay so Run-on revolves around four people. A film translator, an athlete, a CEO, and an artist. It doesn't have a heavy plot and is purely character-driven so it's easy to follow. Is it romance? YES.
And the relationships are more mature compared to the typical rom-com K-dramas as it highlights the importance of communication and career growth. It's such a fresh take on different tropes. Here's a great post I found on Reddit that talks about the subverted cliches.
Jeez, I think there's not one episode where I didn't laugh because our Queen So Bong is hilarity personified. I'm not going to give out much but let's rundown the K-drama tropes: timeslip, genderbending, and evil political figures.
All I can say is WATCH IT!
This has been on my list for so long that I decided to finally cave in. It's a procedural crime drama with a genius profiler teaming up with a police officer with Eidetic memory (photographic memory). It started out really good, but it kinda slowed down in the middle. It still ended with a good run though as it picked up towards the end. I love the plot twists, especially with the main villain. Boy, I did not see that one coming!
Once you overcome the one-inch-tall barrier of subtitles, you will be introduced to so many more amazing films.

Bong Joon Ho, oscar winning Director
I'm ending this film and tv rundown with this quote by Director Bong Joon Ho, who directed Parasite. This speaks true to me, and I hope it does to you too. Also, this doesn't only apply to movies but to TV shows as well, may it be from South Korea or other Non-English speaking countries.
Across the Web
Here's a quick rundown of posts I recently loved from other bloggers:
📑 In light of all the True Beauty buzz in K-dramaland, Rain wrote this amazing list of Webtoon Recommendations.
💻 Kate and Shenwei wrote an amazing article about white authors writing POC characters.
📑 In Romancelandia, #romanceclass released a new anthology with everyone's favorite tropes! Get your copy until April 14, 2021!
Let's Talk!
What has been the highlight of your year so far?
Are you a K-Drama junkie like me? Tell me your recommendations
Have you posted your own rundown yet? Link it down below!