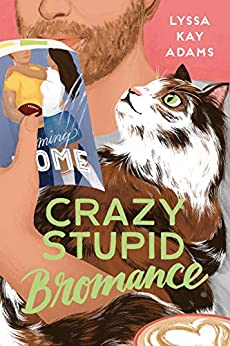 Crazy Stupid Bromance (Bromance Book Club, #3) by Lyssa Kay Adams
Pub Date: October 27, 2020 by Berkley Romance
[Amazon | Goodreads | StoryGraph | Bookshop]
SYNOPSIS
A hacktivist and a cat café owner decode the friend zone in this romantic comedy from the author of Undercover Bromance.

Alexis Carlisle and her cat café, ToeBeans, have shot to fame after she came forward as a victim of a celebrity chef's sexual harassment. When a new customer approaches to confide in her, the last thing Alexis expects is for the woman to claim they're sisters. Unsure what to do, Alexis turns to the only man she trusts—her best friend, Noah Logan.

Computer genius Noah left his rebellious teenage hacker past behind to become a computer security expert. Now he only uses his old skills for the right cause. But Noah's got a secret: He's madly in love with Alexis. When she asks for his help, he wonders if the timing will ever be right to confess his crush.

Noah's pals in The Bromance Book Club are more than willing to share their beloved "manuals" to help him go from bud to boyfriend. But he must decide if telling the truth is worth risking the best friendship he's ever had.
This post contains affiliate links and I may earn a small commission through qualifying purchases.
Initial Thoughts 🧠
I have to admit that I was surprised when I learned that Alexis and Noah will be featured after Undercover Bromance. I don't remember them having a significant connection in the previous book. But I love some classic friends-to-lovers and I enjoyed both of their characters! That was good enough for me.
I continued my tradition of listening to the audiobook while reading the e-book. Honestly, it was such a wonderful reading experience. I cannot recommend listening to the audiobook enough. Andrew Eiden is such a fantastic narrator!
It Takes Two To Nerd Out
I really really love Noah and Alexis together! They're both sweet gentle souls and their friendship was so sweet and they really compliment each other! I love that they both enjoy trivial and nerdy things like building a limited-edition Doctor Who Lego set. PLEASE THAT IS SO CUTE I AM JEALOUS!
Given Alexis's history of sexual assault as tackled in the previous one, Noah was apprehensive to pursue her romantically. I like how this was executed in the book. Noah was very gentle and supportive around Alexis, but he didn't treat her like she was fragile. Alexis also felt the same way for Noah but was afraid to risk the only healthy relationship she has with a man. Oh, how I loved the mutual pining of these two idiots in love.
In true Bromance fashion, Noah gets forced by the boys to read a romance novel to help him. I love how consistently funny and hilarious these guys are! Like Gavin from The Bromance Book Club, Noah wasn't originally part of the club. Speaking of the club, it was so funny to see Mack go full-on groomzilla as he makes the plans for his and Liv's wedding! 🤣 The boys were even persuaded by Mack to practice for the wedding dance and the spa scene with the boys… pure chaos with these guys! 🤣
There is no more universal story than of two people working through their shit to overcome huge obstacles and find their way to happiness.

crazy stupid bromance by lyssa kay adams
Sweet, Steamy, and Sweet!
Have I talked about how sweet Crazy Stupid Bromance was yet? Let me add more. I love how open Noah and Alexis were to each other, about everything except their damn feelings! There were a lot of times where Noah tells Alexis, "Talk to me." It really got into my mind how he always makes sure he's there to listen to Alexis and be of support to her no matter what. He allowed Alexis to be vulnerable with him, but he didn't do the same for himself with her. I like how this became one of his turning points.
The steamy parts were the bomb! I think this had the most action among the books so far. Jesus, these two! 😂 But I loved it, I'm not gonna lie! Make-up sex? *chef's kiss*
Family and Forgiveness
The novel Noah read had a secret baby trope. I loved how the novel paralleled both his and Alexis's relationship and Alexis's relationship with her father. Alexis never knew her father, until a certain girl claimed to be her half-sister. The circumstances of her meeting her father weren't great.
It was super messy, to be honest, and I didn't like her father's family at all. What I did like was how Alexis handled it, and her telling Candi that sharing a bloodline doesn't make them family, it only makes them related. Which was true, because ultimately Alexis's found her semblance of family with Noah.
I liked the forgiveness theme in the book, as both Alexis and Noah had daddy issues. I love how they navigated through their emotions to find themselves forgiving their respective fathers.
Overall Thoughts 💡
I truly had a great time reading and listening to Crazy Stupid Bromance! I love how Adams consistently makes me fall in love with these guys' stupidly hilarious book club antics! They just keep me wanting for more!
Though some parts of the last act fell a little flat, I still enjoyed the whole experience!
Do I recommend it? Yes!
Especially if you enjoy a classic friends to lovers story with a lot of mutual pining.
I'm super excited to read The Russian's book next! Once this review goes live, I'm probably done reading Isn't It Bromantic? so watch out for my review on that one!
ABOUT THE AUTHOR
Lyssa Kay Adams read her first romance novel in eighth grade after swiping one from her grandmother's book shelf and was hooked forever. After a nearly 20-year career as a journalist, her dreams of writing and publishing her own HEAs came true in 2015 with the release of her first novel, Seventh Inning Heat, followed by the RITA-nominated novella, Wild in Rio. Today, she writes full-time from her home in Michigan with a pesky, fluffy K9 assistant named Domino who spends most of his day snoring on her desk (that is, when he's not burying things around the house).
Author Links: Website | Twitter | Instagram | Facebook | Pinterest
Let's Chat! 💬
Have you joined the Bromance Book Club train yet? Which one is your favorite? Also tell me about your favorite friends-to-lovers romance books!