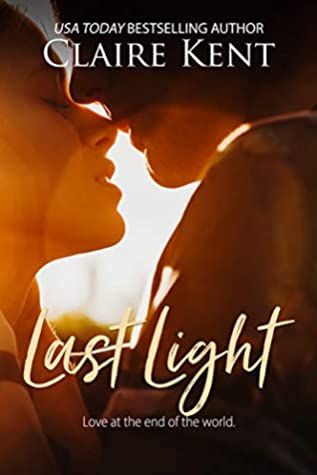 Last Light by Claire Kent
Pub Date: November 13, 2019
[Amazon | Goodreads | StoryGraph]
SYNOPSIS
It only took four years for the world to fall apart.
Now the last member of my family has died, and I'm forced to travel across what's left of three states to find the only people I know left alive. To survive, I'll have to salvage food and supplies and try to avoid violent men who've learned they can take what they want by force. The only way I'm going to make it is by trusting Travis.
Travis used to fix my car, and now he's all I have left in the world. He's gruff and stoic and unfriendly, and I don't really know or like him. But he's all I have left. He'll keep me safe. We'll take care of each other. Until we reach what's left of our town and can finally let go of one another.
Last Light is a standalone post-apocalyptic romance set in the near future after a global catastrophe.
This post contains affiliate links and I may earn a small commission through qualifying purchases.
🛑 CONTENT WARNINGS 🛑
Death
Grief
Violence
Sexual Assault
Initial Thoughts 🧠
I saw Last Light being recommended multiple times on r/RomanceBooks subreddit and that it gives off an "if you touch her, I will kill you" vibe. Honestly, who am I to say no? I live for that shit!
That being said, I really enjoyed the book so much! The slow build-up of Travis and Layne's relationship from being acquaintances to lovers, mmmmmm… 👩🏽‍🍳💋! And age-gap romance too!
Endure and Survive
I haven't touched anything SFF related this year besides the comic books I've read. So I was a little skeptical about how reading Last Light would play out for me. I dig post-apocalyptic stuff visually, like in zombie movies or video games like The Last of Us.
Although, Last Light dealt with something a little more realistic than a zombie plague. Four years before the setting of the novel, a big asteroid hit Europe, which caused something that screwed up the Earth's atmosphere, and also caused numerous natural disasters. Layne lost her family, while Travis lost her daughter (I can't help but picture Joel from The Last of Us!!) and got separated and divorced from his wife. The two main characters were from the same town, and they get reunited in a hostile situation.
I really loved the endure and survive vibe (I don't think I can stop referencing The Last of Us) in the book as Layne and Travis decide to stick together. I loved how their relationship progressed in the book as well! It wasn't insta-lust, and I enjoyed seeing them finally succumb to their mutual attraction due to forced proximity. I love books like that! Honestly, I loved the pacing and the slow build of their romance.
And love might be the biggest risk of all at the end of the world.

last light by claire kent
Gritty and Emotional
I think my only issue with the book was the lackluster worldbuilding. I really wish there were more visual elements and descriptions about the overall state of the world. Because it just heightens the stakes involved for the characters. Although, I have to say that the book relied perfectly on emotions, which really worked and the emotional stakes were just as thrilling as the external factors. Last Light was fully told in Layne's POV and not one bit did I feel any disconnect from her character.
While there weren't a lot of descriptions in terms of the environment, I think that the author was able to perfectly capture the emotional tones of how gritty and chaotic the world was, as well as the romantic tones. Like, I literally felt my chest constricting for some scenes. 😭
Overall Thoughts 💡
I wish I could forget this book just so I could read it again for the first time. I was hooked from page one and enjoyed every aspect of it. Save for the worldbuilding, but yeah everything was enjoyable!
Do I recommend this? Oh yes!
And I'm looking for more post-apocalyptic romances!
Let's Chat! 💬
What's your favorite post-apocalyptic book or movie?