The Rundown is where I recollect and wrap up stuff every two months. Check out other wrap-up posts here.
So What Happened?
May was such a dry spell for me, but June was fantastic in terms of non-bookish content! Also, I read a lot of books and comics for the last two months, so I really beat my Goodreads Reading Challenge! 😂
I read 12 books, and the rest are graphic novels and comic books! I binged All-New Captain America #1-6 and continued on with Captain America Sam Wilson Vol 1-5, including the Secret Empire Tie-Ins. Stay tuned because I might post my mini-reviews on Unstacked.
I also started Hawkeye (2012)by Matt Fraction! While, I'm still on Vol 2 (Issue #7) as of writing, yet I'm totally in love with everything! I'd take 616-Clint over MCU Clint any day of the week.
Kara Thomas released a new book this June and That Weekend was super worth the wait! I posted a review of it so make sure to check it out! Also, shoutout to the wonderful summer reads that I enjoyed: Cool For The Summer, Summer Bird Blue, and All Last Summer!
Here is the rundown for my May and June Blog Posts!
Blog Posts Rundown
Roll The Credits 🍿
Movies 🎞
The movies I watched in May were meh, and I was on a bit of a Sebastian Stan binge, and most of his movies outside Marvel are… meh 😅, except for The Martian. I quite liked Endings, Beginnings though. Here's a rundown of films I watched for May and June. Follow me on Letterboxd for terrible movie reviews.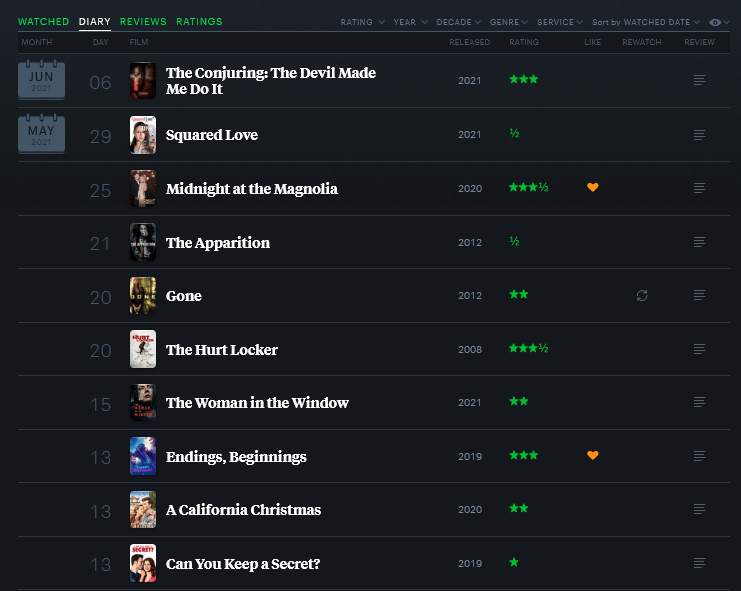 I also watched a few romance movies, including Christmas ones. Nothing beats watching Christmas movies in the middle of the summer! I enjoyed Midnight at the Magnolia, ugh best friends-to-lovers strikes again! A California Christmas was cute but super cliché. I found out that the main actors were married IRL so that explains their chemistry! The Conjuring: The Devil Made Me Do It was fun too! True love is always the answer, I guess.
TV Shows 📺
LOKI IS BACK!
While I spent most of May reading, June spoiled me a lot with my most anticipated releases! Loki, Trese, and Hospital Playlist Season 2 are the shows I'm currently watching. I binged Trese both in English and Tagalog dub and it was a lot of fun!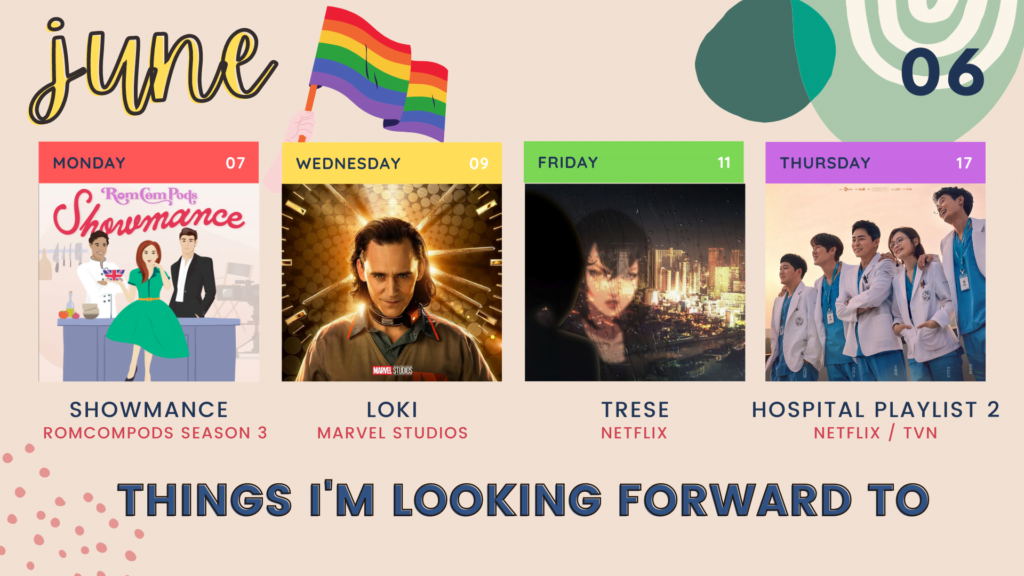 As I've shared above, I recently posted my recap and review for Loki's first two episodes. Hospital Playlist on the other hand has already released three episodes! Yes, I am watching it weekly and the wait is always worth it!
Although it's not on the screen, I'm also enjoying Showmance right now! It's currently ongoing and has released 5 episodes so far. If you're into fiction podcasts or audio dramas, check out Showmance and the earlier RomComPods seasons!
Let's Chat! 💬
I hope you enjoyed my May and June Wrap-Up Post! What has been your highlight so far? Link your wrap-up below!