So you're in a reading slump?
There's no lying that every reader experience this inevitable reading slump. We all wish we didn't. I'm no expert but the fact that I went into hiatus for about two years stemmed from this. Besides, I almost always fall into a slump right after finishing a book that I really enjoyed.
We're all familiar with this feeling, I'm sure.
You clicked on this because you want to get rid of that slump. Well, I got a few tricks up my sleeve. I can't guarantee that these tips will work for everyone, but they work well for me.
Four Tips to Cure your Reading Slump 📚
One: Make that audio switch 🔉
Listening to audiobook started as a band-aid solution for me, but it does the trick! There are times when I don't feel like reading a book on print, I try to find an audiobook version.
While audiobooks tend to be more expensive than print or e-books, there are platforms that offer free trials. Audible, Scribd, and Libro.fm are just some of them. I'm currently subscribed for a trial of Scribd, and you can get 60 days for free when you use my link. 😏
Meanwhile, Libro.fm offers an Audiobook Listening Copy (ALC) program for reviewers. Reviewers can receive a number of free audiobooks they can review every month.
You can sign up to Libro using my link, which earns me an audiobook, and I'll love you forever!
Two: Listen to Modern Radio Drama Podcasts 🎙
This is my favorite tip. I've been listening to podcasts since I was in college. Welcome to Night Vale and Serial were my gateway to this platform.
Most of the podcasts I come across to are the conversational types, the usual two or more people discussing different topics until I came across The Bright Sessions created by Lauren Shippen.
The Bright Sessions is a fictional podcast about atypicals or people with powers going on therapy. It was the first fictional audio drama I've ever listened to that has a complete cast. I remember completely falling in love because it's nothing like I've ever listened to before!
Some of the other audio dramas I love are RomComPods, Limetown, The Truth, 36 Questions, and Steal The Stars. Science fiction, fantasy, and crime are the dominating genres. Sadly, there are not many romance audio dramas yet, but here are some romance audio dramas that I think you should check out.
The usual discussion podcasts also work. Since I'm a huge Marvel and MCU fan, I listen to podcasts like Days of Marvel, Marvel Movie News, Inside Marvel to get my usual geek fix. For general stuff, I go for NPR podcasts.
Three: Netflix and Binge 🍿
Sometimes there are stories that we prefer to play out in front of our eyes rather than in words.
I'm on autopilot when it comes to watching movies and series, especially when I was on hiatus. I'm on Netflix or Viu every night just endlessly binge-watching things I could.
What helps me get back to reading is watching book to movie/series adaptations. There's a lot of book to movie adaptations on different streaming platforms. To All The Boys I've Loved before is just one of the many popular ones.
Heck, I'm currently watching one adaptation as I'm writing this which is Shadow and Bone. Watching book adaptations just lets me get back into my reading headspace because it gets me curious about the other aspects of the story that didn't make it on screen.
Four: Pick Up Some Comic Books or Graphic Novels 💥
I mostly do this when I know I want to read but the books I pick up just don't click with my mood. Yes, I read books based on my mood so there are days when I can finish a book in one sitting, or not read at all.
Reading comic books is a hobby I picked up once I got into the crazy Marvel Cinematic Universe. I've read a lot of comics but my ultimate favorite has to be Ed Brubaker's Captain America run where he retconned Bucky's death and made him The Winter Soldier. Now that the MCU is back in action with Sam as Captain America, I'll probably pick up All-New Captain America again after I finish Winter Soldier (2018).
Graphic novels are also a great pick! There are many times where I gravitate towards them, especially now that graphic novels are breaking into the Young Adult Market nowadays. Some of my favorites are The Avant-Guards by Carly Usdin and Trese by Budjette Tan.
Webtoons are another alternative! There are apps like Naver's Line Webtoon and Tapas.io where you can read lots of webtoons. I recently finished the first season of To Love Your Enemy, which I totally loved. I'm just waiting for more episodes to drop so I can start Season 2. For more webtoon recommendations, check out Rain's Webtoon 101 post.
What I love about reading comic books and graphic novels is you hit two birds with one stone. You get to enjoy a light reading and it counts towards your Reading Challenge!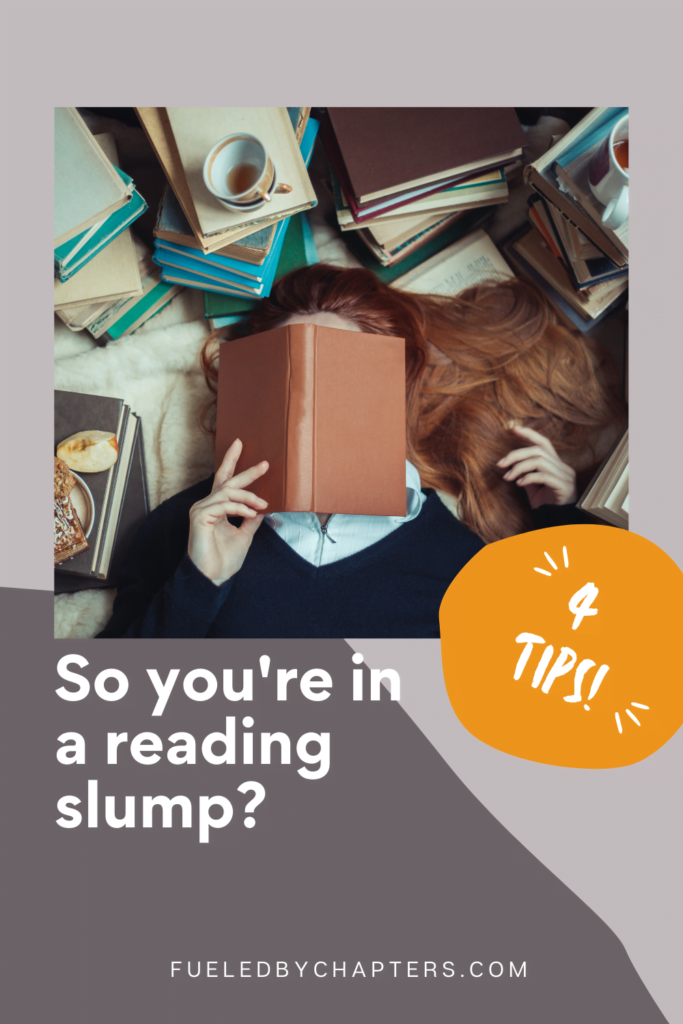 Let's Chat! 💬
I hope you enjoyed this post and picked up some of my tips to try on your own! Now I want to know what do you usually do to break your reading slump?