A bookish tote bag is a must-have in your collection if you are an avid reader and are always on the lookout for ways to flaunt your love for books.
I personally love tote bags because not only are they practical to carry around, but they also make a statement that showcases our interests. I have a few tote bags with bookish designs that I love to carry when I go out.
And since April is Earth month, I figured why not share a list of the best bookish tote bags to promote "sustainable reading." (Please excuse my pun, lol)
This post contains affiliate links and I may earn a small commission through qualifying purchases.
What are Tote Bags?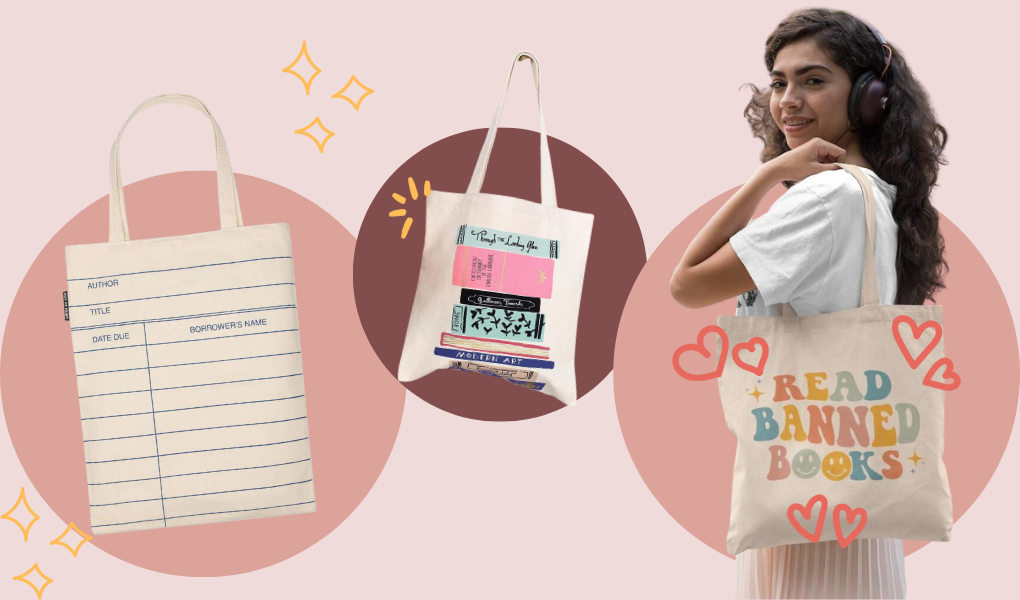 Tote bags are large bags that have parallel handles and are often used as reusable shopping bags. Totes have become a go-to bag for many people because of their simple and practical functionality.
These bags are usually made with canvas, cotton, or polyester fabric that are known to be durable and perfect for everyday use. Most tote bags have enough space to carry not just your books, but also other essentials like laptops, toiletries, pens, or keys.
Canvas totes are literally a blank canvas which makes them highly customizable, and that's where bookish tote bags come in. Check Etsy, Amazon, or local listings in Shopee or Lazada and you'll find tons of designs made for bookworms.
The Best Bookish Tote Bags
For the library lover
This Library Card Tote Bag from Out of Print features the iconic library card design perfect for bookworms who frequents their local libraries. This bag is made with 100% cotton canvas and has an inner pocket perfect for your essentials.
For those who love the classics
This Kate Spade Canvas Tote features a stack of everyone's favorite classic titles. This tote also has an inner pocket for your wallets or keys, plus it has longer straps so it can sit comfortably on your shoulders.
For the minimalists
With a minimalist illustration, this bookish tote can hold up to A4 size, making it perfect for any bookworms on the go, whether it's a beach trip, a grocery run, or to the bookstore!
For the coffee lover
This tote from Wear Your Books PH is a total must-have! Let's be real, if you draw a venn diagram of bookworms and coffee lovers, you'd probably get an almost perfect circle.
For the gorgeous reader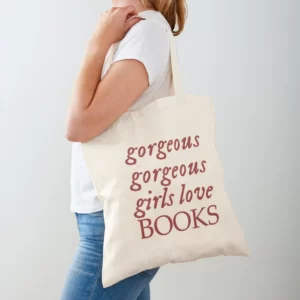 This stylish tote speaks for everyone. We're all gorgeous and we love to read books! It's made with thick canvas perfect for carrying your latest book haul.
For the binge-reader
We love a statement that calls us out! This tote by The Literary Culture is perfect for book lovers who always end up late reading. We've all been there, right?
For the advocate
Obviously, these bookish tote bags are just some of the many options available in the market. With their durability and functionality, tote bags are an essential accessory for every book lover out there.
It can be overwhelming to find one (or two) that suit your style and needs, so make sure to read the reviews first before you make a small dent on your wallet. I usually check reviews before I buy stuff and for tote bags in particular, I try to compare the size and check if the material looks sturdy and good. Thankfully, most consumers post photos along with their reviews so it's easier to estimate.
I personally like tote bags that have longer straps and zipper enclosures so my stuff won't spill out! I recently bought a couple of tote bags, including the one I used for the featured image of this post!
I hope that this post helped in a way to find the perfect bookish tote bag for your reading journey!
---
PIN THIS POST 📌